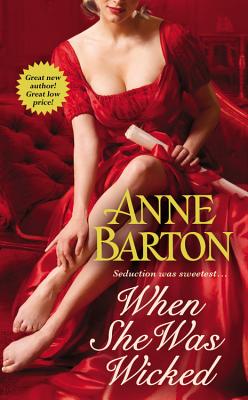 When She Was Wicked (Honeycote #1) (Mass Market)
Forever, 9781455513321, 416pp.
Publication Date: January 29, 2013
* Individual store prices may vary.
Description
SOME RULES SIMPLY BEG TO BE BROKEN

A dressmaker in London's busiest shop, Miss Anabelle Honeycote overhears the ton's steamiest secrets-and (occasionally) uses them to her advantage. It isn't something she's proud of, but the reluctant blackmailer needs the money to care for her gravely ill mother. To make up for her misdeeds, Anabelle keeps to a firm set of rules:

Never request payment from someone who cannot afford it.

Never reveal the secrets of a paying client.

Never enter into any form of social interaction with a client.

Her list keeps her (somewhat) honest-until she encounters Owen Sherbourne, the Duke of Huntford.

Not only does Owen nip Anabelle's extortion plans in the bud, the devilishly handsome Duke soon has the sexy seamstress dreaming of more than silks and satins. With Owen Anabelle enjoys pleasures she never imagined. . . until a scandal from the past resurfaces. Now her rules could mean his family's ruin. Owen's searing kisses carry the promise of passion, but how will he react when Anabelle's most devastating secret is finally revealed?
About the Author
Anne Barton began swiping romance novels off her mom's bookshelf as a teenager, so when she had the chance to spend a semester in London-home to her favorite heroes-she packed her bags and promptly fell in love with the city, its history, and its pubs. She dreamed of writing romance, but somehow ended up a software analyst instead.
Fortunately, a few years and a few careers later, Anne found her way back to writing the stories she loves and in 2011 won the Romance Writers of America's Golden Heart® for Regency Historical Romance. She lives in Maryland with her husband (who, sadly, is not a peer of the realm-but a great guy nonetheless) and her three children, who try valiantly not to roll their eyes whenever she quotes Jane Austen. Her weaknesses include reality TV, cute-but-impractical shoes, and caffeinated beverages of all kinds.
Learn more at:
www.annebarton.com
Twitter, @_AnneBarton
Facebook.com/annebartonauthor
Praise For When She Was Wicked (Honeycote #1)…
"Sensual and solid, this debut is a story demanding to be read. The characters are believable and relatable, and Barton smartly blends issues of morality and Regency era social class with passion and excitement."—Publisher's Weekly (Starred Review)

"Stunning and heart melting...When She Was Wicked is a beautifully written regency Romance that I fell deeply in love with! Anne Barton has succeeded in writing the perfect debut. This is a must read that you do not want to miss!"—harlequinjunkie.com

"4 stars! Delightfully smart, fun, fast-paced and just different enough for readers to take note of Barton's charming voice, this novel is filled with wry humor and compassion intrigues readers. The intrepid heroine, arrogant hero, memorable secondary characters and the colorful depiction of the era add to the reading enjoyment"—RT Book Reviews

"When She Was Wicked is a delightful debut! Anne Barton's cast of characters is charming and witty. Owen is the type of hero that readers fall in love with from the very first introduction, and Anabelle is ingenious and resourcefully cunning--a girl after my own heart."—Tiffany Clare

"Break out the bubbly for Anne Barton's delightful debut!"—Vicky Dreiling
or
Not Currently Available for Direct Purchase