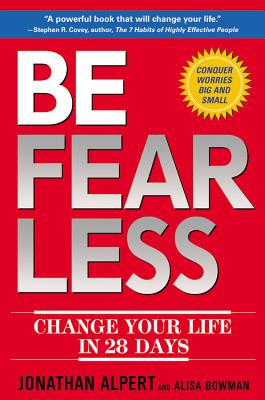 Be Fearless (Hardcover)
Change Your Life in 28 Days
Center Street, 9781455513413, 288pp.
Publication Date: April 1, 2012
* Individual store prices may vary.
Description
Most people have something that gnaws at them at night, a mess or unrealized dream somewhere in their lives that causes them to feel stuck, out of control, overwhelmed, incomplete, and dissatisfied. They want to run away, back away, and ignore what they fear--whether it's a demanding boss, unsatisfying sex life, or distant love interest, but they can't. The fear finds them anyway. It's always there, and it's the source of all of their unhappiness. It's what lies behind every problem, and it's what stands between them and the lives they were meant to live. Psychotherapist Jonathan Alpert wants readers to know one thing: you can face your fear and create your ultimate life-and you can do it quickly. You can find your dream job. You can end that dead end relationship and get the love you want and deserve. You can overcome perfectionism, procrastination, panic, worry, rejection, failure, excuses and even the people in your life who keep telling you that you can't. You can turn your dreams into reality. You can find happiness, success and love. And you don't need years of therapy or even medications to do it. BE FEARLESS is a 5 step plan that is guaranteed to transform the fearful into fearless. It's based on a revolutionary formula developed by Jonathan Alpert, and it's worked on countless patients whose amazing stories are told throughout the book. In as few as 3 weeks readers will transform their lives using the 5 step program:
Define Your Dream Life Break Your Fear Pattern Rewrite Your Inner Narrative Eliminate Your Fear Response Live Your Dream
By teaching readers to use fear to their advantage and take important risks BE FEARLESS will make the impossible possible.
About the Author
Jonathan Alpert is one of Manhattan's most successful and accomplished psychotherapists. He appeared in the Oscar-winning documentary Inside Job, and is interviewed regularly on television and in print for such media outlets as Today, CNN, Good Morning America, NBC Nightly News, Time and Ladies Home Journal. Writer Alisa Bowman has been the collaborator on seven New York Times Bestsellers and her books have sold over two million copies.
Praise For Be Fearless: Change Your Life in 28 Days…
Praise for BE FEARLESS:

"A powerful book that will change your life."

---Stephen R. Covey, author, The 7 Habits of Highly Effective People

"BE FEARLESS offers a clear, practical, and empowering way to overcome negative thoughts, defeat your fear demons, and find your true strengths."

---Ira M. Sacker, M.D., coauthor of the bestselling Dying to Be Thin and author of Regaining Your Self

"In BE FEARLESS, Alpert shows you not only how to overcome your fear of failure, but also how to eliminate any negative forces that have been preventing you from achieving any goal you've ever set or any dream you've ever had."

---Dan Jansen, Olympic gold medalist, speed skater

"Jumpstart any aspect of your life with this concrete action plan. In a world filled with an endless stream of opportunities to connect with others, Jonathan Alpert provides readers with an invaluable opportunity to tune out the noise and tune in to themselves."

---Ian Kerner, Ph.D., New York Times bestselling author of Sex Recharge

"I don't usually like books with lots of steps and exercises and promises to change your life in a certain number of days. But in this case, Alpert got it right. Because you can't think your way out of fear, you have to act your way through it. Don't be afraid to read this book."

---Peter Bregman, author of 18 Minutes: Find Your Focus, Master Distraction, and Get the Right Things Done
or
Not Currently Available for Direct Purchase