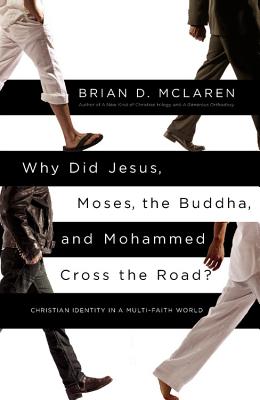 Why Did Jesus, Moses, the Buddha, and Mohammed Cross the Road?
Christian Identity in a Multi-Faith World
Paperback

* Individual store prices may vary.
Other Editions of This Title:
Digital Audiobook (9/10/2012)
Description
When four religious leaders walk across the road, it's not the beginning of a joke. It's the start of one of the most important conversations in today's world.

Can you be a committed Christian without having to condemn or convert people of other faiths? Is it possible to affirm other religious traditions without watering down your own?

In his most important book yet, widely acclaimed author and speaker Brian McLaren proposes a new faith alternative, one built on "benevolence and solidarity rather than rivalry and hostility." This way of being Christian is strong but doesn't strong-arm anyone, going beyond mere tolerance to vigorous hospitality toward, interest in, and collaboration with the other.

Blending history, narrative, and brilliant insight, McLaren shows readers step-by-step how to reclaim this strong-benevolent faith, challenging us to stop creating barriers in the name of God and learn how affirming other religions can strengthen our commitment to our own. And in doing so, he invites Christians to become more Christ-like than ever before.

Praise For Why Did Jesus, Moses, the Buddha, and Mohammed Cross the Road?: Christian Identity in a Multi-Faith World…
"...An essential life lesson about loving our neighbors and tolerating their differences...For Christians on the fence about whether to accept others and their faiths or to insist that only Christianity can adequately serve, this book provides important insights."—Booklist Online

"...Worth reading, lively and passionate at translating progressive theology into a popular idiom."—Publishers Weekly

"...Important and extraordinarily timely...a soothing balm for the searing pain of our times..."—Huffington Post

"Provocative...Even those who don't agree will be bettered by engaging its ideas."—Relevant Magazine

"This is a major work in every sense of the word--so major, in fact, that it would be impossible to exaggerate either its importance or its worth to the current conversation about religion and religions."—Phyllis Tickle, Lecturer on Religion in America and Author of Emergence Christianity: What it Is, Where it is Going, and Why it Matters

"Helpful, timely, and really, really inspiring."—Rob Bell, author of Love Wins

"This is a book to cherish, to read over and over, a book that sheds light and warmth on one of the most difficult questions of our era."—Eboo Patel, Founder and President, Interfaith Youth Core, Author of Acts of Faith and Sacred Ground

"McLaren offers a renewed and renewing vision of Christianity that will challenge every reader to go deeper into its core Truth and find radical urgency to befriend all God's children. If you are not afraid of having your viewpoint, identity, and complacency challenged - read this, for Love itself is to be found here!"—Katharine Jefferts Schori, Presiding Bishop, The Episcopal Church

"With wisdom and wit, Brian McLaren courageously explores the contours of his Christian faith in light of his experiences with people from other religious communities. His questions and insights are important contributions to the unfolding interfaith discussion in the United States and beyond."—Rabbi Or N. Rose, Director, The Center for Global Judaism, Hebrew College
Jericho Books, 9781455513956, 288pp.
Publication Date: September 10, 2013
About the Author
Brian D. McLaren is an author, speaker, activist, and public theologian. After teaching college English, Brian was a church planter, pastor, and networker in the Baltimore-Washington DC area for over 20 years. He is a popular conference speaker and a frequent guest lecturer for denominational and ecumenical leadership gatherings in the U.S. and internationally, and is Theologian-in-Residence at Life in the Trinity Ministry.

Brian's writing spans over a dozen books, including his acclaimed A New Kind of Christian trilogy, A Generous Orthodoxy, and his most recent titles, Naked Spirituality: A Life with God in 12 Simple Words (2011) and the eBook prequel to this title, The Girl with the Dove Tattoo (June 2012). A frequent guest on television, radio, and news media programs, Brian is also an active and popular blogger, a musician, and an avid outdoor enthusiast. Learn more at his website, www.brianmclaren.net. Brian is married to Grace, and they have four adult children.