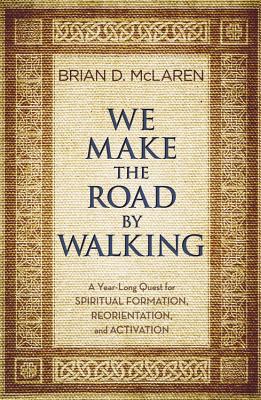 We Make the Road by Walking
A Year-Long Quest for Spiritual Formation, Reorientation, and Activation
Paperback

* Individual store prices may vary.
Other Editions of This Title:
Digital Audiobook (6/9/2014)
Hardcover (6/10/2014)
Description
From critically acclaimed author Brian McLaren comes a brilliant retelling of the biblical story and a thrilling reintroduction to Christian faith.
This book offers everything you need to explore what a difference an honest, living, growing faith can make in our world today. It also puts tools in your hands to create a life-changing learning community in any home, restaurant, or other welcoming space.
The fifty-two (plus a few) weekly readings can each be read aloud in 10 to 12 minutes and offer a simple curriculum of insightful reflections and transformative practices. Organized around the traditional church year, these readings give an overview of the whole Bible and guide an individual or a group of friends through a year of rich study, interactive learning, and personal growth.
Perfect for home churches, congregations, classes, or individual study, each reading invites you to
Cultivate an honest, intelligent understanding of the Bible and of Christian faith in 21st century
Engage with discussion questions designed to challenge, stimulate, and encourage
Reimagine what it means to live joyfully and responsibly in today's world as agents of God's justice, creativity, and peace
If you're seeking a fresh way to experience and practice your faith, if you're a long-term Christian seeking new vitality, or if you feel out of place in traditional church circles, this book will inspire and activate you in your spiritual journey.
Praise For We Make the Road by Walking: A Year-Long Quest for Spiritual Formation, Reorientation, and Activation…
"This is one of the most remarkable documents in recent Christian writings...There is no evangelizing here, and no preaching, only a sinewy, but orderly and open, presentation of the faith that holds. The result is as startling as it is beautiful."—Phyllis Tickle, author, The Age of the Spirit

"Brian McLaren has a talent for expressing theological viewpoints in a way that doesn't divide the camp. He gives everyone on the theological spectrum, from orthodox to progressive, something to chew on and contemplate. His new book, WE MAKE THE ROAD BY WALKING, doesn't disappoint."—Charles Toy, co-founder of The Christian Left

"A ton of people have been waiting for this book-they just didn't know it! Brian has given us a clear and compelling guide to walking the Jesus path together, around the table, in the living room, discussing and learning and growing. This book is going to help so many people."—Rob Bell, author of What We Talk About When We Talk About God

"It is at once inspiring and challenging, ancient and contemporary, intellectually rigorous and profoundly practical. It changed the way I engage Scripture, the way I pray, the way I experience communion, and the way I interact with my neighbors."—Rachel Held Evans, author, A Year of Biblical Womanhood

"WE MAKE THE ROAD BY WALKING has given me the tools I needed to make sense of my friendships and weave them into something that makes our connections more meaningful; the community that I have always longed for, a community that accepts me for me, a community that faithfully lives out the gospel through its actions, treating all people with respect, value, and like they matter."—Romal Tune, author, God?s Graffiti: Inspiring Stories for Teens

"This is Brian McLaren at his best, and I think this is what so many readers want from him: Deeply rooted in scripture, yet offering fresh, even radical, readings. WE MAKE THE ROAD BY WALKING will surely be a benefit and blessing to many."—Tony Jones (tonyj.net), theologian-in-residence at Solomon's Porch, author of The Church Is Flat

"I love this book, because through each page you will hear the whisper of Jesus echo in your heart. You will find yourself taken on a journey that will make you more alive, more loving, and with a bigger vision for changing the world. I'm buying copies for all my friends!"—Canon Mark Russell, CEO, Church Army UK and Ireland
Jericho Books, 9781455514014, 304pp.
Publication Date: June 9, 2015
About the Author
Brian D. McLaren is an author, speaker, activist, public theologian, and a popular conference speaker and frequent guest lecturer for denominational and ecumenical leadership gatherings in the U.S. and internationally. A Theologian-in-Residence at Life in the Trinity Ministry, Brian has written over a dozen books, including Why Did Jesus, Moses, the Buddha, and Mohammed Cross the Road and Everything Must Change. Brian is also an active and popular blogger, a musician, and an avid outdoor enthusiast. He is married to Grace, and they have four adult children. Learn more at his website, www.brianmclaren.net.