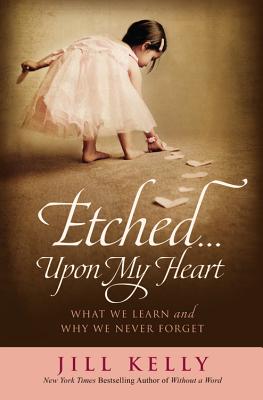 Etched...Upon My Heart: What We Learn and Why We Never Forget (Hardcover)
What We Learn and Why We Never Forget
Faithwords, 9781455514274, 208pp.
Publication Date: January 22, 2013
* Individual store prices may vary.
or
Not Currently Available for Direct Purchase
Description
Our lives are made up of moments. Some we hope to remember forever and some we long to forget. But it's the tapestry of these moments that come together to write the story God is telling through each of our lives. In ETCHED . . . UPON MY HEART, Jill Kelly shares some of the unforgettable moments in her life-some sorrowful, others filled with joy-as a "living epistle" to her daughters. Kelly's raw and honest reflections provide encouragement and inspiration for women and mothers who long to pass on hard-won knowledge of God's steadfast love and healing grace to their children. As she writes, "God will break our hearts, but He will hold the pieces. He will cradle us and redeem every tear we cry." Although great personal pain informs these pages, Kelly's story is ultimately one of forgiveness, reconciliation, and hope. Through the moments in time that Jill Kelly recounts, you will recognize the daily reality and eternal value of God's plan for your own life.
About the Author
Jill Kelly is the wife of former Buffalo Bills quarterback Jim Kelly. In September 1997, three months after their infant son, Hunter, was diagnosed with a fatal disease called Krabbe Leukodystrophy, Jim and Jill founded the Hunter's Hope Foundation. As chairman of the board of Hunter's Hope, Jill helps children suffering from Leukodystrophy and their families by raising awareness and research funds to fight this devastating disease. She and Jim live in Buffalo, NY, with their two daughters and three dogs. Hunter's Hope Foundation can be found online at http: //www.huntershope.org. Jill is also the author of a full color gift book entitled, Prayers for Those Who Grieve.
Praise For Etched...Upon My Heart: What We Learn and Why We Never Forget…
"Jill courageously allows us into the rawest moments of her personal journey, and invites us to join the process by which love is defined, fear becomes faith, and suffering becomes sovereign. Undoubtedly, if "moments are measured by depth, not by length", then the moments that you will spend reading ETCHED UPON MY HEART will serve as some of your most valuable..."
-Elisabeth Hasselbeck, Co-Host ABC THE VIEW

"Jill Kelly writes with a raw honesty that is both rare and refreshing. ETCHED...UPON MY HEART will both break your heart where it needs to be broken and heal your heart at the same time."
-Mark Batterson, Pastor of National Community Church, author of The Circle Maker

"I am taken ... with the words in ETCHED...UPON MY HEART and the heart of the writer who wrote them, Jill Kelly. As a mother, Jill spoke to the place in me that desires to make a lasting imprint on my children's lives. As a woman, she touched the place in me that knows well of the struggle to love, lose, forgive, live faithfully, find significance. As a believer in Jesus, she stirred my deep gratitude for redemption and the God who makes all things well. There is a richness that comes from a life that has lived this, and Jill Kelly has poured her own onto the pages of ETCHED. I just read it, and I want to read it, again."
-Lisa Whittle, speaker, Compassion advocate, author of {w}hole

"As I read ETCHED...UPON MY HEART, it occurred to me that Jill Kelly is missing something. Like pretense. And guile. And posturing. She swings the door to her life wide open and gives us an all access pass to the moments that have made her. Many of those moments are sweet, but some are blindingly painful, others unvarnished and ragged. I kept meeting myself in Jill's story. Then it settled on me what the power of this book is: Jill is not telling us her story. She is telling us Jesus' story in its Jill Kelly edition."
-Jennifer Kennedy Dean, Executive Director of The Praying Life Foundation and author of Live a Praying Life and Altar'd

"If I had to describe ETCHED...UPON MY HEART with one word it would be "Transparency." From cover to cover are treasured moments that lead to freedom with Christ. This sweet book of memories will touch your heart as it did mine and remind you of the beautiful tapestry the Lord is writing with our lives. You will also be challenged, as was I, to invite Jesus to do a work in your own heart as you ponder your own moments through life. This book will lead you to your own intimate time to look back and see His footprints with each of us. ETCHED...UPON MY HEART shines Jesus through the life of Jill Kelly and her family where pain has led to dance. For the Lord will waste nothing with a heart willing to share glimpses of moments such as these. Moments of true life, real struggles, and victory as our heavenly Father is revealed memory by memory. What a beautiful scene to read the story of one willing to be so transparent that others might see through to the rescuer Himself, Christ."
-Shelly Wilson, Shelly Wilson Ministries

"In ETCHED...UPON MY HEART, author Jill Kelly masterfully addresses the multiple layers we hide under that keep us safe from the hard issues of life - being unloved, feeling insignificant, harboring resentment, going through suffering, unyielding selfishness, prayer-less autonomy, and the dread of death. Sometimes, Jill gently removes that blanket with her pen; sometimes her writing rips the blanket off. The end result is the same: our vulnerable soul is exposed in a refreshing, yet raw way and we are forced to stare at our desperate need for God. Jill knows God and the intimacy she shares with Him she willingly shares with us. But beware: it is an intimacy that has been birthed out of extreme suffering. In fact, what she writes about suffering is so profound that you will miss it if you do not discover the joy found in Christ in and at the end of your own suffering. YOU MUST READ THIS BOOK. When you do, you will discover, as I did (and as Jill wrote): God will tenderly speak to you and usher you into a deeper grace than you knew before."
-Dr. Deone Drake
Advertisement