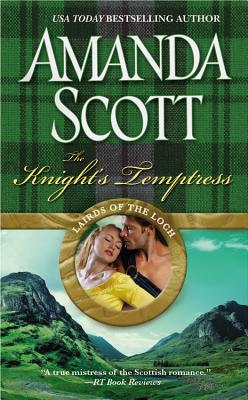 The Knight's Temptress (Lairds of the Loch #2) (Mass Market)
Forever, 9781455514342, 400pp.
Publication Date: August 27, 2013
* Individual store prices may vary.
Description
DARING ESCAPE

Sir Ian Colquhoun has never feared danger. So when Lady Lachina MacFarlan is captured by a ruthless enemy, mounting a daring rescue seems only natural for the courageous knight. But once he has Lina safe in his arms, he sees that the prim young girl from his youth has grown into an alluring woman of extraordinary gifts. When circumstances force him to take her as his wife, the stakes-for her life and their growing love-rise even higher.

DANGEROUS DESIRE

Grateful for Ian's bravery, though wary of his recklessness, Lina agrees to his unexpected proposal. As the two begin to know each other as husband and wife, Lina realizes that she desires more than a passionate protector. But when evil threatens both her family and the knight she has come to love, the lady must take the greatest chance of all . . .
About the Author
Amanda Scott is the author of over 62 romance novels and the recipient of the Romance Writers of America's prestigious RITA Award. She lives in Folsom, California, outside of Sacramento. She is a fourth-generation Californian.
Praise For The Knight's Temptress (Lairds of the Loch #2)…
"4 1/2 stars, Top Pick! The last of the Scottish Knights trilogy is Scott's reward to her fans. The exquisite, yet subtle portrayal of her characters, coupled with their budding romance, hastens the reader's emotional involvement with the novel. Excellent melding of historical events and people into the sensuous love story greatly enhances an excellent read. "—RT Book Reviews on HIGHLAND LOVER

"Infusing her characters with passion, courage, and often a wry sense of humor, Scott (Highland Hero) brings all the violence, splendor, and wicked machinations of medieval Scotland (and England when necessary) to vivid life in a thrilling story that makes good use of historical events and characters. Guaranteed to please."—Library Journal on HIGHLAND LOVER

"As always in an Amanda Scott historical the inclusion of real persona and facts enhances the romance; while treachery and betrayal are a normal part of the court."—Harriet Klausner on HIGHLAND HERO

"Amanda Scott has done it again - provided us with an exciting, adventurous tale set in Scotland."—Romance Reviews Magazine on HIGHLAND HERO

Rave for Highland Master:

"Great with sensual scenes, Scott excapes the cliche of a masterful male taming a 'wildcat' woman; instead, Fin and Catriona learn to communicate and compromise in this solid roomantic adventure....Scott...deftly handles period dialogue and attitudes."—Publishers Weekly

For Highland Master:

"Marvelous Scottish tale of a time in history when various plays for power were held....a piece of history as well as a great tale. Amanda Scott does it again with another fascinating part of Scottish history."—Romance Reviews Magazine

Rave for first book in Scottish Knights Trilogy: "Amanda Scott proves once again she is the Highland Master when it comes to a thrilling tale starring Scottish Knights."—Harriet Klausner

On Highland Master: "[Scott] uses her knowledge of Scottish history to weave an engrossing and sexy story about Highland life in the 1400s."—Robert Walch, The Salinas Californian

"Blue-ribbon Rating - 4 ! Deliciously sexy....Highland Master is a rare treat of a read."—romancejunkies.com

"Amanda Scott has an uncanny knack of picking up her readers and plunking them down right in the middle of her storyworld. The physical settings, the tenor of the times, the characters, the language, and the political and family tensions, all present an unmatched air of authenticity to her work...Highland Master is an eminently satisfying read."—Romance Reviews Today

On Tempted by a Warrior:

"4 Checks! ...Terrific story. Loved the tension between Fiona and Dickon...Plenty of ...suspense throughout. Another wonderful Scottish tale with lots to recommend to all."—Romance Reviews

On Seduced by a Rogue:

"The historical romance writer adds this title to her impressive bibliography, delivering another trademark tale of strong-willed women and warrior-clans in 14th -century Scotland."—Allen Pierleoni, The Sacramento Bee, www.sacbee.com

On Seduced by a Rogue: "Another excellent novel from Amanda Scott, who just keeps producing one fine story after another..."—-Romance Reviews Magazine, romancereviewsmag.com

On Seduced by a Rogue: "Top Pick! Scott's wonderful book is...populated by characters who jump off the pages and grab your attention....Tautly written, passionate romance."—-Kathe Robin, Historical Romance Reviews, rtbookreviews.com

"Ms. Scott is able to make settings and history come to life...For a read brightened by suspense, wit, and love, Tamed by a Laird is a great choice."—-Jane Bowers, Romance Reviews Today

On Tamed by a Laird: "Noted for her exceptionally well-written and well-researched Scottish historicals, Scott breathes vivid, colorful life into 14th-century Scotland with strong, well-motivated characters, a passionate love story, and enough political intrigue to keep the action lively."—-Kristin Ramsdell, Library Journal Reviews
or
Not Currently Available for Direct Purchase