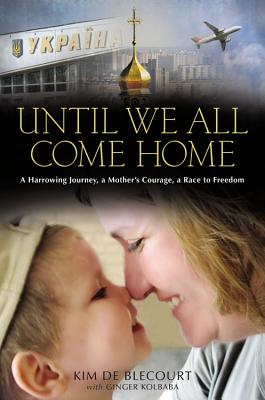 Until We All Come Home (Hardcover)
A Harrowing Journey, a Mother's Courage, a Race to Freedom
Faithwords, 9781455515103, 288pp.
Publication Date: November 6, 2012
* Individual store prices may vary.
Description
When Kim de Blecourt and her husband decided to adopt a child from Ukraine, they knew that the process might be challenging. Nothing, however, could have prepared de Blecourt for the twisted nightmare she would endure. During her year-long struggle to extricate her newly adopted little boy from that post-Soviet country's corrupt social service and judicial systems, de Blecourt was intimidated, physically assaulted, and arrested. Worse, her months of loneliness, worry, and fear drove her to the brink of spiritual despair. But God had no intention of abandoning de Blecourt or her family. Her amazing story-culminating in a spine-chilling race to freedom-offers dramatic proof that God's light shines on even in the deepest darkness.
About the Author
Kim de Blecourt is a media veteran, experienced writer and speaker, and expert on international adoption. Kim leads a ministry called Nourished Hearts to encourage, inspire, and create community around those who are adopting/have adopted, provide foster care and/or work in orphan care internationally. Kim and her husband, Jahn, have been married for fifteen years and are the parents of two children, Jacey and Jake. They reside in Michigan.
Praise For Until We All Come Home: A Harrowing Journey, a Mother's Courage, a Race to Freedom…
"I can describe this book in one word: captivating. It details the heart-wrenching excitement of running and hiding from one of the scariest government agencies in the world, and it is absolutely magnetic. I don't know how this family survived such a horrendous ordeal other than through God's intervention and favor. This is a must-read that you will be talking about for years to come, and a reference manual on the positive results that come from having a tenacious, never-quit attitude."
-Gary VanDyke, President, Food for Orphans

"Kim de Blecourt's story is amazing--and I never use the word amazing. Her courage in the face of persecution and obstacles will inspire you as you turn the pages of her adoption saga, a tale like none other. Until We All Come Home reads like a novel, and will enthrall you with each nail-biting episode until the blockbuster conclusion. The difference is, Kim really lived this story, and her profound devotion for her little boy is a tribute to a mother's love, and to God's care and shelter in the worst circumstances."
-Lorilee Craker, journalist and New York Times best-selling author of 11 books, including Through the Storm with Lynne Spears and Money Secrets of the Amish.

"UNTIL WE ALL COME HOME is a page-turner! This true life story is so captivating the reader is fully emotionally engaged from the beginning to the end. Kim de Blecourt has done an extraordinary job of relating the gripping impact of saying 'Yes' to God's leading in the life of her family. The tenacity, passion, and relentless cry of this mother's heart will make a lasting imprint on your life."
-Carol Kent, Speaker and Author of When I Lay My Isaac Down and Between a Rock and a Grace Place

"From its opening words to its last, UNTIL WE ALL COME HOME, take the readers on a heart-pounding journey that combines the intrigue of a political spy novel with the warmth of a mother's diary. Kim de Blecourt's book is that rare true-to-life tale that combines warmth, perspective, and wisdom with a message for everyone; we are all orphans in search of a relentless love that fulfills the promise to bring us home."
-Shelly Beach, award-winning author of The Silent Seduction of Self-Talk

"Until We All Come Home reads like a spy thriller, but with the reality that a child's life and livelihood is at stake. It's a terribly beautiful story of a family's love for a child, a corrupt bureaucracy, and the painful lessons we learn when we follow God wherever He leads. I loved this page-turning, God-breathed book."
-Mary DeMuth, author of Everything: What You Give and What You Gain to Become Like Jesus

"Until We All Come Home is one woman's true story which will draw you in from the very first sentence. It is a story of love, intrigue, harrowing fear, and absolute faith in the One who protects and provides in the midst of great darkness. I literally could not put this book down."
-Kristine McGuire, author of Escaping the Cauldron: Exposing Occult Influences in Every Day Life

"Wow! That is probably the word I used the most while reading this wonderful book! From the opening chapter to the last word and everything in between-it is a wile, page-turning ride that pulls the reader in and doesn't let go. Bravo, Kim de Blecourt, bravo!"
-Wanda L. Sanchez, Producer, Salem Radio Network, San Francisco

"Watching God work in the lives of people is always intriguing, and sometimes very unique. UNTIL WE ALL COME HOME is a story of hope when every turn of events appeared to be hopeless. This is an open and honest review of God's faithfulness and one person's struggle in recognizing it."
-Dean Parham, Pastor of Immanuel Church of Holland, MI

"An international adoption, out-of-control oppression, assault, robbery, corruption, manipulation, lawsuits, a national warrant, spiritual attack, more than eleven months in a foreign country-and one woman's courage. Kim de Blecourt's story will grab hold of your heart and won't let go. You might wonder, as I did, what you'd be willing to do for love and whether your trust in God is enough."
-Twila Belk, writing, speaker, co-author of Heavenly Company and I Believe in Healing
or
Not Currently Available for Direct Purchase