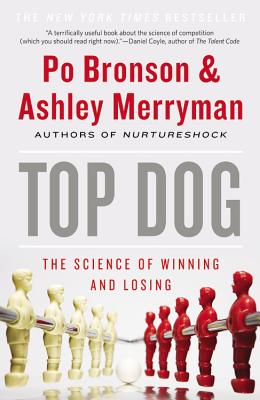 Top Dog
The Science of Winning and Losing
Paperback

* Individual store prices may vary.
Other Editions of This Title:
Digital Audiobook (2/18/2013)
Paperback (2/19/2013)
CD-Audio (2/26/2013)
Description
New York Times Bestseller

Po Bronson and Ashley Merryman's work changes the national dialogue. Beyond their bestselling books, you know them from commentary and features in the New York Times, CNN, NPR, Time, Newsweek, Wired, New York, and more. E-mail, Facebook, and Twitter accounts are filled with demands to read their reporting (such as "How Not to Talk to Your Kids," "Creativity Crisis," and "Losing Is Good for You").

In Top Dog, Bronson and Merryman again use their astonishing blend of science and storytelling to reveal what's truly in the heart of a champion. The joy of victory and the character-building agony of defeat. Testosterone and the neuroscience of mistakes. Why rivals motivate. How home field advantage gets you a raise. What teamwork really requires. It's baseball, the SAT, sales contests, and Linux. How before da Vinci and FedEx were innovators, first, they were great competitors.

Olympians carry Top Dog in their gym bags. It's in briefcases of Wall Street traders and Madison Avenue madmen. Risk takers from Silicon Valley to Vegas race to implement its ideas, as educators debate it in halls of academia. Now see for yourself what this game-changing talk is all about.
Praise For Top Dog: The Science of Winning and Losing…
"You gotta get it . . . [a] fascinating topic that we all deal with on a daily basis."—Fox & Friends

"A terrifically useful book about the science of competition (which you should read right now)."—Daniel Coyle, author of The Talent Code

"Cutting-edge science behind life's triumphs and failures . . . insight from politics, finance, science, sports and economics to tip the odds in your favor."—NPR.com

"Remarkable . . . this book will help you rise to the occasion . . . wildly counterintuitive."—San Francisco Chronicle (Literary Pick)

"Fiction may lay claim to imagination, but works such as TOP DOG are what push the envelope of our reality . . . stunning . . . Prepare to delve into the external factors and personal dynamos that make you who you are."—Coffin Factory

"I tell my staff, I tell my friends-you must read TOP DOG. I was a good poker player before I read it. Now, I'm even better."—Phil Gordon, World Poker Tour Champion, author, and CEO of Jawfish Games

"Accessible for fans of pop science, yet substantial enough to have practical applications . . . will have folks rethinking the impulse to win at work and play."—Publishers Weekly

"An easy, highly satisfying read . . . surprising . . . fascinating. Grade: A."—AVClub.com

"There is intense competition in just about every aspect of life . . . There's not an app for that, yet, but there is a book: TOP DOG . . . a good primer on the behaviors that can sink or lift us in a competitive world."—Seattle Times

"Illuminating and entertaining . . . surprising insights."—Kirkus

"Intriguing . . . the authors persuasively argue that technical skill is only one part-in many cases, the least important part-of what it takes to come out on top."—Booklist

"TOP DOG should be mandatory reading for every serious athlete, coach, and managers-both on and off the field. Amazing science, terrific storytelling, and insight to burn."


—Pat Williams, cofounder/SVP, Orlando Magic and Basketball Hall of Famer

"Such a provocative text . . . If you read NurtureShock, you already know about the power of their prose . . . game-changing steps to assure success in winner-take-all showdowns, for everyone from adults in offices to students in classrooms."—Tavis Smiley, The Tavis Smiley Show

"A great read for those paralyzed by the fear of failure as well as those who hunger for success."—Huffington Post

"In TOP DOG, Bronson and Merryman turn their attention from the science of child development to competition: why men are overconfident and women are better at gauging risk; the advantage of playing on home field; why younger sibs are more competitive than first-born. And much more."—Toronto Star

"I cannot recommend it more highly . . . An essential book-if you care about competition, winning, losing, or humanity, you must buy this book . . . Fantastic."—Jack Abramoff, The Jack Abramoff Show

"As the beta-dog head of a trophy-challenged family, I was surprisingly inspired by Bronson and Merryman's compulsively readable and rigorously researched book. TOP DOG will turn everything you believe about competition (good, bad, and ugly) upside down. Awesome!"—Sandra Tsing Loh, host, The Loh Down on Science

"The authors provide an exhaustive culling of medical literature as well as reader-friendly anecdotes drawn from business, sports, the arts, and the military."—Inc. Magazine

"An exciting look at the genetic, psychological, and situational factors that impact how people perform when competing . . . abundant research . . . snappy writing."—Audiofile

"Highly recommend to anyone wanting to dig deeper into how we humans really function and why."—Myrtle Beach Sun News

"[The authors] once again poked conventional wisdom in the eye . . . fine and fascinating volume . . . highly readable prose, with great stories . . . I would give this book a lot of stars."—Utah Daily Herald

"[The authors'] breezy, accessible style is backed up with impeccable references to peer-reviewed journals and authoritative books."—Winnipeg Free Press

"Turning common sense on its head . . . an untangling of winners, losers, biology and psychology and how each plays its role in the rise and fall of competitors . . . imploring you to turn up your competitive fire, and, quite possibly, become the next top dog."—Express Milwaukee

"I highly recommend it to anyone who is a coach, business leader, entrepreneur or parent."—Honolulu Star-Advertiser's "Career Changers"

"Groundbreaking book on the science of competition . . . based on cutting-edge science . . . told through easy-to-grasp stories."—Free Lance-Star (VA)

"From every perspective-attorney, administrator, educator, and parent-TOP DOG won me over. I was captivated by the thought-provoking ideas, first-rate prose, and unforgettable science."—William M. Treanor, executive vice president and dean, Georgetown University Law Center

"Brilliant, phenomenal, inspiring. I love this book. Through TOP DOG, I finally have a science-based understanding of competition-and I know how to use that science to bring out my absolute best. Whether I'm preparing for a race or thinking about how to grow my business, TOP DOG's my training manual for excellence."—Roisin McGettigan-Dumas, track and field Olympic finalist, CEO/Entrepreneur, BelieveIAm.com

"If you wake up in the middle of the night worried that you might not have the right stuff, TOP DOG is for you. Po Bronson and Ashley Merryman use lessons from virtuosos in every conceivable discipline-skydivers, ballroom dancers, NASA managers, Renaissance artists-to deconstruct and distill what we need to do to compete successfully in our hyper-competitive age. TOP DOG is that rare thing-intelligent, illuminating and filled with practical advice."—Anne Kreamer, author of It's Always Personal: Emotion in the New Workplace and Going Gray

"Amazing . . . mind-boggling . . . Every page, you go, 'Oh, whoa.' Really wonderful . . . just fascinating reading."—Leo Laporte, TWiT.TV
Twelve, 9781455515141, 352pp.
Publication Date: February 18, 2014
About the Author
Po Bronson is the author of seven books, including What Should I Do with My Life?, a #1 New York Times bestseller with more than ten months on the list. Po has been on Oprah, on every national morning show, and on the cover of five magazines, including Wired and Fast Company. He is Strategy Director at IndieBio. He lives in San Francisco with his wife and two children. Ashley Merryman's journalism has appeared in Time, Newsweek, New York, the Washington Post, and many other venues. She lives in Los Angeles.