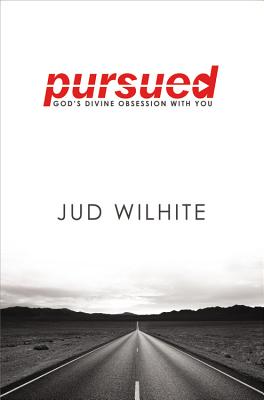 Pursued: God's Divine Obsession with You (Hardcover)
God's Divine Obsession with You
Faithwords, 9781455515462, 214pp.
Publication Date: February 5, 2013
* Individual store prices may vary.
or
Not Currently Available for Direct Purchase
Description
Christian faith isn't blind obedience to a set of rules and regulations; it is entering into a relationship with a God who pursues us-not to punish, but to love. As the leader of Central Christian Church in the self-proclaimed "Sin City, U.S.A.," Jud Wilhite has seen it all, and he knows that no matter how far someone has strayed from God, God always remains in passionate pursuit. Using the biblical prophet Hosea's marriage, commanded by God, to an unfaithful prostitute as a metaphor for God's unwavering love, PURSUED compellingly illustrates God's plan for every person-to be freed to become his or her own unique self through intimate togetherness with the living, loving God.
About the Author
Jud Wilhite is an author, speaker, and senior pastor of Central Christian Church, a church founded in Las Vegas with multiple campuses, both national and international. Central is recognized as one of the largest and fastest growing churches in America. Jud is the author of several books, including Pursued, a New York Times bestseller, Torn, Throw it Down, andUncensored Grace. He and his wife, Lori, have two kids and live in the Las Vegas area.
Praise For Pursued: God's Divine Obsession with You…
"If you've ever read Francine River's book, Redeeming Love you must get this book! Jud's PURSUED message brings the story of Hosea and Gomer to life in a way that resonated deep within my heart. As a woman who longs to be accepted despite my faults and short-comings, this page-turning book was a pure gift of grace and truth. It reads as well as your favorite fiction book but leaves behind life-changing lessons of what it means to be personally loved and adored by God."
-Lysa TerKeurst, President of Proverbs 31 Ministries, author of Made to Crave

"I just finished reading PURSUED. It changed my life! This book helped me understand that God's correction is for my protection. This book showed me how much God adores us! I really needed this book in this season of my life. Thanks, Jud Wilhite!"
-Rev. Run, author of Words of Wisdom, founding member of Run-D.M.C, member of the Rock and Roll Hall of Fame

"My good friend Jud Wilhite has done it again! PURSUED is a fantastic book about God's relentless pursuit of our prodigal race."
-Andy Stanley, senior pastor, North Point Ministries, author of The Grace of God

"PURSUED is filled with real-life stories of God-pursued people from Israel to Las Vegas. It will show you God's heart in a way that will change yours."
-John Ortberg, senior pastor, Menlo Park Presbyterian Church, author of Who is This Man?

"This is hands down the most important book you'll read this year. Jud brilliantly helps all of us understand the simple truth that there is a God who is pursuing us with a scandalous love. Whether you're starting a journey with God or you've been a Christ follower for decades this book can change the way you view God and what he's doing in your life. I'll pick this book up again and again."
-Pete Wilson, pastor of Cross Point Church, author of Plan B and Empty Promises

"PURSUED is an incredible book that clearly moves the focus from our pursuit of God to God's pursuit of us. Jud sheds light on an often-overlooked part of the Bible and reveals depths of God's grace that will breathe new life and energy into you!"
-Christine Caine, founder of the A21 Campaign, author of Undaunted

"Does it seem odd to talk about God's obsession with you? It won't after reading PURSUED; it may actually seem like an understatement. This remarkable book will challenge how you see God and faith and help you experience God at deeper levels of your life."
-Mark Batterson, lead pastor of National Community Church, author of The Circle Maker

"You are loved. You are loved. You are loved. This heartbeat of God echoes through eternity. Jud Wilhite combines both beautiful language and compelling stories to remind us of this timeless truth. Wherever you are. Whoever you are. Pick up this book. Read it. You won't be the same."
-Margaret Feinberg, author of Wonderstruck and Scouting the Divine

"All too often I hear people say, 'My life was falling apart and then I FOUND GOD!' This statement always causes me to scratch my head because I was never aware that God was actually the one lost...I was...and He found me! I love this fresh perspective offered to us by Jud in this new book, it's not that we are obsessed with God and are pursuing Him, but rather that He loves us and wants nothing more than to have a active, vibrant and ongoing relationship with us. You have got to read this book!"
-Perry Noble, senior pastor of NewSpring Church, author of Unleash!

"Jud Wilhite serves God with a passion to reach broken people for Christ. Through his rich experience as a Pastor he has written this book to help all of us discover just how much we are PURSUED by our gracious God. Let go of the things that are holding you hostage and embrace a new level of freedom in Christ."
-Steven Furtick, Lead Pastor, Elevation Church, author of Sun Stand Still

"PURSUED is such a powerful reminder of the greatness of God's love and the persistence of His will for us. This book will open your eyes and renew your faith. For anyone who needs a reminder of the grace of God and the potential of their future, I would highly recommend PURSUED."
-Matthew Barnett, Co-founder of The Dream Center, author of The Cause Within You

"If you've ever felt like you're too far gone for the love of God, PURSUED is for you. Jud Wilhite masterfully combines biblical truths with real life examples to reveal the never-ending, loving pursuit of God."
-Craig Groeschel, Senior Pastor of LifeChurch.tv Author of Soul Detox, Clean Living in a Contaminated World
Advertisement