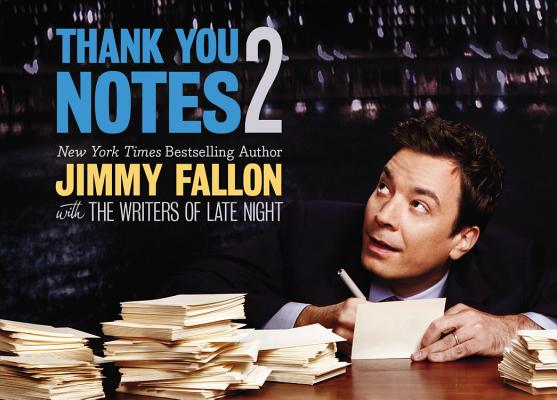 Thank You Notes 2 (Paperback)
Grand Central Publishing, 9781455518883, 176pp.
Publication Date: May 22, 2012
Description
Picking up where the first Thank You Notes left off, Jimmy Fallon has many more people and things to thank. He addresses some 200 new subjects in need of his undying "gratitude." Each page will feature one note and a photograph of its recipient.

"Thank you, gift bags, for saying "I care enough to put your gift in a slightly fancier bag than the one I bought it in."

"Thank you, people whose Facebook profile picture is them as a baby, for basically saying, "Here's the last time I wasn't ugly."

"Thank you, women who walk around with their yoga mats in slings, for either looking like an unemployed archer or a bazooka smuggler."
About the Author
Jimmy Fallon is the host of Late Night With Jimmy Fallon. Fallon was chosen by NBC as the replacement host when Conan O'Brien left in 2009. Before landing his own show, Fallon was a beloved cast member on Saturday Night Live for 5 years. Fallon has hosted several awards shows, and acted in numerous films, including Woody Allen's Anything Else and Cameron Crowe's Almost Famous. Jimmy lives in New York City.
Advertisement