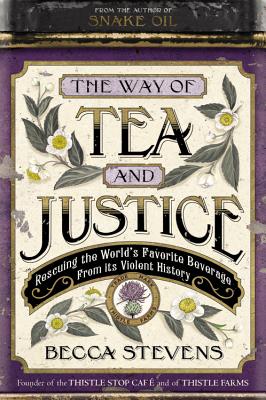 The Way of Tea and Justice (Hardcover)
Rescuing the World's Favorite Beverage from Its Violent History
Jericho Books, 9781455519026, 240pp.
Publication Date: November 4, 2014
Other Editions of This Title:
Paperback (7/7/2015)
* Individual store prices may vary.
Description
What started as an impossible dream-to build a café that employs women recovering from prostitution and addiction-is helping to fuel an astonishing movement to bring freedom and fair wages to women producers worldwide where tea and trafficking are linked by oppression and the opiate wars.

Becca Stevens started the Thistle Stop Café to empower women survivors. But when she discovered a connection between café workers and tea laborers overseas, she embarked on a global mission called "Shared Trade" to increase the value of women survivors and producers across the globe.

As she recounts the victories and unexpected challenges of building the café, Becca also sweeps the reader into the world of tea, where timeless rituals transport to an era of beauty and the challenging truths about tea's darker, more violent history. She offers moving reflections of the meaning of tea in our lives, plus recipes for tea blends that readers can make themselves.

In this journey of triumph for impoverished tea laborers, hope for café workers, and insight into the history of tea, Becca sets out to defy the odds and prove that love is the most powerful force for transformation on earth.


About the Author
Reverend Becca Stevens is an Episcopal priest serving as Chaplain at St. Augustine's at Vanderbilt University, and founder of Magdalene and Thistle Farms, a community and social enterprise that stands with women recovering from violence, prostitution, addiction and life on the streets. Magdalene, the residential model, serves women for two years at no cost to residents. Thistle Farms employs residents and graduates who manufacture, market and sell all natural bath and beauty products in over 200 retail stores across the globe.

Stevens was awarded an honorary doctorate in divinity and inducted into the Tennessee Women's Hall of Fame in 2013. In 2011 she was named one of 15 "Champions of Change" by the White House. To date, she has raised more than $14 million for the organizations she supports. Stevens lives in Nashville with her husband, Grammy-winning songwriter Marcus Hummon, and their three sons.
Praise For The Way of Tea and Justice: Rescuing the World's Favorite Beverage from Its Violent History…
"Accompanied throughout by deliciously unique recipes for homemade tea blends and brews, Stevens' narrative is a softly delivered meditation on the power of faith and love to make a difference in the lives of those who need it most."—Kirkus

"With her characteristic warmth, wisdom, and insight, Becca Stevens opens up the strange and fascinating world of tea, masterfully stitching together stories about mindfulness, justice, healing, and community. Few writers exhibit such a remarkable ability to bring faith to life in the very world we can see, touch, taste, smell and feel. Every word of this delightful, instructive book tastes like sacrament."—Rachel Held Evans, author, A Year of Biblical Womanhood

"[Women served by Thistle Farms] would be dead by now if it weren't for a remarkable initiative by the Rev. Becca Stevens..to help women escape trafficking and prostitution."—Nicholas Kristof, The New York Times

"If you have not already met Becca Stevens of Thistle Farms fame, it's time you had the pleasure, and here's your chance. Just look how she shares tea and happiness-isn't she wonderful?"—James Norwood Pratt, America's Tea Sage, author of JNP's Tea Dictionary, etc.

"Becca Stevens is a force of nature-both as a speaker and with her words on the page. Her message always gets right to the heart of the matter."—John Prine, songwriter