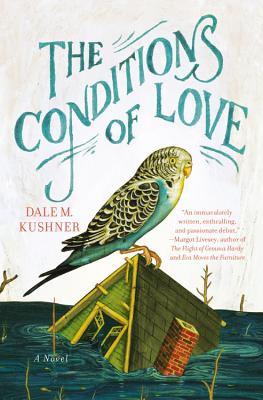 The Conditions of Love
Paperback

* Individual store prices may vary.
Other Editions of This Title:
Digital Audiobook (5/13/2013)
Hardcover (5/14/2013)
Description
Dale M. Kushner's novel The Conditions of Love traces the journey of a girl from childhood to adulthood as she reckons with her parents' abandonment, her need to break from society's limitations, and her overwhelming desire for spiritual and erotic love. In 1953, ten-year-old Eunice lives in the backwaters of Wisconsin with her outrageously narcissistic mother, a manicureeste and movie star worshipper. Abandoned by her father as an infant, Eunice worries that she will become a misfit like her mother. When her mother's lover, the devoted Sam, moves in, Eunice imagines her life will finally become normal. But her hope dissolves when Sam gets kicked out, and she is again alone with her mother. A freak storm sends Eunice away from all things familiar. Rescued by the shaman-like Rose, Eunice's odyssey continues with a stay in a hermit's shack and ends with a passionate love affair with an older man. Through her capacity to redefine herself, reject bitterness and keep her heart open, she survives and flourishes. In this, she is both ordinary and heroic. At once fable and realistic story, The Conditions of Love is a book about emotional and physical survival. Through sheer force of will, Eunice saves herself from a doomed life.

This engaging examination of a mother and daughter's relationship will appeal to the same audience that embraced Mona Simpson's acclaimed classic Anywhere But Here and Elizabeth Strout's bestselling Amy and Isabelle.
Praise For The Conditions of Love…
A teenage girl endures fire, flood and the loss of her parents in this bracing, oddly uplifting debut.

As this coming-of-age novel begins in 1953, narrator Eunice is living in a small Illinois town with her mother, Mern, whose affection for Hollywood movies is nearly matched by her erratic behavior and questionable taste in men. Eunice's reprobate father is out of the picture, but when he returns for just one day to take her to a carnival, it's transformative for her. Alas, dad is back in the shadows fast, and Mern's boyfriends don't last long either, signaling the grand theme of this novel: The love of others is something that always seems to slip just out of reach. A nearly biblical flood separates Mern and Eunice, putting the girl in the care of Rose, a flighty but compassionate earth-goddess type, and the knowledge about nature that Eunice picks up serves her well when she falls into the orbit of an attractive farmer named Fox-until catastrophe strikes yet again. Kushner seems to have taken more than a few lessons from Joyce Carol Oates about both crafting a novel with a broad scope and putting female characters through the wringer. But there's also a lightness to Eunice's narration that keeps the Job-ian incidents from feeling oppressive-she's observant, witty and genuinely matures across the nine years in which the novel is set. Kushner makes some structural missteps-for instance, she delays revealing much detail about Fox, which dulls his character early on and blunts the impact of the novel's climactic drama. But Kushner is remarkably poised for a first-time novelist, offering an interesting adolescent who's possessed of more than a little of Huck Finn's pioneer spirit.

A fine exploration of growing up, weathering heartbreak and picking oneself up over and over.—Kirkus

When Eunice is 10 years old, her father comes back to Wild Pea, Illinois, and promises to buy her a horse. She never sees him again. Her mother, Mern, is heartbroken but soon comforted by the attentions of the flawed but loving Sam Podesta. Eunice grows up fighting for love from the people who should love her unconditionally but is bolstered by love from unexpected sources, her downstairs neighbor, a Holocaust survivor, and her pet turtle, Eunice Turtle. As a young teenager, she is literally rescued by Rose, a patient teacher, who loses her to foster care and Eunice's first stirrings of romantic love. Eunice is a lonely, artistic girl who grows into a temperamental young woman whose strength and capacity for love belie her tough upbringing. This is poet Kushner's first novel, and her roots show; passages describing even the bleakest midwestern landscapes are artfully drawn. A coming-of-age story that wonderfully combines literary style with heartbreaking plot twists and still manages to be uplifting, even before the epilogue that ties everything together.—Booklist
Grand Central Publishing, 9781455519743, 384pp.
Publication Date: May 6, 2014
About the Author
Dale M. Kushner graduated the Vermont College MFA Program in Creative Writing, and founded The Writer's Place, a literary center in Madison, Wisconsin. Ms. Kushner is a recipient of a Wisconsin Arts Board Grant in the Literary Arts, a fellowship at the Wurlitzer Foundation in Taos, New Mexico. As well, she was a participant with other leading writers in the recent Fetzer Institute's first writers' retreat on compassion and forgiveness. Her work has been widely published in literary journals including IMAGE, Poetry, Prairie Schooner, Salmagundi, Witness, Fifth Wednesday, and elsewhere. Her most recent poetry book More Alive Than Lions Roaring was a finalist for The May Swenson Poetry Award at Utah State Press, The Prairie Schooner Book Competition, the Agha Shahid Ali Prize at University of Utah Press, and The Tupelo Prize.

Ms. Kushner has been a long-time investigator of the intersection between writing and spiritual life. She is currently on the faculty of The Assisi Institute in Brattleboro, VT, a teaching center that serves as an international focus point for leading thinkers and groundbreaking conversation on the work of C.G. Jung and the relationship between psyche and matter.

She lives in Madison, Wisconsin with her family and dog, Carmelita. The Conditions of Love is her first novel.
Within the first paragraphs, we learn a great deal about our narrator, Eunice. What is the author setting up for Eunice in these pages and how does it forecast her future?
Eunice experiences terrible loss and tragedy in her life, yet she not only survives, she thrives. What characteristics does she possess to allow her to do so?
In what ways does The Conditions of Love mirror the classic hero/heroine's journey? Do you think the journey is intrinsically different for men and women?
How does the setting—a small Midwestern town in the 1950s—contribute to understanding the choices Eunice makes? How would setting the novel in 2014 make it a different story?
How does Eunice's imagination help her negotiate loss?
What is this book telling us about the intertwining of love and loss?
What is the role of memory and false memory in The Conditions of Love?
What is role the natural world played in shaping Eunice's
character?
In the beginning of the novel, Mr. Tabachnik introduces Eunice to opera. In speaking about opera he says, "but from the terrible, beautiful can come." What resonance do those words have for Eunice as her life unfolds?
Mr. Tabachnik and Rose are both wisdom figures, but of very different sorts. How are they similar and how are they different? In what ways do they complement each other? What aspects of
wisdom do they represent?
What does Eunice Turtle tell us about the way animals, and specifically pets, shape and ground us?
What are the different types of love the book presents? How are they different, similar, and to what degree are they mutually exclusive?
Mern is a difficult mother, yet Eunice loves her. Why do some children reject difficult mothers like Mern and others do not? What qualities does Eunice possess that enable her to love and forgive her mother?
Movies and movies stars are important to Mern. Why? How do
the movies bring Eunice and Mern together? How does Mern's
obsession with movie stars bring about a split between Eunice
and Mern?
What different aspects of "the father figure" were represented by Frankie, Sam, Marcus, and Fox?
Compare Eunice's mourning of Sam, Mern, and Frankie.
What aspects of mothering does Rose give Eunice that Mern
cannot?
How does Mr. Tabachnik's experience of suffering differ from Eunice's and how are they similar?
Why was CC so attached to Tooty? Did she identify with him in
some way? If so, how? What does the Wednebach family represent
and how does Eunice's staying with them contribute to her
self-discovery?
Mern says to Eunice, "Who wants to be normal?" In what ways is being "different" explored in the novel?
Why does Eunice leave Rose for Fox? How does Eunice's leaving Rose contribute to her own development?
How has reading The Conditions of Love changed your perceptions about love?
What role does the past play in each character's life? Do the characters'
back stories help the reader understand their actions in
story-present? Explain.
How does Fox's revelation about Iris help the reader understand
his attraction to Eunice?