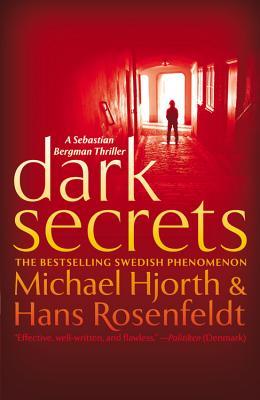 Dark Secrets (Paperback)
Grand Central Publishing, 9781455520756, 464pp.
Publication Date: April 23, 2013
Other Editions of This Title:
Digital Audiobook (4/22/2013)
* Individual store prices may vary.
Description
This book was published in the United Kingdom under the title Sebastian Bergman.

It all begins with a call to the police. A sixteen-year-old boy, Roger Eriksson, has gone missing in the town of Västerås. A search is organized and a group of young scouts makes an awful discovery in a marsh: Roger is dead.

Meanwhile, Sebastian Bergman, psychologist, criminal profiler and one of Sweden's top experts on serial killers, is in Västerås to settle his mother's estate following her death. Sebastian has withdrawn from police work after the death of his wife and daughter in the 2004 tsunami.

When the Crime Investigation Department asks Sebastian for his help in Roger's case, his arrogant manner at first alienates the rest of the team. Pushing forward, though, they begin to make disturbing discoveries about the private school Roger attended....
About the Author
MICHAEL HJORTH was born in 1963 in Visby. He has always loved movies and books and is one of Scandinavia's most accomplished screenwriters and producers today. He is one of the founders of the production company Tre Vänner which, among other things, is behind Sweden's first highly successful sitcom, Svensson Svensson, as well as the movie Snabba cash / Easy Money.
Michael Hjorth likes to work in all genres and has written everything from comedy to horror, drama and crime.

HANS ROSENFELDT was born in 1964 in Borås. He worked as a sea lion keeper, a driver, a teacher and an actor until 1992 when he began writing for television. He has written screenplays for approximately twenty drama series and has hosted both radio and television shows. He loves to write, play videogames and spend time with his wife and three children.
Praise For Dark Secrets…
"A thrilling crime plot with lots of twists and turns...the best Swedish crime export of the year."—Die Welt (Germany)

"Effective, well written and flawless are three pretty precise labels one can put on the Swedish author duo Mikael Hjorth and Hans Rosenfeldt's first crime novel Det fördolda....Hjorth & Rosenfeldt cannot be placed in a classic, Swedish crime tradition. Neither criticism on society, nor women's crime fiction's tiring predilection for everyday trivialities is offered here, instead a solid narrative, where nothing is black or white."—Politiken (DK)

"Despite the gruesome murder, Det fördolda is a crime novel where action and blood-dripping details are left behind for more interesting depictions of the everyday - although complex and infected - relationships between people. The cleverly increasing tension lies in the gradual mapping out of Roger's life and it leaves you with a taste for more."—Skånska Dagbladet (SE)

"The solid story is brought to life by the characters who hopefully will appear again in part two of the Bergman series."—de Volkskrant (NL)

"An exceedingly quick, efficient and continuously action packed crime thriller. They know their craft. They have great command of the staccato rhythm of this curt, brusque language and use it to create drama and continuously increasing tension."—Borås Tidning (SE)

"Effective, well written and flawless."—Politiken (DK)

"An exceedingly quick, efficient and continuously action packed crime thriller. They know their craft."—Borås Tidning (SE)

"A glimmering crime novel."—Ny Nordisk Litteratur (Denmark)

"An astoundingly smart thriller."—De Telegraaf (Netherlands)