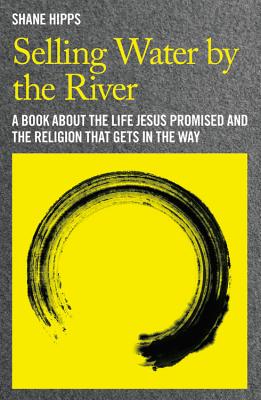 Selling Water by the River (Hardcover)
A Book about the Life Jesus Promised and the Religion That Gets in the Way
Jericho Books, 9781455522088, 224pp.
Publication Date: October 16, 2012
* Individual store prices may vary.
Description
Work, sex, ice cream, religion-they all promise fulfillment. But what they deliver is fleeting.

Jesus knew about this quest. He came to show us that peace is possible in this life, not just the next one. Yet Christianity, the very religion that claims Jesus as its own, has often built the biggest barriers to him and the life he promised.

Celebrated speaker and pastor Shane Hipps revives the faith with a fresh and persuasive understanding of the message of Jesus. The shocking truth is that Jesus proclaimed "eternal life" as a present reality that dwells within each of us. A transformative breakthrough, this book goes beyond "religion" or "spirituality" and cuts to the heart of our humanity and existence. It's about realizing that we already possess what we are searching for, and that the Heaven we long for isn't just a gift when we die, but a gift while we live.


About the Author
Shane Hipps is the former lead teaching pastor at Mars Hill Bible Church in Grand Rapids, MI. Previously he served for five years as the lead pastor of a Mennonite church in Phoenix, AZ. He is a graduate of Fuller Seminary, the result of a self-termed "Damascus" experience. Before accepting his call as a pastor, he was a strategic planner in advertising for the multimillion dollar communications plan for Porsche. It was here that he gained expertise in understanding media and culture.

Hipps is a sought-after speaker and author of Flickering Pixels: How Technology Shapes Your Faith, and The Hidden Power of Electronic Culture: How Media Shapes Faith, The Gospel, and Church. Find videos, podcasts, downloadable resources and more at shanehipps.com, or follow him on Twitter @shanehipps.
Praise For Selling Water by the River: A Book about the Life Jesus Promised and the Religion That Gets in the Way…
Praise for SELLING WATER BY THE RIVER:
"Really profound...helpful...inspiring."

—
Rob Bell, Author of Love Wins
"There are, in Hipps' SELLING, a sturdiness and brilliance and simplicity of theology and an accessible and God-drenched grace that make it the humblest, clearest, most comfortably compelling statement yet of the difference between "religious Christianity" and the Jesus way. In sum, this is one of the most instructive and pastoral books I have read in the last ten years and, Lord knows, one of the most needed."—
Phyllis Tickle, Lecturer on Religion in America and Author of Emergence Christianity: What it Is, Where it is Going, and Why it Matters
"Shane Hipps brings us news that is too good not to be true: that what we thought we had to wait for, work for, strive for, reach for, fight for, die for, earn, learn, master, or attain is actually already a gift fully given in the present of this moment, graciously and freely ours if only we would awaken to it. This book not only offers us this good news with great clarity and delight; it also helps us-gently, wisely, simply, and profoundly-to be roused and raised into that blessed state of awe and awakening."—
Brian D. McLaren, author of Why Did Jesus, Moses, the Buddha, and Mohammed Cross the Road? (www.brianmclaren.net)
"Masterfully weaving story, metaphor, and scripture into a tapestry, Shane Hipps puts his finger on something we all long for: a connection with the Divine. SELLING WATER BY THE RIVER will be a wonderful discovery for the many people who feel that true spirituality has been corrupted by culture and religion."—
Tony Jones (tonyj.net) is a theologian and the author of many books, including The New Christians
"This book is one of the flare-ups from that religionless Christianity that more and more is breaking out in our world. Some of us will flee from what Shane Hipps tries to tell us in this book. Others will find what he has to say helpful in their efforts to live out the Jesus lifestyle in the landscape of a post-modern world. Whatever your reactions might be you will find the words on these pages cannot be ignored."—
Tony Campolo, Eastern University
"Shane Hipps manages to take your beliefs and assumptions about God and the Bible and artfully, yet mercilessly wrings them out, leaving behind whatever drips to the floor, (the things that never belonged in there anyhow), then shakes them out and shows them to you again now free from what had clung to them -and before you is something beautiful, true, new and familiar."—
Nadia Bolz-Weber, Founding Pastor, House for all Sinners and Saints
"Shane Hipps offers us a compelling and life-giving reminder that the work and life of Jesus is not identical to what we know to be Christianity. Without falling into cynicism or mere critique Shane invites us to encounter a wild ride with Jesus. The fruit of reconsidering the gospel in light of full humanity-his and our own-is like being given a refreshing IPA after a long dusty hike. Let the breath of God blow you into new wonder and hope."—
Dan B. Allender, Ph.D., Professor of Counseling Psychology and Founding President, The Seattle School of Theology and Psychology
or
Not Currently Available for Direct Purchase