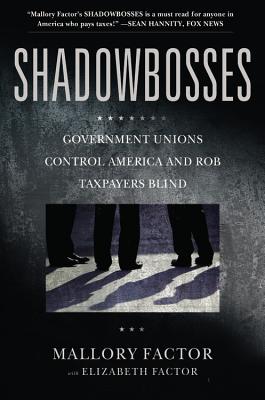 Shadowbosses (Hardcover)
Government Unions Control America and Rob Taxpayers Blind
Center Street, 9781455522743, 336pp.
Publication Date: August 21, 2012
Other Editions of This Title:
Digital Audiobook (11/12/2012)
Paperback (5/14/2013)
CD-Audio (12/4/2012)
* Individual store prices may vary.
Description
SHADOWBOSSES reads like an organized crime novel, but it's actually a true story of how labor unions are infiltrating our government and corrupting our political process. This compelling and insightful book exposes how unions have organized federal, state, and local government employees without their consent, and how government employee unions are now a threat to our workers' freedoms, our free and fair elections, and even our American way of life. And, Mallory Factor reveals what's coming next: how unions are targeting millions of Americans--maybe even you--for forced unionization so that unions can collect billions more in forced dues and exert an even greater influence over American politics. A chilling expose, SHADOWBOSSES is also a call to citizen action against those who really hold power in America today.
About the Author
Mallory Factor is the John C. West Professor of International Politics and American Government at The Citadel. He is a Forbes columnist, the Senior Editor of Money and Politics for The Street.com, a political commentator and a businessman. He is co-founder of The Monday Meeting, an influential group of conservative political leaders, journalists, donors, think tank heads, and grassroots leaders in New York City---the largest meeting of its type in America.
Praise For Shadowbosses: Government Unions Control America and Rob Taxpayers Blind…
"Mallory Factor's SHADOWBOSSES is a must read for anyone in America who pays taxes!"

---Sean Hannity, Fox News

"...Mallory Factor blows the lid off Big Labor's racket and arms you with the whole truth about the ruthless left-wing fat cats who pull the Democratic Party's strings...Get the facts. Buy this book."

---Michelle Malkin, Fox News contributor and author of Culture of Corruption

"...Government union bosses have been siphoning off our tax dollars by the billions for years. Mallory Factor exposes them...with a hard-hitting, thoroughly documented, and enlightening exposé of these shadowbosses and their Big Labor empire."

---Rand Paul, United States Senator from Kentucky

"...SHADOWBOSSES is a must read for anyone wanting to save our nation."

---Steve Forbes, chairman and editor-in-chief, Forbes Media

"There's never been a government scandal like the one Mallory Factor uncovers in SHADOWBOSSES---it's a dark, secretive alliance between politicians and government employee unions to take down the American taxpayer..."

---Grover G. Norquist, president, Americans for Tax Reform

"...SHADOWBOSSES reveals what is really going on in...the corridors of power across America---it's is a must-read for every American who cares about the future of our nation."

---David A. Keene, president, National Rifle Association; chairman emeritus, American Conservative Union

"...The mainstream media is afraid to cover this story. You should be afraid not to read this book. Buy it now and give extra copies to your friends, family, neighbors, and countrymen. It is just that important."

---Richard Miniter, Forbes.com columnist, Bestselling author of Losing bin Laden and Shadow War

"I've been called the top confidence man of the last century, but the stuff I pulled is nothing in comparison to what the government employee unions have pulled on the taxpayers. In SHADOWBOSSES, find out about the greatest scam in American governmental history that is costing every taxpayer a fortune."

---Frank W. Abagnale, Author and Subject of Catch Me If You Can

"The greatest threat to limited government and individual liberty today is the threat posed by the huge government employee unions...In SHADOWBOSSES, Mallory Factor has written a compelling and alarming account of the growing power of these radical leviathans..."

---David Horowitz, author, founder of Freedom Center

"Mallory Factor's SHADOWBOSSES puts the torch to the political keg of dynamite beneath the Democratic Party. By exposing the government workers unions, Factor has ripped the lid off the greatest single scam in American political history...No more important book has ever been written for the American taxpayer."

---Ben Shapiro, Breitbart News Editor-At-Large, Bestselling Author of Primetime Propaganda
or
Not Currently Available for Direct Purchase