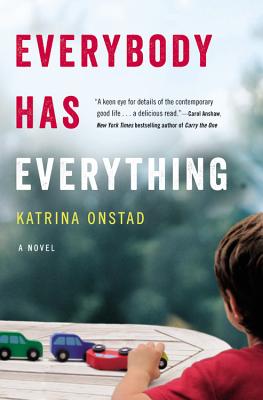 Everybody Has Everything (Paperback)
Grand Central Publishing, 9781455522927, 336pp.
Publication Date: June 25, 2013
* Individual store prices may vary.
Description
After years of unsuccessful attempts at conceiving a child, Ana and James become parents overnight, when a terrible accident makes them guardians to 2 ¿ year-old Finn. Suddenly, two people who were struggling to come to terms with childlessness are thrust into the opposite situation-responsible for a small toddler whose mother's survival is in question.

Finn's crash-landing in their tidy, urban lives throws into high relief some troubling truths about their deepest selves, both separately and as a couple. Several chaotic, poignant, and life-changing weeks as a most unusual family give rise to an often unasked question: Can everyone be a parent?
About the Author
Katrina Onstad
's
award-winning journalism has appeared in the
New York Times Magazine,
the
Guardian
,
Elle
, and
Toronto Life
. She is currently a culture columnist in
The Globe and Mail
and lives in Toronto with her family. For more information, please visit Katrina's website:
http://katrinaonstad.com/
.
Praise For Everybody Has Everything…
"Onstad's radiant novel is powered by gorgeous writing, a quietly propulsive plot, and an uncannily accurate rendering of the way love, lust, rage, and reconciliation ebb and flow in the life of a couple."—Real Simple

"The unexpected story of a modern relationship that's not a romance at all (except maybe in the abstract), and a story of motherhood that turns expectations of what's 'natural' for women on its head. . . A novel (one of the only contemporary ones I've read) that takes on the very hard question of what it really means to men and women to parent and how that answer is (and shouldn't be) obvious, simple or the same for everyone."—"6 Smart books for summer reading," Mother Nature Network

"With concise, elegant prose, the author presents an audacious look at a question no one is supposed to ask, namely, can everyone be parents? Or, more important, should they? Book clubs will find much to captivate them, as will fans of highbrow issue-driven fiction in the vein of Anita Shreve and Wally Lamb."—Jeanne Bogino, New Lebanon Lib., NY, Library Journal (Starred Review)

"A fine novel about contemporary parenting and relationships."—Kirkus Reviews

"With a keen eye for details of the contemporary good life, Katrina Onstad precisely delineates the crack in the vase of what appears to be a happy marriage. This is a book that challenges conventional wisdom about love and parenting and rising to the occasion in a crisis. And there is no way to predict the next turn of its events, which makes it a delicious read."—Carol Anshaw, bestselling author of Carry the One

"Utterly rich, vivid and filled with urgency. I couldn't take my eyes off of these characters." —Kaui Hart Hemmings, bestselling author of The Descendants

"What an interesting, vivid, utterly modern novel Katrina Onstad has written. I love how intelligently and precisely she explores James and Ana's emotions around marriage, love, sex, work, ambition and parenthood. Everybody Has Everything made me both think and feel differently about my own life."—Margot Livesey, author of The Flight of Gemma Hardy and The House on Fortune Street

"Tenderly observed and elegantly drawn, Onstad's characters are true to the deep worries and tangential shifts of fate which often define modern life; they remind us of that life's ability to soothe, to hurt, and to heal."—Vincent Lam, author of The Headmaster's Wager

"Katrina Onstad's beautiful new novel is a clear-eyed look at an ordinary marriage under extraordinary pressure. Everybody Has Everything is about many things - family, friendship, responsibility, loss - but at its heart, it's about what happens when the person you love suddenly veers off in another direction. It is unflinching yet tender, gripping and lyrical and devastating. I can't stop thinking about it."—Lauren Fox, author of Friends Like Us and Still Life with Husband

"I inhaled every page, feeling gut-punched by a writer willing to tackle such taboo subjects as the ambivalence of motherhood, the catalytic nature of children, and the restlessness of marriage. There are no unearned tears, when I laughed or cried it was always for the same reason: painful recognition. I loved this book."—Lisa Gabriele, author of Tempting Faith DiNapoli and The Almost Archer Sisters
or
Not Currently Available for Direct Purchase