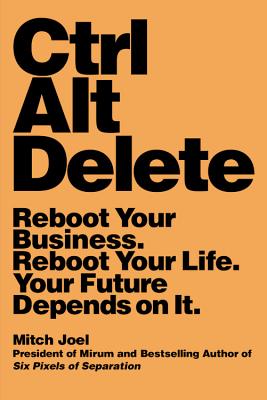 Ctrl Alt Delete (Paperback)
Reboot Your Business. Reboot Your Life. Your Future Depends on It.
Grand Central Publishing, 9781455523320, 288pp.
Publication Date: May 5, 2015
Other Editions of This Title:
Digital Audiobook (5/20/2013)
Paperback (5/21/2013)
Hardcover (5/21/2013)
* Individual store prices may vary.
Description
The DNA of business has changed. Forever. You can blame technology, smartphones, social media, online shopping and everything else, but nothingchanges this reality: we are in a moment of business purgatory.

So, what are you going to do about it?

Mitch Joel, one of the world's leading experts in new media, warns that the time has come to CTRL ALT DELETE. To reboot and to start re-building your business model. If you don't, Joel warns, not only will your company begin to slide backwards, but you may find yourself unemployable within five years.

That's a very strong warning, but in his new book, CTRL ALT DELETE, Joel explains the convergence of five key movements that have changed business forever. The movements have already taken place, but few businesses have acted on them. He outlines what you need to know to adapt right now. He also points to the seven triggers that will help you take advantage of these game-changing factors to keep you employable as this new world of business unfolds.

Along the way, Joel introduces his novel concept of "squiggle" which explains how you can learn to adapt your personal approach to your career, as new technology becomes the norm.

In short, this is not a book about "change management" but rather a book about "changing both you AND your business model."


About the Author
Mitch Joel is president of Twist Image. Joel speaks frequently to diverse companies such as Walmart, Starbucks, Nestlé, Procter & Gamble, and Unilever, and was dubbed the "Rock Star of Digital Marketing" by Marketing magazine. His first book, the bestselling Six Pixels of Separation, is named after his successful blog and podcast.
Praise For Ctrl Alt Delete: Reboot Your Business. Reboot Your Life. Your Future Depends on It.…

"In CTRL ALT Delete, Mitch Joel surveys the ways technology has transformed how brands and businesses create, connect, and adapt to a shifting new landscape. This book -- and especially the five new movements he identifies that are forcing brands to reboot -- is an indispensable read for a time when so much is in transition."

-- Arianna Huffington, President and Editor-in-Chief of the Huffington Post Media Group



"In CTRL ALT DELETE, Mitch Joel describes how you must learn to adapt, to learn, and to stay ahead of the curve online. This book will help prepare you for the future... now!"

-- Tony Hsieh, NY Times Bestselling author of "Delivering Happiness" and CEO of Zappos.com, Inc.

"Writing with his signature blend of warmth and intelligence, in CTRL ALT Delete Mitch Joel delivers a crucial blueprint for running your business -- with humane intention and razor-sharp results."

- Susan Cain, author of QUIET: The Power of Introverts in a World That Can't Stop Talking.

"Too many brands, in their frantic effort to fashion a new business strategy, fail to build meaningful relationships with the customers they serve. Even fewer understand the new business landscape as it is (not as it once was). They need to listen to Mitch Joel. CTRL ALT DELETE is a wise and practical road map that can help you navigate today's challenging economic, social, physical and digital landscape."

-- Daniel H. Pink, author of TO SELL IS HUMAN and DRIVE

The way we work and do business is changing faster than most of us understand or can comprehend. Fortunately Mitch Joel has given us CTRL ALT Delete, a wonderful book full of his invaluable insight to help us navigate, adapt and survive these fundamental changes.

-- Dan Ariely, James B. Duke Professor of Psychology and Behavioral Economics at Duke University, and author of Predictably Irrational

"In Control Alt Delete, Mitch Joel shows us that in times of great uncertainty -- like ours -- flexibility, creativity, authenticity, and kindness are the keys to developing great businesses - and ourselves. His book is a wonderful guide through the new terrain."

-- Julie Burstein, author of Spark: How Creativity Works

"In a world filled with broken promises, Mitch Joel is the real deal. He lives the work he talks about, and he does it with generosity and insight."

Seth Godin
Bestselling author
The Icarus Deception


or
Not Currently Available for Direct Purchase