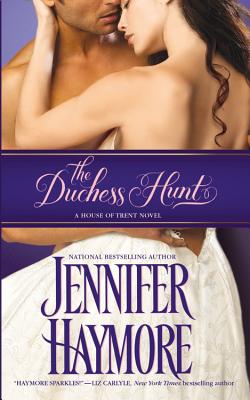 The Duchess Hunt (House of Trent #1)
Mass Market

* Individual store prices may vary.
Description
The Duke's Desire

Simon Hawkins, duke of Trent, is no stranger to scandal. Rumors and innuendo have darkened the House of Trent for decades, and it has fallen to Simon to restore his tattered family name. He lives by a strict code of honor, but when he is called home to investigate his mother's disappearance, the distinguished duke will tangle with temptation. For there waits the only woman he has ever loved-and the last woman he should desire . . .

Sarah Osborne has spent her life dreaming of Simon's touch. But dukes do not long for lady's maids-or so Sarah believes, until a stolen kiss sparks a passion that could be her ultimate undoing. As the couple begins a forbidden romance, a cunning enemy plots to destroy the duke and everything he loves. Now, caught in a blackmailer's web, Simon faces an agonizing choice: sacrifice his family's future or break Sarah's heart.
Praise For The Duchess Hunt (House of Trent #1)…
PRAISE FOR USA TODAY BESTSELLING AUTHOR JENNIFER HAYMORE: "4.5 stars, HOT! Readers have been eagerly awaiting this sequel to Confessions of an Improper Bride, in order to finally uncover the truth about Meg Donovan's "death." Haymore creates a highly satisfying answer, drawing the reader in with wonderfully realistic characters, adventure, passion and unexpected plot twists while crafting another delightful entry in the Donovan series."—RT Book Reviews on PLEASURES OF A TEMPTED LADY

"With beautifully rendered characters, lush sensuality, and a riveting story line, this well-told tale puts a refreshing spin on both the hidden identity and classic reunion plots and gets Haymore's new series off to a delightful start."—Library Journal on CONFESSIONS OF AN IMPROPER BRIDE

"41/2 Stars! Haymore uses the Christmas season as an enhancing backdrop for a mystery/romance that is both original and fulfilling. Her fresh voice & ability to build sensual tension into lively love stories...makes this tale shine."—RT Book Reviews on A SEASON OF SEDUCTION

"Jennifer Haymore strikes a good balance of strength, sensuality, drama and intrigue in her characters...Becky is an independent, fearless woman except when it comes to opening her heart to another man. And Jack, while strong and passionate, shows great sensitivity under his 'rogue' persona. With enduring characters that exhibit strong chemistry, I very much enjoyed Ms. Haymore's unique, engaging style and look forward to reading the other books that are a part of this series."—www.fictionvixen.com on A SEASON OF SEDUCTION

"Each time Ms. Haymore writes a book in this series I think there is no way to top the one I just finished. I started this latest one and realize she has done just that and has proven to me how fresh this series can remain. The characters of Becky and Jack are so full of life and longing just trying to make the right connection between family, relationship and future happiness while figuring out who to trust with all their secrets. This is a wonderful story and while I recommend reading the 1st two it is not imperative as Jennifer Haymore is a magician at connecting the plot from one book to the next-- but trust me you will have to buy the first two, they are that good."—The Reading Reviewer (www.marygramlich.com) on A SEASON OF SEDUCTION

"Ms. Haymore has penned a fabulous story of seduction, romance, intrigue and betrayal and above all that - love. You don't want to miss it! I'm now a big fan of this new author and she is going on my automatic to buy list! I love her writing style and the complex plots that she has weaved so beautifully together....The characters are amazing and the story will tug at your heart strings. So if you love a great read, do go and get this series, you will be glad that you did!"—sapphireromance.blogspot.com on A SEASON OF SEDUCTION

"Sweep-you-off-your-feet historical romance! Jennifer Haymore sparkles!"—New York Times bestselling author Liz Carlyle on A TOUCH OF SCANDAL

"Jennifer Haymore's books are sophisticated, deeply sensual, and emotionally complex. With a dead sexy hero, a sweetly practical heroine, and a love story that draws together two people from vastly different backgrounds, A TOUCH OF SCANDAL is positively captivating!"—Elizabeth Hoyt, New York Times bestselling author on A TOUCH OF SCANDAL

"A unique, heart-tugging story with sympathetic, larger-than-life characters, intriguing plot twists, and sensual love scenes make A HINT OF WICKED an impressive romance debut! I was rooting for both Tristan and Garret to win the lovely Sophie's hand for a second time. For jaded romance readers, Jennifer Haymore is an author to watch!"—New York Times best-selling author Nicole Jordan on A HINT OF WICKED

"Jennifer Haymore is an up-and-coming new writer who displays a skilful touch in her erotic tale of a woman torn between two lovers."—Shirlee Busbee, New York Times bestselling author on A HINT OF WICKED

"Complex, stirring, and written with a skillful hand, A HINT OF WICKED is an evocative love story that will make a special place for itself in your heart."—Romance Reviews Today on A HINT OF WICKED

"HINT OF WICKED is an exhilarating regency romance!"—Harriet Klausner Romance Reviews Today on A HINT OF WICKED

"Ms. Haymore's talent for storytelling shines throughout this book."—Eye on Romance on A HINT OF WICKED
Forever, 9781455523399, 416pp.
Publication Date: June 25, 2013
About the Author
As a child, Jennifer Haymore traveled the South Pacific with her family on their homebuilt sailboat. The months spent on the sometimes quiet, sometimes raging seas sparked her love of adventure and grand romance. Since then, she's earned degrees in computer science and education and held various jobs ranging from bookselling to teaching inner-city children to acting, but she's never stopped writing.

You can find Jennifer in Southern California trying to talk her husband into yet another trip to England, helping her three children with homework while brainstorming a new five-minute dinner menu, or crouched in a corner of the local bookstore writing her next novel.

You can learn more at:
JenniferHaymore.com
Twitter @JenniferHaymore
Facebook.com/JenniferHaymore.Author
or
Not Currently Available for Direct Purchase