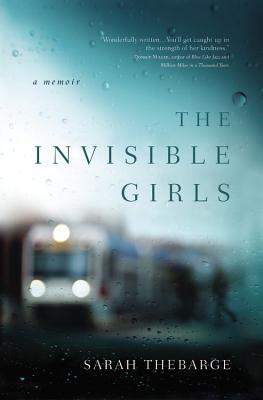 The Invisible Girls (Hardcover)
Jericho Books, 9781455523917, 260pp.
Publication Date: April 16, 2013
Description
Twenty-seven-year-old Sarah Thebarge had it all - a loving boyfriend, an Ivy League degree, and a successful career - when her life was derailed by an unthinkable diagnosis: aggressive breast cancer. After surviving the grueling treatments - though just barely - Sarah moved to Portland, Oregon to start over. There, a chance encounter with an exhausted African mother and her daughters transformed her life again.

A Somali refugee whose husband had left her, Hadhi was struggling to raise five young daughters, half a world a way from her war-torn homeland. Alone in a strange country, Hadhi and the girls were on the brink of starvation in their own home, "invisible" to their neighbors and to the world. As Sarah helped Hadhi and the girls navigate American life, her outreach to the family became a source of courage and a lifeline for herself.

Poignant, at times shattering, Sarah Thebarge's riveting memoir invites readers to engage in her story of finding connection, love, and redemption in the most unexpected places.
About the Author
Sarah Thebarge is a speaker and author who grew up as a pastor's kid in Lancaster, Pennsylvania. She earned a masters degree in Medical Science from Yale School of Medicine and was studying Journalism at Columbia University when she was diagnosed with breast cancer at age 27. Sarah's writing has appeared in Christianity Today, BurnsideWriters.com, Relevant, TheOoze.com, Raysd, and Just Between Us. Her writing for "Christianity Today"'s "This Is Our City "project won first prize from the National Evangelical Press Association. She currently lives in Portland, Oregon.
Praise For The Invisible Girls…
"This memoir combines good writing, dramatic events, and a thoughtful response to them."

"Wonderfully written, the book will have you staring through it, into a world that seems to have been made new. I am grateful there are new writers in the world like Sarah Thebarge. You'll get caught up in the strength of her kindness and the girls she describes even as we gain our focus to slowly see them, and so many others, for ourselves."

"Intertwining her own excruciating story of loss and rejection with the stirring story of a family of Somali refugees, The Invisible Girls is a testament to unwavering tenacity, resilient faith, and ineffable grace."

"Honest, enlightening, heart-touching and, at just the right times, funny. Sarah's expertly-crafted sentences sing and sometimes sting, flowing smoothly, then suddenly jumping off the page. The interweaving of her story with that of a Somali mother and daughters is masterful. This isn't the American dream. It's a vibrant and authentic story of loss, disenchantment, discovery, and a reawakening of faith and hope."
-Randy Alcorn, author of Heaven and If God is Good

"I picked up Invisible Girls and could not put it down. Thebarge fixes a loving eye on a family of Somali girls and an unflinching eye on her harrowing ordeal with breast cancer. No one can lead you out of a desert better than the one who's already been there. Beautiful writer, beautiful book, beautiful soul."

"A raw, honest and powerful witness of the dangerous mercy of God...Her story will humble you and inspire you."
Advertisement