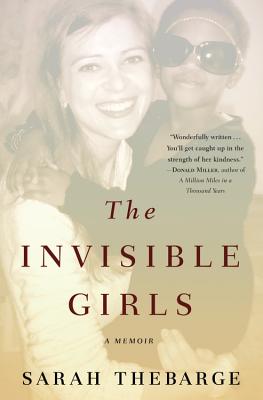 The Invisible Girls (Paperback)
A Memoir
Jericho Books, 9781455523924, 288pp.
Publication Date: April 8, 2014
Other Editions of This Title:
Hardcover (4/16/2013)
Hardcover, Large Print (7/1/2013)
Pre-Recorded Audio Player (9/1/2013)
CD-Audio (4/23/2013)
CD-Audio (4/16/2013)
* Individual store prices may vary.
Description
Now with a new postscript and reading group guide, perfect for book clubs.

After nearly dying of breast cancer in her twenties, Sarah Thebarge fled her successful career, her Ivy League education, and a failed relationship, and moved nearly 3,000 miles from the East Coast to Portland, Oregon, hoping to quietly pick up the pieces of her broken life. Instead, a chance encounter on the train with a family of Somali refugees swept her into an adventure that changed all of their lives.

Half a world away from Somalia, Hadhi was fighting battles of her own. Abandoned by her husband, she was struggling to raise five young daughters in a culture she didn't understand. When their worlds collide with Sarah's, Hadhi and the girls were on the brink of starvation in their own home, "invisible" in a neighborhood of strangers. As Sarah helped Hadhi and the girls navigate American life, her unexpected outreach to the family became both a source of courage and a lifeline for herself.

Exquisite, at times shattering, Sarah's enthralling memoir invites readers into her story of finding connection, love, and redemption in the most unlikely of places.

All proceeds from the sale of the book go toward a college fund for the five Somali Invisible Girls. For details, visit www.sarahthebarge.com.
About the Author
Sarah Thebarge is a speaker and author who grew up as a pastor's kid in Lancaster, Pennsylvania. She earned a masters degree in Medical Science from Yale School of Medicine and was studying Journalism at Columbia University when she was diagnosed with breast cancer at age 27. Sarah's writing has appeared in Christianity Today, BurnsideWriters.com, Relevant, TheOoze.com, Raysd, and Just Between Us. Her writing for Christianity Today's This Is Our City project won first prize from the National Evangelical Press Association. She currently lives in Portland, Oregon.
Praise For The Invisible Girls: A Memoir…
"This memoir combines good writing, dramatic events, and a thoughtful response to them."—World Magazine

"Wonderfully written, the book will have you staring through it, into a world that seems to have been made new. I am grateful there are new writers in the world like Sarah Thebarge. You'll get caught up in the strength of her kindness and the girls she describes even as we gain our focus to slowly see them, and so many others, for ourselves."—Don Miller, author of Storyline and Blue Like Jazz

"Intertwining her own excruciating story of loss and rejection with the stirring story of a family of Somali refugees, The Invisible Girls is a testament to unwavering tenacity, resilient faith, and ineffable grace."—Karen Spears Zacharias, author of The Silence of Mockingbirds: The Memoir of a Murder

"Honest, enlightening, heart-touching and, at just the right times, funny. Sarah's expertly-crafted sentences sing and sometimes sting, flowing smoothly, then suddenly jumping off the page. The interweaving of her story with that of a Somali mother and daughters is masterful. This isn't the American dream. It's a vibrant and authentic story of loss, disenchantment, discovery, and a reawakening of faith and hope."—Randy Alcorn, author of Heaven and If God is Good

"I picked up Invisible Girls and could not put it down. Thebarge fixes a loving eye on a family of Somali girls and an unflinching eye on her harrowing ordeal with breast cancer. No one can lead you out of a desert better than the one who's already been there. Beautiful writer, beautiful book, beautiful soul."—Susan E. Isaacs, author of Angry Conversations With God

"A raw, honest and powerful witness of the dangerous mercy of God...Her story will humble you and inspire you."—Rick McKinley, Lead Pastor of Imago Dei Community in Portland, OR and author of A Kingdom Called Desire and This Beautiful Mess