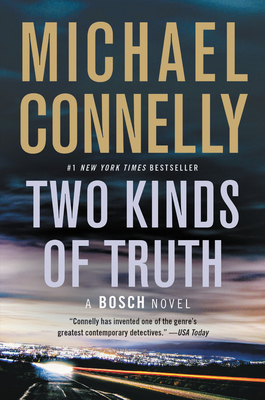 Two Kinds of Truth (A Harry Bosch Novel #20)
Paperback

* Individual store prices may vary.
Other Editions of This Title:
Digital Audiobook (10/30/2017)
Digital Audiobook (10/30/2017)
Mass Market (10/2/2018)
Mass Market (3/26/2019)
Hardcover (10/31/2017)
Hardcover, Large Print (10/31/2017)
MP3 CD (10/31/2017)
Description
Exiled from the LAPD, Harry Bosch must clear his name, uncover a ring of prescription drug abuse, and outwit a clever killer before it's too late.
Harry Bosch, exiled from the LAPD, is working cold cases for the San Fernando Police Department when all hands are called out to a local drugstore, where two pharmacists have been murdered in a robbery. Bosch and the tiny town's three-person detective squad sift through the clues, which lead into the dangerous, big-business world of prescription drug abuse. To get to the people at the top, Bosch must risk everything and go undercover in the shadowy world of organized pill mills.
Meanwhile, an old case from Bosch's days with the LAPD comes back to haunt him when a long-imprisoned killer claims Harry framed him and seems to have new evidence to prove it. Bosch left the LAPD on bad terms, so his former colleagues are not keen on protecting his reputation. But if this conviction is overturned, every case Bosch ever worked will be called into question. As usual, he must fend for himself as he tries to clear his name and keep a clever killer in prison.
The two cases wind around each other like strands of barbed wire. Along the way, Bosch discovers that there are two kinds of truth: the kind that sets you free and the kind that leaves you buried in darkness.
An NPR Best Book of 2017
A Times Critics' Top Book of 2017
A Barnes & Noble Best Book of 2017A South Florida Sun-Sentinel Best Mystery of 2017
An Amazon Book of the Month


Praise For Two Kinds of Truth (A Harry Bosch Novel #20)…
"[Connelly's] immaculate plotting and gift for
bringing procedural intricacies to life now seem as strong as ever...he writes
the best detective novels around."—Charles Finch, USA Today

"The 20th novel in Connelly's Bosch series is one of its best."—Entertainment Weekly

"Harry Bosch is a one-of-a-kind hero who started
out pretty wild when he returned from Vietnam to become a cop, but over the
years he's developed into someone you want to ride with."—Marilyn Stasio, New York Times Book Review

"Connelly's immaculate
plotting and gift for bringing procedural intricacies to life now seem as
strong as ever...he writes the best detective novels around."—USA Today

"A book as powerful and engrossing as any in Connelly's nonpareil series."—Jack Ratten, Toronto Star

"One
of Connelly's darkest and most powerful stories yet about Bosch."—Colette Bancroft, Tampa Bay Times

"The best crime fiction writer alive today...The interaction between the trash-talking, playful
Haller and the stoic, moody, mission-driven Bosch is wonderful. The brothers
are two kinds of crafty, masters in their own realm...Gut-wrenching...The final
courtroom scene will make longtime Connelly fans stand up and cheer."—Marcie Everhart, The Oklahoman

"[Two Kinds of Truth] is a reflection of
Connelly's talent that after 19 books chronicling Bosch's
career, this iteration feels fresh and authentic. This is Bosch at his
F-you best, pursuing his mission, seeking justice and speaking for the dead."—The Arizona Republic

"It's
become an annual refrain - but Connelly truly is one of the finest mystery
writers. And that's the truth."—Oline Cogdill, Sun-Sentinel

"If you're into detective thrillers, this is an
obvious choice, it doesn't get any better than Michael Connelly."—Brendan Cooney, In the Sheets

"Expertly juggling both plots, Connelly mines the double murder for fascinating and frightening details...Connelly remains atop a heap of contemporary crime writers thanks to his rare ability to combine master plotting and procedural detail with a literary novelist's feel for the inner lives of his or her characters. Both talents are in abundant display this time."—Booklist

"TWO KINDS OF TRUTH is a sterling example of the
full potential of [Bosch and Ballard] fully realized. Anyone interested in
their literary exploits can jump on this particular offering without difficulty
and enjoy the ride from beginning to end."—Joe Hartlaub, BookReporter
Grand Central Publishing, 9781455524174, 464pp.
Publication Date: May 1, 2018
About the Author
Michael Connelly is the author of thirty previous novels, including #1 New York Times bestsellers The Late Show, The Wrong Side of Goodbye, and The Crossing. His books, which include the Harry Bosch series and Lincoln Lawyer series, have sold more than sixty million copies worldwide. Connelly is a former newspaper reporter who has won numerous awards for his journalism and his novels and is the executive producer of Bosch, starring Titus Welliver. He spends his time in California and Florida.