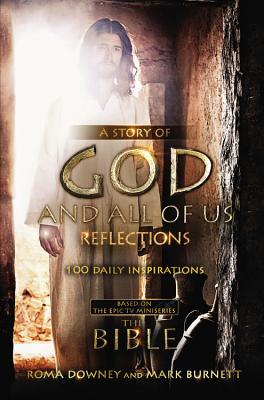 A Story of God and All of Us Reflections: 100 Daily Inspirations Based on the Epic TV Miniseries "The Bible" (Hardcover)
100 Daily Inspirations Based on the Epic TV Miniseries "The Bible"
Faithwords, 9781455525676, 224pp.
Publication Date: February 26, 2013
* Individual store prices may vary.
or
Not Currently Available for Direct Purchase
Description
"In the beginning, God created the heavens and the earth" (Genesis 1:1).
These are the opening words of the greatest book the world has ever known. The Bible. In the Spring of 2013, husband-and-wife team Mark Burnett and Roma Downey decided to bring this story to the world in an epic television miniseries.
This gorgeous, high-design book of 100 daily inspirations will help you to experience God's love through the text of the Bible. Each reflection includes a Bible verse, a personal reading, and a short prayer with visually stunning images from the set of the epic TV Miniseries, "The Bible."
In this book you will find that God's love for you is a wellspring-inexhaustible, ever flowing, refreshing, and always available.

About the Author
Roma Downey - A multiple Golden Globe and Emmy nominated actress, Roma starred for almost a decade as the angel "Monica" in the hit CBS television series, Touched By An Angel. She is also producer of the children's DVD and book series "Little Angels" and its companion Little Angels Storybook Bible. Mark Burnett - Multiple Emmy Award winning producer of some of the biggest prime time network television shows in history including Survivor, The Apprentice, Shark Tank and The Voice. Has produced over 2,000 hours of American prime time programming airing in over 70 countries.This husband and wife duo recently collaborated for their most ambitious project to date: producing together a ten hour global television mini-series titled The Bible.
Advertisement