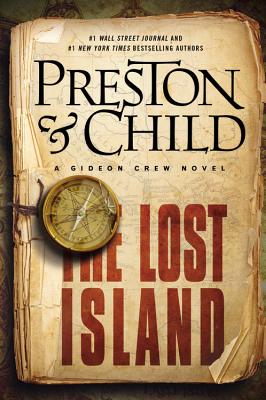 The Lost Island
A Gideon Crew Novel (Gideon Crew Series #3)
Hardcover

* Individual store prices may vary.
Other Editions of This Title:
Digital Audiobook (8/4/2014)
Description
Gideon Crew--brilliant scientist, master thief--is living on borrowed time. When his mysterious employer, Eli Glinn, gives him an eyebrow-raising mission, he has no reason to refuse. Gideon's task: steal a page from the priceless Book of Kells, now on display in New York City and protected by unbreakable security.

Accomplishing the impossible, Gideon steals the parchment--only to learn that hidden beneath the gorgeously illuminated image is a treasure map dating back to the time of the ancient Greeks. As they ponder the strange map, they realize that the treasure it leads to is no ordinary fortune. It is something far more precious: an amazing discovery that could perhaps even save Gideon's life.

Together with his new partner, Amy, Gideon follows a trail of cryptic clues to an unknown island in a remote corner of the Caribbean Sea. There, off the hostile and desolate Mosquito Coast, the pair realize the extraordinary treasure they are hunting conceals an even greater shock-a revelation so profound that it may benefit the entire human race . . . if Gideon and Amy can survive.

Praise For The Lost Island: A Gideon Crew Novel (Gideon Crew Series #3)…
"THE LOST ISLAND, the third novel to feature master thief and brilliant scientist Gideon Crew, is another clever and compelling tale from Douglas Preston and Lincoln Child....The stellar writing that readers expect from Preston and Child is still in abundance, and they balance the line between page-turning suspense and ancient history."—Associated Press

"Sparkling...Gideon refreshingly doesn't fit the superhero mold, and the enigmatic Amy is more than his equal in daring and intelligence."—Publishers Weekly

"The ever-reliable Doug Preston and Lincoln Child are back with typical aplomb in the splendid THE LOST ISLAND. Preston and Child have been in the business of keeping secrets for years now and simply no one's better at knowing just how long to keep them... wildly entertaining and lightening paced... impossible to put down."—Providence Sunday Journal

"When it comes to novels by this famous duo, the things all readers can expect are excitement, intrigue, and a story that will not soon be forgotten...The 'Crew' stories move at a super-fast pace and never leave the reader wanting...[This is] yet another perfectly unforgettable Preston & Child creation."—Suspense Magazine

"[Preston and Child] always go big in their storytelling. The Lost Island is no exception."—Fort Worth Star-Telegram

"The latest Gideon Crew novel offers fast-paced action, intriguing characters and an adventure-filled plot. The attention to detail in the initial heist scene adds tension that continues throughout this thriller."—Romantic Times

"[Preston and Child] stretch the boundaries of the action-adventure novel."—Kirkus Reviews

"Another intelligent tale by the longtime writing partners."—Sacramento Bee

"With equal parts action, intrigue, suspense, romance, and wonder, the story maintains a breakneck pace without ever feeling like it is tripping over it's own feet."—TheBestOfWhatsAround.com

"They have few peers at creating taut scenes of suspense."—Publishers Weekly

"A terrific mix of mystery and the unexpected that will keep you reading into the late hours of the night. They promise a great read and they have delivered."—Clive Cussler on White Fire

"A mile-a-minute thriller with a deeply entertaining plot and marvelous characters."—Diana Gabaldon on White Fire

"The action zigzags like an out-of-control rocket toward a double-deceptive conclusion."—Kirkus Reviews on Gideon's Corpse

"Gideon, an engaging fellow from the get-go, lives up to his initial promise, demonstrating an intelligence and resourcefulness that should endear him to adventure fans."—Booklist on Gideon's Corpse

"Like Michael Crichton, Preston and Child weave their stories at a thrilling pace...Preston and Child never fail to entertain. And GIDEON'S CORPSE is a thriller that ranks high among their many co-authored offerings to date."—BookReporter.com

"Preston and Child deliver a tight, literate thriller...The writing is fast-paced and cinematic."—New Mexico Magazine on Gideon's Corpse

"Ever timely and provocative, Douglas Preston and Lincoln Child have given us yet another one of their taut page-turners in GIDEON'S CORPSE...The issue is never if he'll escape, but how. It's the thrill of the ride that counts, and GIDEON'S CORPSE gives the reader a front seat."
—Albuquerque Journal on Gideon's Corpse

"The writing is taut and intense with twists and turns to surprise even the die-hard thriller fan...the authors make it fresh and original."—RT Reviews on Gideon's Corpse
Grand Central Publishing, 9781455525775, 368pp.
Publication Date: August 5, 2014
About the Author
The thrillers of Douglas Preston and Lincoln Child "stand head and shoulders above their rivals" (Publishers Weekly). Preston and Child's Relic and The Cabinet of Curiosities were chosen by readers in a National Public Radio poll as being among the one hundred greatest thrillers ever written, and Relic was made into a number-one box office hit movie. They are coauthors of the famed Pendergast series and their recent novels include Fever Dream, Cold Vengeance, Two Graves, and Gideon's Corpse. In addition to his novels, Preston writes about archaeology for the New Yorker and Smithsonian magazines. Lincoln Child is a former book editor who has published five novels of his own, including the huge bestseller Deep Storm.
Readers can sign up for The Pendergast File, a monthly "strangely entertaining note" from the authors, at their website, www.PrestonChild.com. The authors welcome visitors to their alarmingly active Facebook page, where they post regularly.