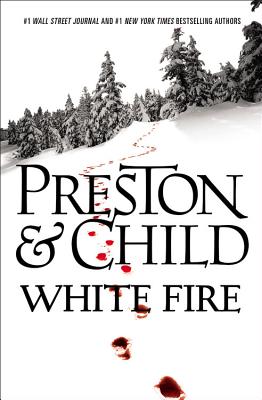 White Fire (Hardcover)
Grand Central Publishing, 9781455525836, 368pp.
Publication Date: November 12, 2013
* Individual store prices may vary.
or
Not Currently Available for Direct Purchase
Description
Past and present collide in Preston and Child's most thrilling novel ever . . . WHITE FIRE Special Agent Pendergast arrives at an exclusive Colorado ski resort to rescue his protegee, Corrie Swanson, from serious trouble with the law. His sudden appearance coincides with the first attack of a murderous arsonist who--with brutal precision--begins burning down multimillion-dollar mansions with the families locked inside. After springing Corrie from jail, Pendergast learns she made a discovery while examining the bones of several miners who were killed 150 years earlier by a rogue grizzly bear. Her finding is so astonishing that it, even more than the arsonist, threatens the resort's very existence. Drawn deeper into the investigation, Pendergast uncovers a mysterious connection between the dead miners and a fabled, long-lost Sherlock Holmes story--one that might just offer the key to the modern day killings as well. Now, with the ski resort snowed in and under savage attack--and Corrie's life suddenly in grave danger--Pendergast must solve the enigma of the past before the town of the present goes up in flames.

About the Author
The thrillers of Douglas Preston and Lincoln Child "stand head and shoulders above their rivals" (Publishers Weekly). Preston and Child's Relic and The Cabinet of Curiosities were chosen by readers in a National Public Radio poll as being among the one hundred greatest thrillers ever written, and Relic was made into a number-one box office hit movie. They are coauthors of the famed Pendergast series and their recent novels include Fever Dream, Cold Vengeance, Two Graves, and Gideon's Corpse. In addition to his novels, Preston writes about archaeology for the New Yorker and Smithsonian magazines. Lincoln Child is a former book editor who has published five novels of his own, including the huge bestseller Deep Storm. Readers can sign up for The Pendergast File, a monthly "strangely entertaining note" from the authors, at their website, www.PrestonChild.com. The authors welcome visitors to their alarmingly active Facebook page, where they post regularly.
Praise For White Fire…
"These dynamic authors' best thriller to date."—One of Library Journal's Top 10 Thrillers of 2013

"Corrie teams up with her mentor, none other than the investigative genius and series stalwart Aloysius Pendergast, in unearthing a web of deceit, conspiracy, and cover-up. He's never been better, and neither have the ever-reliable Preston and Child. "White Fire" blazes on high heat from the first page to the last, a wholly satisfying and relentlessly suspenseful tale."—Providence Sunday Journal

"Small-town politics, murder, a century-old conspiracy, arson and a detective who embodies a modern-day Holmes add up to an amazing journey."—Associated Press

"A remarkable plot that ties together multiple killings - some more than a century old - a secret Sherlock Holmes story and a meeting between Oscar Wilde and Arthur Conan Doyle keep readers glued to the page."—RT Times

"Sherlock Holmes fans will relish Preston and Child's 13th novel featuring eccentric FBI agent Aloysius Pendergast (after 2012's Two Graves), one of their best in this popular series...easily stands on its own with only passing references to Pendergast's complex backstory."—Publishers Weekly (starred review)

"Fans of Sherlock Holmes will devour Douglas Preston and Lincoln Child's latest thriller, not only because of its connection to Conan Doyle, but because Pendergast bears a striking resemblance to the iconic detective, and has powers as eerily uncanny as Sherlock's. Readers will race toward the final page and, once there, will thirst for more."—BookReporter.com

"Another highly entertaining and genuinely thrilling story from Preston & Child starring their romantic, faintly gothic, and always mysterious FBI agent, Aloysius Pendergast. As always the prose is elegant, replete with exquisite descriptions, and this time we're treated to dashes of historic characters Conan Doyle and Oscar Wilde, as well as a positively delicious serving of the great Sherlock Holmes. Through myriad shocks, surprises, twists and turns, the suspense never lets up. Great fun to the last page."—Anne Rice

"Preston and Child have done it again! WHITE FIRE continues their white hot streak of bestselling suspense as the most eccentric and ruthlessly clever FBI agent in the business, Pendergast, takes on old money and even older secrets with some literary help from Sherlock Holmes. Simply brilliant!"—Lisa Gardner

"The best Pendergast book yet - a collision between past and present that will leave you breathless."—Lee Child

"What Preston and Child are so good at are exemplified here: solid research, clear swift prose and enough twists to fill a jar of pretzels. Sit back, crack open the book and get ready for the ride of your life."—David Baldacci

"WHITE FIRE is a perfect introduction for any reader not yet acquainted with A.X.L. Pendergast, one of the most memorable detectives in contemporary thrillerdom."—Steve Berry

"I've read every Pendergast thriller. This is the most suspenseful and most horrifying of them all. This book holds chills you can't imagine. I'm still shuddering. I promise-- you'll shudder, too."—R.L. Stine

"A mile-a-minute thriller with a deeply entertaining plot and marvelous characters, in a setting that will chill your blood, and not only because it's 10 degrees below zero and covered with snow. My copy is full of crumbs because I couldn't put it down long enough to eat."—Diana Gabaldon

"WHITE FIRE is as incandescent as its title, a beautifully organized, tautly paced book that really did just yank me in and demand that I keep reading. I'm very grateful for the experience."—Peter Straub

"Preston and Child have created a terrific mix of mystery and the unexpected that will keep you reading into the late hours of the night. They promise a great read and they have delivered."—Clive Cussler
Book Videos
Advertisement