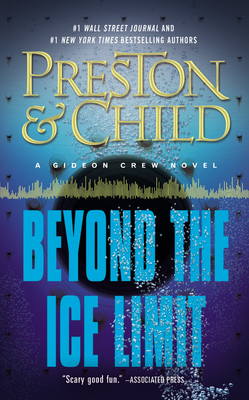 Beyond the Ice Limit
A Gideon Crew Novel (Gideon Crew Series)
Mass Market

* Individual store prices may vary.
Other Editions of This Title:
Digital Audiobook (5/16/2016)
Hardcover, Large Print (5/17/2016)
Prebound (12/20/2016)
CD-Audio (12/27/2016)
Description
BEYOND THE ICE LIMIT
That thing is growing again. We must destroy it. The time to act is now...
With these words begins Gideon Crew's latest, most dangerous, most high-stakes assignment yet. Failure will mean nothing short of the end of humankind on earth.
Five years ago, the mysterious and inscrutable head of Effective Engineering Solutions, Eli Glinn, led a mission to recover a gigantic meteorite--the largest ever discovered--from a remote island off the coast of South America. The mission ended in disaster when their ship, the Rolvaag, foundered in a vicious storm in the Antarctic waters and broke apart, sinking-along with its unique cargo-to the ocean floor. One hundred and eight crew members perished, and Eli Glinn was left paralyzed.
But this was not all. The tragedy revealed something truly terrifying: the meteorite they tried to retrieve was not, in fact, simply a rock. Instead, it was a complex organism from the deep reaches of space.
Now, that organism has implanted itself in the sea bed two miles below the surface-and it is growing. If it is not destroyed, the planet will be doomed. There is only one hope: for Glinn and his team to annihilate it, a task which requires Gideon's expertise with nuclear weapons. But as Gideon and his colleagues soon discover, the "meteorite" has a mind of its own-and it has no intention of going quietly...

Praise For Beyond the Ice Limit: A Gideon Crew Novel (Gideon Crew Series)…
"Preston & Child take all of the various elements from classic horror and sci-fi films and novels and spin them together to write what begins as an action adventure, but soon delves into paranoid terror ... scary good fun."—Associated Press

"The always sensational duo is back with a work that is as exciting and intriguing as it is fast-paced."—Suspense Magazine

"Relentless mayhem ... [a] thrill-a-minute read. Science fiction as action adventure, the sort of book primed for screen treatment."
—Kirkus Reviews

"Douglas Preston and Lincoln Child are no strangers to breaking new ground, but the shovel they use for the beautifully conceived BEYOND THE ICE LIMIT is tipped with gold. Forget thrill on every page - this book seems to have one in every paragraph, starting with "That thing is growing again. We must destroy it."....BEYOND THE ICE LIMIT is pure fun, its wildly imaginative premise and take-no-prisoners plotting making this reading entertainment of the highest order."—Providence Sunday Journal

"The Lost Island, the third novel to feature master thief and brilliant scientist Gideon Crew, is another clever and compelling tale from Douglas Preston and Lincoln Child....The stellar writing that readers expect from Preston and Child is still in abundance, and they balance the line between page-turning suspense and ancient history."—Associated Press on The Lost Island

"Sparkling...Gideon refreshingly doesn't fit the superhero mold, and the enigmatic Amy is more than his equal in daring and intelligence."—Publishers Weekly on The Lost Island

"The ever-reliable Doug Preston and Lincoln Child are back with typical aplomb in the splendid The Lost Island. Preston and Child have been in the business of keeping secrets for years now and simply no one's better at knowing just how long to keep them... wildly entertaining and lightening paced... impossible to put down."—Providence Sunday Journal on The Lost Island

"When it comes to novels by this famous duo, the things all readers can expect are excitement, intrigue, and a story that will not soon be forgotten...The 'Crew' stories move at a super-fast pace and never leave the reader wanting...[This is] yet another perfectly unforgettable Preston & Child creation."—Suspense Magazine on The Lost Island

"The action zigzags like an out-of-control rocket toward a double-deceptive conclusion."—Kirkus Reviews on Gideon's Corpse

"Gideon, an engaging fellow from the get-go, lives up to his initial promise, demonstrating an intelligence and resourcefulness that should endear him to adventure fans."—Booklist on Gideon's Corpse

"Like Michael Crichton, Preston and Child weave their stories at a thrilling pace...Preston and Child never fail to entertain. And Gideon's Corpse is a thriller that ranks high among their many co-authored offerings to date."—BookReporter.com

"A rollicking tour-de-force. The eponymous Gideon Crew would be equally comfortable smack in a Ludlum tempest or striding onto the set of the Ocean's Eleven franchise. Preston and Child have crafted an electrifying, riveting thriller on which I could continue to heap praise, but instead I will just offer this: Read the book! And we can all look forward to the next appearance of Mr. Gideon Crew in the not-so-distant future."—David Baldacci on Gideon's Sword

"Fast-paced and action-packed, Gideon's Sword is a clever, high velocity read."—Kathy Reichs
Grand Central Publishing, 9781455525874, 416pp.
Publication Date: December 20, 2016
About the Author
Preston and Child are co-authors of the Agent Pendergast series as well as the Gideon Crew series. Their novels Relic and The Cabinet of Curiosities were chosen in an NPR poll as two of the hundred greatest thrillers ever written. Preston's acclaimed nonfiction book, The Monster of Florence, is being made into a movie. Lincoln Child has published six novels of his own, including the bestseller The Forgotten Room.