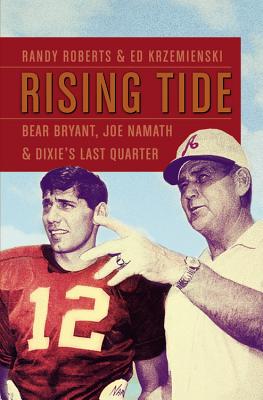 Rising Tide (Hardcover)
Bear Bryant, Joe Namath, and Dixie's Last Quarter
Twelve, 9781455526338, 448pp.
Publication Date: August 20, 2013
* Individual store prices may vary.
Description
The extraordinary story of how Coach Paul "Bear" Bryant and Joe Namath, his star quarterback at the University of Alabama, led the Crimson Tide to victory and transformed football into a truly national pastime.

During the bloodiest years of the civil rights movement, Bear Bryant and Joe Namath-two of the most iconic and controversial figures in American sports-changed the game of college football forever. Brilliantly and urgently drawn, this is the gripping account of how these two very different men-Bryant a legendary coach in the South who was facing a pair of ethics scandals that threatened his career, and Namath a cocky Northerner from a steel mill town in Pennsylvania-led the Crimson Tide to a national championship.

To Bryant and Namath, the game was everything. But no one could ignore the changes sweeping the nation between 1961 and 1965-from the Freedom Rides to the integration of colleges across the South and the assassination of President Kennedy. Against this explosive backdrop, Bryant and Namath changed the meaning of football. Their final contest together, the 1965 Orange Bowl, was the first football game broadcast nationally, in color, during prime time, signaling a new era for the sport and the nation.

Award-winning biographer Randy Roberts and sports historian Ed Krzemienski showcase the moment when two thoroughly American traditions-football and Dixie-collided. A compelling story of race and politics, honor and the will to win, RISING TIDE captures a singular time in America. More than a history of college football, this is the story of the struggle and triumph of a nation in transition and the legacy of two of the greatest heroes the sport has ever seen.


About the Author
Randy Roberts
is Distinguished Professor of History at Purdue University and the author of several books, most recently
A Team for America: The Army-Navy Game That Rallied a Nation
and
Joe Louis: Hard Times Man
. His earlier books include biographies of Jack Dempsey, Jack Johnson, and John Wayne; a history of American sports since 1945; and books on Charles Lindbergh, the Mike Tyson trial, and the Vietnam War. He lives in Lafayette, Indiana.
Ed Krzemienski is a historian of sports and popular culture. He served as primary consultant for HBO's Emmy-award winning documentary, Breaking the Huddle: The Integration of College Football, for which his manuscript on the subject served as a guide for production. He served in a similar capacity for HBO's documentary Namath, which also won an Emmy, and previously appeared on ESPN's Sportscentury documentary installment on Namath. An expert on college football, he has written on the subject for numerous popular publications, including ESPN's College Football Encyclopedia and ESPN's Big Ten Encyclopedia.


Praise For Rising Tide: Bear Bryant, Joe Namath, and Dixie's Last Quarter…
"It's a must read! RISING TIDE is an electrifying book that hits on all four cylinders: rich Alabama Football tradition; North meets South; Civil Rights Movement Era; and Coach Bryant's history-making return to his Alma Mater. This book gives you insight about Joe Namath, a "kid" from the North, his role in transforming Alabama Football into an elite power-house, and every twist and turn of the phenomenal and enduring relationship that developed between Coach Paul "Bear" Bryant and Joe Namath. The short and long of it, this book is just plain explosive!"—John Mitchell, Pittsburgh Steelers Assistant Head Coach and Defensive Line Coach

"I didn't think the world needed another Bear Bryant book, but this one digs a little deeper and blitzes me with new info. And to think a Purdue guy wrote it."—Dan Jenkins, sportswriter/book author

"RISING TIDE is a riveting football story that doubles as first-rate, seminal historical investigation. Building the narrative around Coach Paul "Bear" Bryant and Joe Namath, the authors interweave early TV and civil rights into the fabric of their story with great grace. An absolutely wonderful read!"—Douglas Brinkley, Professor of History at Rice University and author of Cronkite

"RISING TIDE will be on the All Time Top Ten List for the Crimson Tide nation, but it is not just another 'fan's book.' Anyone who wants to understand the roots of college football as Big Business will learn from this account of the bond between its two gifted and charismatic heroes. As an eyewitness to the Bear-and-Joe-Willie show, I can tell you that Randy Roberts and Ed Krzemienski got it right about how the Tide rolls."—Howell Raines, author and former executive editor of the New York Times

"RISING TIDE is an absolute gem of a book about the twin pillars of white Southern identity: racial segregation and football, and how change was wrought in the heart of the old Confederacy that resisted it. RISING TIDE is an expertly written, must-read story of the intersection of athletics and politics."—Gerald Early, author of A Level Playing Field and winner of the National Book Critics Circle Award for The Culture of Bruising

"[This is] a can't-lay-it-down book. In evocative prose, Roberts and Krzemienski recapture the drama, glory, and shame of big-time college sports set in an era of social upheaval. You don't have to be a Crimson Tide fan to enjoy this great read."—George C. Rable, Charles Summersell Chair in Southern History, University of Alabama

"[Bryant and Namath's] years together fueled the growing popularity of college football and coincided with the unfolding of the civil rights struggle that emerged as the defining news story of the early 1960s. "Rising Tide" weaves the two elements in an informative and entertaining narrative with broad appeal"—Associated Press

"RISING TIDE aspires to be much more than another jock biography. It tells a fascinating story lying at the intersection of football, race and entertainment... Gridiron fans, particularly those of a certain age, will enjoy this trip down memory lane. So, too, will readers interested in revisiting a nation in transition."—Plain Dealer

"RISING TIDE reads like an ESPN Documentary but packs ten times the information and entertainment value. Its accessible but intelligent prose and deep-probing insights keep interest high throughout its chapters. Football, its impact, events, and mannerisms are flawlessly interwoven with the tumultuous recounts of a politically, socially, and racially evolving South."—Atlanta Journal Constitution
or
Not Currently Available for Direct Purchase