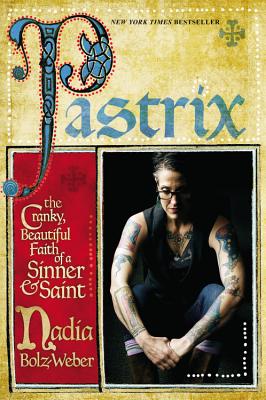 Pastrix
The Cranky, Beautiful Faith of a Sinner & Saint
Hardcover

* Individual store prices may vary.
Other Editions of This Title:
Digital Audiobook (9/9/2013)
Paperback (5/18/2021)
Compact Disc (5/18/2021)
Paperback (9/2/2014)
Description
Now a New York Times bestselling author, Nadia Bolz-Weber takes no prisoners as she reclaims the term "pastrix"(pronounced "pas-triks," a term used by some Christians who refuse to recognize female pastors) in her messy, beautiful, prayer-and-profanity laden narrative about an unconventional life of faith.
​
Heavily tattooed and loud-mouthed, Nadia, a former stand-up comic, sure as hell didn't consider herself to be religious leader material—until the day she ended up leading a friend's funeral in a smoky downtown comedy club. Surrounded by fellow alcoholics, depressives, and cynics, she realized: These were her people. Maybe she was meant to be their pastor.

Using life stories—from living in a hopeful-but-haggard commune of slackers and her unusual but undeniable spiritual calling to her experiences pastoring people from all walks of life—and poignant honesty, Nadia portrays a woman who is both deeply faithful and deeply flawed, giving hope to the rest of us along the way.

Wildly entertaining and deeply resonant, this is the book for people who hunger for a bit of hope that doesn't come from vapid consumerism; for women who talk too loud and guys who love chick flicks; and for the gay person who loves Jesus and won't be shunned by the church. In short, this book is for every misfit suspicious of institutionalized religion but who is still seeking transcendence and mystery.
Praise For Pastrix: The Cranky, Beautiful Faith of a Sinner & Saint…
"Engaging and accessible...Bolz-Weber is clear-eyed about the personal travails faced by the marginalized and those without faith."—Booklist

"Bolz-Weber has such a distinctive voice and outlook, it's amazing she hasn't written more books. Perhaps it's because she's been too busy living the checkered and fascinating life that is the subject of her theological memoir.... Here's hoping her authentic voice continues to preach in more books."—Publishers Weekly

"The amazing thing about Nadia Bolz-Weber is that she manages to take her Christianity into corners of life where the church can be pretty uncomfortable going."

—The Daily Beast

"Bolz-Weber is a surprisingly vulnerable narrator who pairs personal confessions with beautifully articulated statements of faith."

—Christian Century

"This is an astonishing book...contagious, honest, captivating...a rare gift...I realize that I'm gushing, but that's what you do when a book inspires and moves and touches you like this one does."—Rob Bell, author of What We Talk About When We Talk About God and Love Wins

"For anyone who is Christian, interested in Christianity, anti-Christian (or anti-Religion), I recommend this book."—Gordon Gano, lead singer, Violent Femmes

"Nadia Bolz-Weber is what you'd get if you mixed the DNA of Louis C.K., Joey Ramone and St. Paul. She is by far my favorite tatted-up, cranky pastor ever. Follow her. Not just on Twitter, but wherever her unique mind takes you. What I'm trying to say is: Buy this book."—A. J. Jacobs, author of The Year of Living Biblically

"Pastor Nadia Bolz-Weber speaks the truth of our humanity that we too often want to deny. She declares the radical power of God's grace for Jesus' sake that we so often water down rather than daily be drowned in it. Yes, read at your own risk."—Presiding Bishop Mark Hanson, ELCA

"Funny, raw, and packed with truth, this book is offensive in all the right ways...This book reminded me of why I am a Christian, and I wept with gratitude when I finished it."—Rachel Held Evans, blogger, author of A Year of Biblical Womanhood
Jericho Books, 9781455527083, 224pp.
Publication Date: September 10, 2013
About the Author
Nadia Bolz-Weber is a New York Times bestselling author and the founding pastor of House for All Sinners and Saints, an ELCA mission church in Denver, Colorado. She's a leading voice in the emerging church movement and her writing can be found in the Christian Century and Jim Wallis' God's Politics blog. She is author of Salvation on the Small Screen?: 24 Hours of Christian Television (Seabury 2008) and the Sarcastic Lutheran blog on Patheos.
or
Not Currently Available for Direct Purchase