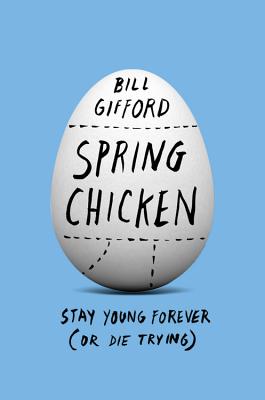 Spring Chicken (Hardcover)
Stay Young Forever (or Die Trying)
Grand Central Publishing, 9781455527441, 384pp.
Publication Date: February 17, 2015
Other Editions of This Title:
Digital Audiobook (2/16/2015)
Paperback (2/16/2016)
Hardcover, Large Print (8/12/2015)
* Individual store prices may vary.
Description
From acclaimed journalist Bill Gifford comes a roaring journey into the world of anti-aging science in search of answers to a universal obsession: what can be done about getting old?

Spring Chicken: Stay Young Forever (or Die Trying)

Spring Chicken is a full-throttle, high-energy ride through the latest research, popular mythology, and ancient wisdom on mankind's oldest obsession: How can we live longer? And better? In his funny, self-deprecating voice, veteran reporter Bill Gifford takes readers on a fascinating journey through the science of aging, from the obvious signs like wrinkles and baldness right down into the innermost workings of cells. We visit cutting-edge labs where scientists are working to "hack" the aging process, like purging "senescent" cells from mice to reverse the effects of aging. He'll reveal why some people live past 100 without even trying, what has happened with resveratrol, the "red wine pill" that made headlines a few years ago, how your fat tissue is trying to kill you, and how it's possible to unlock longevity-promoting pathways that are programmed into our very genes. Gifford separates the wheat from the chaff as he exposes hoaxes and scams foisted upon an aging society, and arms readers with the best possible advice on what to do, what not to do, and what life-changing treatments may be right around the corner.

An intoxicating mixture of deep reporting, fascinating science, and prescriptive takeaway, Spring Chicken will reveal the extraordinary breakthroughs that may yet bring us eternal youth, while exposing dangerous deceptions that prey on the innocent and ignorant.
About the Author
Bill Gifford is a contributing editor for Outside magazine and has written on science, sports, and fitness for numerous publications, including Wired, Businessweek, Men's Health, Men's Journal, Slate, and The New Republic, among other publications. He has been features editor of Men's Journal and executive editor of Philadelphia magazine. He is also the author of Ledyard: In Search of the First American Explorer. He lives in New York City and central Pennsylvania.
Praise For Spring Chicken: Stay Young Forever (or Die Trying)…
"You need this book. I grabbed it like a life preserver, and that's exactly what it is. Spring Chicken demolishes the worst hoaxes in anti-aging treatments-like crushed dog testicles, human growth hormone, and Suzanne Somers-and leaves you with the good news: by adopting a few easy-to-understand, easy-to-follow discoveries, you might just deactivate the time bombs in your fat cells and learn to follow in the springy, "successfully aging" footsteps of a 92-year-old pole vaulter."
-Christopher McDougall, New York Times bestselling author of Born to Run and Natural Born Heroes

"Spring Chicken is a masterful exploration of the fantasy and fact surrounding one of the most fundamental questions of humankind: why do we age?"
-David Perlmutter, MD, #1 New York Times bestselling author of Grain Brain: The Surprising Truth About Wheat, Carbs and Sugar-Your Brain's Silent Killers

"Spring Chicken is an utterly marvelous book - a guided tour of a fantastic, counterintuitive landscape (that happens to be your body), and also a whip-smart guide to living a longer and healthier life. With this book, Bill Gifford joins the ranks of Mary Roach and Bill Bryson as a science writer supreme, illuminating our world in a page-turning style that is as entertaining as it is enlightening."
-Daniel Coyle, New York Times bestselling author of The Talent Code


"Bill Gifford's terrific Spring Chicken gives us a riveting account of the most important change of the last century-the doubling of our lifespans-and an intimate vision of what it will take to not only keep that trend going, but keep ourselves healthy and vibrant as we age."
-Steven Johnson, New York Times bestseller of How We Got to Now

"Gifford skillfully navigates the many strands of aging research to create an entertaining narrative of the perils of getting old."
-Kirkus


"An enlightening book-and a terrific read."
-The Wall Street Journal

Coverage from NPR
or
Not Currently Available for Direct Purchase