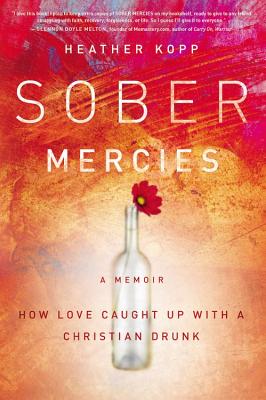 Sober Mercies
How Love Caught Up with a Christian Drunk
Hardcover

* Individual store prices may vary.
Other Editions of This Title:
Digital Audiobook (5/6/2013)
Paperback (5/6/2014)
Description
Where do you turn for hope when you already have the answer--but the answer isn't working?

As a long-time Christian, Heather Kopp never expected to become an out-of-control alcoholic who kept private stashes of booze all over the place--tucked behind books in her study, zipped into a special compartment in her oversized purse, at the back of her closet stuffed inside her boots.

Even as her career and marriage teetered on the brink, Kopp couldn't get a grip, desperately hiding the true extent of her drinking from the rest of the world--her husband included. During the day she wrote books about God and prayer and family. At night she'd locked herself in her bathroom to guzzle chardonnay.

For her, as for many Christians who struggle with addiction, overwhelming shame and confusion only made things worse. Why wasn't her faith enough to save her? Why didn't repentance, Bible reading and prayer work? Where was God?

Meanwhile, as she watched in horror, her grown son descended into his own nightmare of drugs and alcohol. She feared for his life, yet she couldn't stop drinking long enough to help him--or find a way out for herself.

Until the day everything changed.

Engaging, funny and bracingly honest, Kopp shares her remarkable journey into darkness...and back to the light again. Her story reveals the unique challenges and spiritual conundrums Christians face when they become ensnared in an addiction, and the redemption that's possible when we finally reach the end of ourselves.

If you love Jesus but shop too much, drink too much, eat too much, crush on men who aren't your husband, or otherwise fixate on doing things you hate but can't stop doing, SOBER MERCIES is for you.

As you follow Kopp's sincere, stumbling journey toward freedom and a deeply satisfying relationship with God, you'll find renewed hope--and practical steps of recovery--for your own journey.




Praise For Sober Mercies: How Love Caught Up with a Christian Drunk…
"In SOBER MERCIES, Heather Kopp's soft wisdom is delivered so skillfully that it continued to settle in days and weeks after I read the last page. Heather's vision of Christianity is vast, inclusive and interesting. Her journey is hilarious and inspiring and her honesty is both surprising and comforting. I plan to keep extra copies of SOBER MERCIES on my bookshelf, ready to give to any friend struggling with faith, recovery, forgiveness, or life. So, I'll give it to everyone, I guess. I love this book. SOBER MERCIES is a gift and Heather Kopp is my favorite kind of person: a student-turned-teacher of life."
—
Glennon Doyle Melton, founder of Momastery.com, author of Carry On, Warrior
"I loved SOBER MERCIES. Kopp is funny, heartbreaking, compelling, and wise. More than that, this is an important book. Kopp talks frankly about being a Christian
and
an alcoholic. This book is a must for any church recovery group or anyone facing addiction."—
Susan E. Isaacs, actor, author of Angry Conversations with God
"SOBER MERCIES is simply one of the best, most honest, brilliantly written memoirs I've read. Heather Kopp gives such encouragement for when we wonder why faith alone hasn't rescued us from destructive habits. Her story stands as a beacon of hope for all of us in a broken world."
—
Jud Wilhite, author of Pursued, senior pastor of Central Christian Church
"SOBER MERCIES is a delightful and brave read. Heather Kopp's narrative, full of gut-wrenching detail and heartfelt confession, is beautifully crafted, a story filled with the kind of self-reflection and wisdom reminiscent of Anne Lamott and Mary Karr. And like the works of Lamott and Karr, the true gift of Kopp's tale is that every reader--addict or not--will find its honesty and hope filling."
—
Matthew Paul Turner, author of Churched and Hear No Evil
"Taut prose, a compelling story, and a beautifully fresh voice kept me turning the pages of SOBER MERCIES. This is not a pretty story. It's not another well-decorated memoir where the author glosses over failure and stress. Heather Kopp's story is raw. Her bravery will give others the permission to grow, change, and heal."
—
Mary DeMuth, author of Thin Places: A Memoir
"I couldn't put this book down, devouring it in a weekend. Even people who have never struggled with addiction will find themselves in Heather Kopp's memoir of finding God's strength only when she recognized her own powerlessness. As she says, it's about 'how to lean-helplessly, foolishly, hopefully-on a God you can't fully explain. And how to do it, over and over, every day.'"
—
Jana Riess, author of Flunking Sainthood: A Year of Breaking the Sabbath, Forgetting to Pray, and Still Loving My Neighbor
"This is not a book for alcoholics, or a book for friends and family of addicts, or a book for counselors, or a book for women; it's a book for everyone. Heather's story--honestly and beautifully told--invites us all to the table, baggage in tow, to confront our shared brokenness, our shared hopes, and our shared need for community, forgiveness, and grace. This book will challenge and change you. It will reintroduce you, with new words and images and stories, to the grace and goodness of God."
—
Rachel Held Evans, blogger, author of Evolving in Monkey Town and A Year of Biblical Womanhood
"...easy-to-read yet deeply moving narrative ... gripping, heartfelt, and eye-opening, a valuable read."
—
Publisher's Weekly, starred review
"...a story of confronting the nature of sin and understanding more fully the necessity and beauty of God's grace....SOBER MERCIES reminds us that we are each living our own addiction story. And we can't lose sight of the complete and total dependence on God's sustaining grace that offers any hope of a way out."
—
Christianity Today, 4-star review
"Kopp shares her victories and setbacks with honesty and bravado, as a friend and confidant for readers who may be grappling with questions and doubts in their own spiritual lives."
—
Homecoming Magazine
"Heather Kopp's journey from being a young, devout wife to a secretive, Chardonnay-guzzling alcoholic is recounted with astounding honesty. She enters a recovery center in an effort to get sober and begins attending meetings of a program she deliberately chooses not to name. After a relapse and several close calls, she writes this book with several years of sobriety under her belt. A practicing Christian, Kopp tackles head-on the attitude that drinking too much is a sinful compulsion that can be prayed away. Instead, she reiterates that alcoholism is a treatable disease that cannot be cured.Kopp's willingness to reveal her stumbling blocks in her recovery efforts will make this addiction memoir helpful to those struggling with similar diseases, Christian or not."—
Library Journal
"Ultimately, a renewed understanding of the gospelhelped her [Kopp] change - and that makes the book encouraging for anyone struggling with issues that self-help religion can't fix."—
World Magazine
Jericho Books, 9781455527748, 224pp.
Publication Date: May 7, 2013
About the Author
Heather Kopp is an author, editor, and blogger. Among her books are a critically acclaimed memoir, I Went to the Animal Fair and The Dieter's Prayer Book. With her husband, David, she wrote Roar! A Christian Family Guide to the Chronicles of Narnia, the Praying the Bible series, and other books. Heather blogs about addiction, grace and recovery at HeatherKopp.com. She and her husband have five grown children, and live in Colorado.
or
Not Currently Available for Direct Purchase