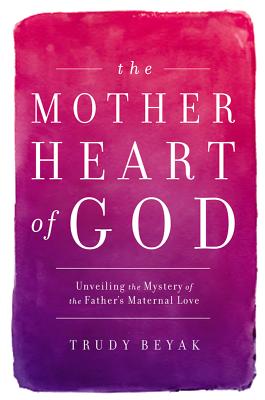 The Mother Heart of God
Unveiling the Mystery of the Father's Maternal Love
Hardcover

* Individual store prices may vary.
Description
Why don't we talk about God's maternal love? Searching for answers, Trudy Beyak, an award-winning journalist, interviewed 50 global leaders of faith: Ruth Graham, Ravi Zacharias,Raymond Damadian, MRI inventor; J.I. Packer, editor, ESV Bible; Gary Chapman, Tony Campolo, Luci Swindoll, Brennan Manning, Pope Benedict XV1 and many others. Ruth Graham says this: "When God created men and women to be like Him, women are half the picture." And, Ravi Zacharias agrees, because, according to the Bible, they reflect the "maternal personality of God's love." When no one cares, and you're all alone, God comes close and comforts your soul,as a mother comforts a child [Isaiah 66:13].What a gift, then, it is to be a mother! The "maternal instinct" to nurture others -corresponds to the Creator, the God of all comfort. Women will no longer need to ask: Dear Lord: Who am I? Discover "50 exclusive interviews" that will transform a woman's life. And there's much more. The Mother Heart of God is a spiritual journey, a personal invitation to every man and woman to experience the love that brings hope and healing to every soul.
Praise For The Mother Heart of God: Unveiling the Mystery of the Father's Maternal Love…
PRAISE FOR THE BOOK:
"When a brilliant interviewer and journalist wraps her quest and questions inside 'story' humanity is delivered a stunning and important gift! You are holding such a gift in your hands!"—
Wm. Paul Young, author of The Shack and Cross Roads
,
-
QUOTE FROM THE BOOK:

"The Old Testement prophets used the analogy of the 'womb' to disclose how God gently 'shelters us' and 'carries us in compassionate love.'"—
Pope Benedict XVI
,
-
QUOTE FROM THE BOOK:
"When God created men and women to be like him, women are half of the equation--we are half of the picture."—
Ruth Graham, author, and daughter of Billy Graham
,
-
QUOTE FROM THE BOOK:
"God's love for us is like the deep love a mother has for her newborn, like the protective love a mother has for her sick three-year-old child, like the unconditional love a mother has for her cantankerous 18-year-old."—
Anne Lamott, New York Times bestselling author
,
-
QUOTE FROM THE BOOK:
"God expressed his love in the metaphors of the family, both father and mother."—
Ravi Zacharias, international evangelist
,
-
QUOTE FROM THE BOOK:
"This new book is an amazing example of how a collection of articulate, educated people deeply committed to differing religious faiths can agree on a concept that has never even occurred to most of us. And, yet the concept is so obvious."—
Vivian Ruskin, a journalist, related to Mark Twain
,
-
QUOTE FROM THE BOOK:
"All three persons of the Godhead reveal paternal and maternal qualities in their relationship with us. They are one in essence ... The paternal aspect of God is a combination of authority and care; the maternal quality is one of loving support."—
J.I. Packer, editor, English Standard Version Bible
,
-
FaithWords, 9781455527762, 304pp.
Publication Date: April 23, 2013
About the Author
An award-winning investigative journalist, Trudy Beyak is acclaimed by the North American newspaper industry for her compassion and tenacity in pursuing stories that help people live healthier, happier lives. She lives in Abbotsford, British Columbia and has three daughters and seven grandchildren.
or
Not Currently Available for Direct Purchase