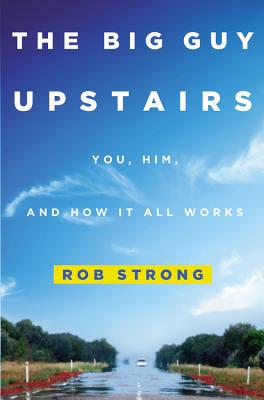 The Big Guy Upstairs: You, Him, and How It All Works (Hardcover)
You, Him, and How It All Works
Jericho Books, 9781455527809, 213pp.
Publication Date: July 16, 2013
* Individual store prices may vary.
or
Not Currently Available for Direct Purchase
Description
When Rob Strong tells people he's a pastor in Massachusetts--"the least churched state in the USA"--it sometimes stops them in their tracks, but Strong never lets his faith bar him from doing what matters most: building sincere relationships with people as, together, they question and explore the nature of The Big Guy Upstairs.
Here he shares how approachable, interactive, and, above all, relevant God can be in readers' lives, without any of the trappings of religion or "Christianese" that make many of them suspicious. Filled with his inimitable brand of wit and humor, Strong offers readers a fresh take on the importance of understanding their own humanity and their purpose in life, how to disagree with but still respect the perspectives of others, and the role that God plays in every single facet of their lives--especially when they least expect it.
From a "weed" that turned into a delicious peach tree to a miraculous pair of brown shoes, Strong will engage readers with insightful stories and biblical commentary that reveal why their lives are significant--and how God is more intentional, active, and closer than they realize.
About the Author
Rob Strong is currently serving as the Lead Pastor of Grace Community, a church located just north of Boston, MA. His nearly twenty years of ministry have been intentionally located in states called New England where he believes future of Christianity will be born. Learn more at therobstrong.com.
Praise For The Big Guy Upstairs: You, Him, and How It All Works…
"Over the last twenty years of being friends with Rob Strong, I can't begin to count the number of times I've heard him tell a riveting, hilarious, gut-wrenching story that opens up all kinds of new insight and wisdom and thought: 'I wish everybody could hear that...' And now, with his first book, you can."

"Genuine, raw and real, Rob Strong is virtually guaranteed to comfort the disturbed while disturbing the comfortable. But for those who truly want to meet and walk with God, this book could be invaluable."

"Rob's down-to-earth language and honesty invite you to pull up your most comfortable chair and discover how he walks with his Creator. Rob unpacks what it means to not only believe in the Big Guy upstairs, but how to develop a meaningful relationship with Him."

"A poignant, delightful, witty, and profound re-look at the timeless questions of God embedded in our souls. Finally we have a text that cuts through the excruciatingly cliché language that normally get eyes rolling, and unpretentiously engages believers and non-believers alike in gut-level conversations about God."

"Rob's book -like Rob himself-is refreshing, insightful, and inspiring. Spiritual seekers inside and outside the church will be surprised to find The Big Guy isn't nearly as distant or mysterious as they might have imagined."
Advertisement