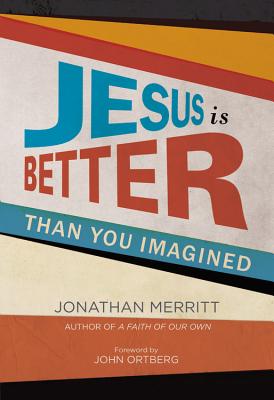 Jesus Is Better than You Imagined
Hardcover

* Individual store prices may vary.
Other Editions of This Title:
Paperback (4/5/2016)
Description
Is the God who created us better than the God we've created?

After following Jesus for nearly two decades, Jonathan Merritt decides to confront the emptiness of a faith that has become dry, predictable, and rote. In a moment of desperation, he cries out for God to show up and surprise him, and over the next year, God doesn't disappoint.

In Jesus is Better Than You Imagined, Jonathan shares vulnerable, never-before-shared stories of how he learned to encounter Jesus in unexpected ways. Through a 60-hour vow of silence in a desert monastery, he experiences Jesus in silence. When a friend dies of a rare disease, he sees Jesus in tragedy. Through confronting childhood sexual abuse, Jonathan discovers Jesus in honesty. In an anti-Christian-themed bar, he finds Jesus in sacrilege. And when he's almost kidnapped in Haiti by armed bandits, he experiences Jesus in the impossible.

Though Merritt finds himself in places he never dreamed of, he doesn't lose his way. Instead, these experiences force him back to the Bible, where he repeatedly offers fresh, sometimes provocative, interpretations of familiar passages. Along the way, he throws back the covers on the sleepy faith of many Christians, urging them to search for the Holy in their midst.

Pointed and poignant by turns, Jonathan helps readers open their hearts to a mysterious God and a faith that sustains, guides, and most importantly, surprises. His fearlessly honest story invites us all to discover the messy mercy and crazy grace of a sometimes startling Savior.
Praise For Jesus Is Better than You Imagined…
"Jonathan paints a picture of a God who loves a good surprise and meets us in ways we may not have considered. So read this book expectantly. It will shatter your misconceptions and help you encounter a God more wonderful than you ever conceived."—Mark Batterson, New York Times bestselling author of The Circle Maker

"With his usual word-magic, Jonathan Merritt reminds us that Jesus has survived all the embarrassing things that we Christians have done in his name. He shows you the Jesus who challenges the chosen, includes the excluded, assaults closed minds, opens hard hearts, and defies all the boxes, categories, and camps... the one who left the comfort of heaven to join the struggle on earth to show us who God is and what love looks like with skin on. It is an invitation to fall in love-maybe again, or maybe for the first time-with love-made-flesh, and he's better than you could ever imagine."—Shane Claiborne, activist and bestselling author of The Irresistible Revolution and Becoming the Answer to Our Prayers

"Jonathan speaks to the human heart, with words poured from his own. This book is one of the bravest works I've had the privilege to read. May his strength inspire ours."—Rebekah Lyons, author of Freefall to Fly and co-founder of Q Ideas

"Theology divorced from autobiography is like making love out of a love manual. With JESUS IS BETTER THAN YOU IMAGINED, Jonathan Merritt gives us a theological gem based on his own life story. This book got me so excited about Jesus that it almost left me winded. If you have ever despaired of the church, or departed from the faith, or know someone who has, there is no better book on the market to illuminate the darkness with lightning strikes of divine presence and power."—Leonard Sweet, bestselling author, professor (Drew University / George Fox University) and chief contributor to Sermons.com

"Jonathan Merritt is fast becoming one of the most influential Christian writers today. He has a pulse on culture and a gift for communicating. JESUS IS BETTER THAN YOU IMAGINED is a practical and poetic book that leads readers into the arms of a sometimes startling God. In a time when young people are growing disenchanted with religion, this book comes not a moment too soon to remind us that Jesus is all we need."—Brad Lomenick, president of Catalyst and author of The Catalyst Leader

"Stirring, soaring, surprising. This is a delightful glimpse into the epic greatness of the Lord Jesus Christ."—Frank Viola, author of God's Favorite Place on Earth, Jesus Manifesto, and Epic Jesus

"Jonathan Merritt is an incisive, winsome writer and one of the best storytellers I know. In JESUS IS BETTER THAN YOU IMAGINED, he invites us to move beyond legalism, beyond cynicism, and beyond fear to the feet of Jesus, where love always prevails. This book is both brutally honest and stubbornly hopeful. Grace permeates every page."—Rachel Held Evans, New York Times bestselling author of author of A Year of Biblical Womanhood and Evolving in Monkey Town

"Well-written, bold, and honest...this book by my friend Jonathan will no doubt introduce many seekers, skeptics, strugglers, and "saints" to the Jesus they've never known but longed to meet-One who gives grace to broken and burned-out people without disclaimers, qualifications, or asterisks. A true celebration of one-way love."—Tullian Tchividjian, pastor of Coral Ridge Presbyterian Church and author of One Way Love: Inexhaustible Grace for an Exhausted World

"True to the genre of the younger evangelical leader memoirs, there is an honesty and an integrity in Jonathan Merritt's JESUS IS BETTER THAN YOU IMAGINED. But what drives Jonathan's story is a recurring emptiness on the part of a believer who probes spiritual disciplines, creation, struggles with sin and ultimately God in the face of Jesus. That probing overshadowed everything in this book for me, a probing I found both honest and encouraging, a probing that does not pretend doubt and dryness are gone once one is a Christian. Jonathan's story will be encouraging to young and old alike."—Scot McKnight, author and New Testament professor at Northern Baptist Theological Seminary

"Candid, blunt, honest, exciting. Jonathan Merritt opens the window of his private life and lets us look and listen in. He tells secrets most of us don't talk about. Sometimes painfully hard. Sometimes exhilarating. Sometimes disappointing. Always pushing toward Jesus who exceeds expectations."—Leith Anderson, president of the National Association of Evangelicals

"This honest, raw, emotional, and insightful work from Jonathan Merritt will have you seeking-and finding-God in both the expected and the unexpected. JESUS IS BETTER THAN YOU IMAGINED sheds light on how God works in both the chaos and the mundane of life. Throughout the book Jonathan continually shows that no matter what you are going through in life, Jesus really is better than you can ever imagine."—Thom S. Rainer, president and CEO of LifeWay Christian Resources
FaithWords, 9781455527878, 208pp.
Publication Date: April 1, 2014
About the Author
Jonathan Merritt is a faith and culture writer who has published more than 1,000 articles in outlets such as the Atlantic, USA Today, National Journal, the Washington Post, and CNN.com. He is a senior columnist for Religion News Service, America's largest provider of news and commentary focused on religion and spirituality. His previous books include A Faith of Our Own: Following Jesus Beyond the Culture Wars and Green Like God, which Publisher's Weekly called "mandatory reading for churchgoers."

Recently named one of thirty leaders reshaping Christian leadership by Outreach Magazine, Jonathan has become a popular speaker at conferences, colleges, and churches. As a respected Christian voice, he has been interviewed by ABC World News, Fox News, CNN, NPR, PBS, Politico, Slate, and the New York Times.

Jonathan sits on the national board of directors for Bethany Christian Services, America's largest adoption and orphan care agency. He holds master's degrees from Southeastern Baptist Theological Seminary and Emory University's Candler School of Theology, and he resides in Brooklyn, NY.

Follow Jonathan on twitter: @jonathanmerritt
or
Not Currently Available for Direct Purchase