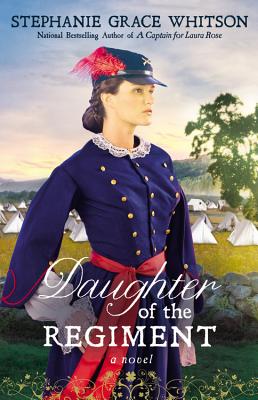 Daughter of the Regiment (Paperback)
FaithWords, 9781455529032, 336pp.
Publication Date: March 24, 2015
* Individual store prices may vary.
Description
Irish immigrant Maggie Malone wants no part of the war. She'd rather let "the Americans" settle their differences-until her brothers join Missouri's Union Irish Brigade, and one of their names appears on a list of injured soldiers. Desperate for news, Maggie heads for Boonville, where the Federal army is camped. There she captures the attention of Sergeant John Coulter. When circumstances force Maggie to remain with the brigade, she discovers how capable she is of helping the men she comes to think of as "her boys." And while she doesn't see herself as someone a man would court, John Coulter is determined to convince her otherwise.
As the mistress of her brother's Missouri plantation, Elizabeth Blair has learned to play her part as the perfect hostess-and not to question her brother Walker's business affairs. When Walker helps organize the Wildwood Guard for the Confederacy, and offers his plantation as the Center of Operations, Libbie must gracefully manage a house with officers in residence and soldiers camped on the lawn. As the war draws ever closer to her doorstep, she must also find a way to protect the people who depend on her.
Despite being neighbors, Maggie and Libbie have led such different lives that they barely know one another-until war brings them together, and each woman discovers that both friendship and love can come from the unlikeliest of places.
About the Author
Stephanie Grace Whitson is the author of over 20 inspirational novels and two works of nonfiction. When she isn't writing, speaking, or trying to keep up with her five grown children and perfect grandchildren, Stephanie loves to take long distance rides aboard her Honda Magna motorcycle named Kitty. Her church and the International Quilt Study Center and Museum take up the rest of her free time. She received her Master of Arts degree in history in the spring of 2012. Her passionate interests in pioneer women's history, antique quilts, and French, Italian, and Hawaiian language and culture provide endless story-telling possibilities. Stephanie resides with her husband in Lincoln, NE.
Praise For Daughter of the Regiment…
An inspiring story of discovering courage and friendship through tremendous adversity. Drawing on the actual histories of women who found ways to work on the battlefront during the Civil War, this outstanding historical will attract fans of Janette Oke, Lisa Wingate, and Tamera Alexander. *Starred Review*—Library Journal

"Whitson celebrates the strong but unknown heroines who marched off to war with their men, as well as those who maintained the home front, in this Civil War-era inspirational....Based on true events, this story will capture the hearts of historical fiction fans."—Publishers Weekly

"The author's gift for multidimensional characters and tight plotting shines through. Romance, family drama, immigrants and dueling factions in the same town add action and intrigue."—RT Book Reviews

"A vivid portrait of life on the Missouri River, from the cramped quarters of the packet boat, through the outpost settlements up the river, to the squalid docks of St. Louis. . .[A]n entertaining historical tale of faith, action, and romance."—Publisher's Weekly on A Captain for Laura Rose

"This stand-alone novel has all the makings of a great romance: love, intrigue, mystery and unforgettable characters. Whitson's historical details on female riverboat captains are incredible."—RT Book Reviews, starred review, on A Captain for Laura Rose

"As usual, Stephanie Grace Whitson skillfully weaves unforgettable characters with an unforgettable time in history. Step aboard the Laura Rose. You will definitely enjoy the ride!"—Nancy Moser, bestselling author of The Journey of Josephine and Mozart's Sister on A Captain for Laura Rose