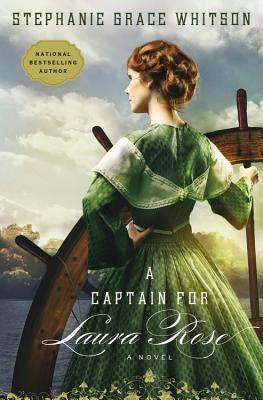 A Captain for Laura Rose
Paperback

* Individual store prices may vary.
Description
Laura Rose White's late father taught her everything he knew about piloting a Missouri River steamboat. He even named their boat after her. Despite that, it seems that Laura will forever be a "cub pilot" to her brother Joe, because in 1867, a female riverboat captain is unheard of. That is, until tragedy strikes and Laura must make the two month journey from St. Louis to Fort Benton and back in order to save her family's legacy, her home, and the only life she's ever known.

The only way for her to overcome the nearly insurmountable odds is with the help of her brother's disreputable friend Finn MacKnight, a skilled pilot with a terrible reputation. Laura loathes having to accept MacKnight as her co-pilot, especially when she learns she must also provide passage for his two sisters. Straight-laced Fiona has a fear of water, and unpredictable Adele seems much too comfortable with the idea of life in the rough and tumble environment of the untamed river and the men who ply it. Though they are thrown together by necessity, this historic journey may lead Laura and the MacKnights to far more than they ever expected.
Praise For A Captain for Laura Rose…
"This stand-alone novel has all the makings of a great romance: love, intrigue, mystery and unforgettable characters. Whitson's historical details on female riverboat captains are incredible. She brings to life a long-gone way of life on the river when women far superior than their male counterparts had to prove their worth."—RT Book Reviews, starred review

"A vivid portrait of life on the Missouri River, from the cramped quarters of the packet boat, through the outpost settlements up the river, to the squalid docks of St. Louis. . .[A]n entertaining historical tale of faith, action, and romance."—Publisher's Weekly

"Whitson weaves unforgettable characters with remarkable historical impact. Step aboard the Laura Rose and join the passengers and crew as they take the historic trip with the first female steamboat captain. It will be a memorable trip indeed."—CBA Retailers and Resources

"Stephanie Whitson is a master storyteller who has once again woven a tale of adventure, romance and inspiration that will touch your heart. A Captain for Laura Rose is a novel rich with exciting details of riverboat life during the 19th century and the well-drawn characters will steal your heart. Don't miss this exceptional read."—Judith Miller, award winning author of the Home to Amana series

"As usual, Stephanie Grace Whitson skillfully weaves unforgettable characters with an unforgettable time in history. Step aboard the Laura Rose. You will definitely enjoy the ride!"—Nancy Moser, bestselling author of The Journey of Josephine and Mozart's Sister

"Whitson writes amazing stories." —RT Book Reviews

"Whitson has a wonderful knack of storytelling. . . .I highly recommend A Captain for Laura Rose. It is wonderfully crafted and thoughtfully written."—RadiantLit.com
FaithWords, 9781455529056, 336pp.
Publication Date: March 4, 2014
About the Author
Stephanie Grace Whitson is a bestselling inspirational author of more than twenty books. She's a two-time Christy Award finalist and the winner of an RT Book Reviews Reviewer's Choice Award for Best Inspirational Romance. When she's not writing, she enjoys taking long rides on her Honda Magna motorcycle named Kitty.
Learn more: StephanieWhitson.com