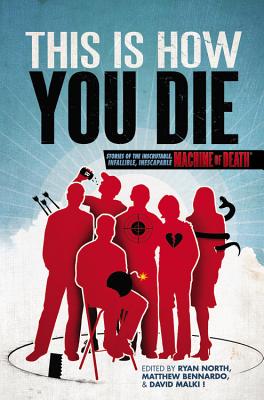 This Is How You Die
Stories of the Inscrutable, Infallible, Inescapable Machine of Death
Paperback

* Individual store prices may vary.
Other Editions of This Title:
Digital Audiobook (7/15/2013)
Description
If a machine could predict how you would die, would you want to know? This is the tantalizing premise of This Is How You Die, the brilliant follow-up anthology to the self-published bestseller, Machine of Death.

THIS IS HOW YOU DIE
Stories of the Inscrutable, Infallible, Inescapable Machine of Death

The machines started popping up around the world. The offer was tempting: with a simple blood test, anyone could know how they would die. But the machines didn't give dates or specific circumstances-just a single word or phrase. DROWNED, CANCER, OLD AGE, CHOKED ON A HANDFUL OF POPCORN. And though the predictions were always accurate, they were also often frustratingly vague. OLD AGE, it turned out, could mean either dying of natural causes, or being shot by an elderly, bedridden man in a botched home invasion. The machines held onto that old-world sense of irony in death: you can know how it's going to happen, but you'll still be surprised when it does.

This addictive anthology--sinister, witty, existential, and fascinating--collects the best of the thousands of story submissions the editors received in the wake of the success of the first volume, and exceeds the first in every way.
Praise For This Is How You Die: Stories of the Inscrutable, Infallible, Inescapable Machine of Death…
Praise for THIS IS HOW YOU DIE:

"THIS IS HOW YOU DIE is a brilliantly addictive book that reads like a series of existential, death-obsessed Twilight Zone episodes. It's a book that can somehow make "brain toxoplasmosis" jump right off the page. It's fun and twisted, but also surprisingly deep and almost meditative in parts. Very highly recommended." -Seth Grahame-Smith, New York Times bestselling author of Abraham Lincoln: Vampire Hunter and Unholy Night

"This volume takes the already cool concept and pushes it in dozens of fantastic new directions." -Brandon Sanderson, #1 New York Times bestselling author of the Mistborn trilogy and Robert Jordan's The Wheel of Time series

Praise for Machine of Death:

"Machine of Death is a marvelous collection, riddled with intelligence, creative reach, and a frankness that makes the best use of the central gimmick."
--The Onion A.V. Club

"Recalls the best writings of Harlan Ellison and Charles Beaumont.... Machine of Death brought me laughs, terror and tears....Highly recommended."
--Paradox Magazine
Grand Central Publishing, 9781455529391, 512pp.
Publication Date: July 16, 2013
About the Author
Matthew Bennardo is a writer and editor from Cleveland. His short fiction has been appearing in print and online for over a decade, with pieces in Asimov's, Strange Horizons, Daily Science Fiction, and Shimmer, among others.

David Malki is the Los Angeles-based author of Wondermark, a comic strip available online and in collections from Dark Horse Books, one of which was nominated in 2009 for the Eisner Award (the highest honor in comics) for Best Humor Publication. He also holds the distinction of having written the longest article ever published by Poets & Writers Magazine.

Ryan North is the Toronto-based author of the online Dinosaur Comics, one of the internet's most popular comic strips. He's also currently the writer of the Adventure Time comic book from BOOM! Studios, based on the television show.