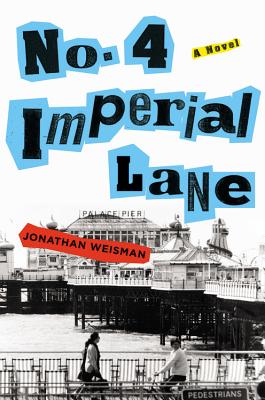 No. 4 Imperial Lane
A Novel
Hardcover

* Individual store prices may vary.
Other Editions of This Title:
Digital Audiobook (8/3/2015)
Description
From post-punk Brighton to revolutionary Angola, an incredible coming-of-age story that stretches across nations and decades, reminding us what it really means to come home.

"Weisman has written a tragedy of rare power and richness...If lately you've been shuffling through too many novels that feel a little unambitious, vaguely sentimental, even adolescent, No. 4 Imperial Lane could give your summer reading some real depth." -- Ron Charles, The Washington Post

It's 1988 at the University of Sussex, where kids sport Mohawks and light up to the otherworldly sounds of the Cocteau Twins, as conversation drifts from structuralism to Thatcher to the bloody Labour Students. Hailing from Atlanta, Georgia, David Heller has taken a job as a live-in aide to current quadriplegic and former playboy, Hans Bromwell-in part to extend his stay studying abroad, but in truth, he's looking to escape his own family still paralyzed by the death of his younger sister ten years on.

When David moves into the Bromwell house, his life becomes quickly entwined with those of Hans, his alcoholic sister, Elizabeth, and her beautiful fatherless daughter, as they navigate their new role as fallen aristocracy. As David befriends the Bromwells, the details behind the family's staggering fall from grace are slowly revealed: How Elizabeth's love affair with a Portuguese physician carried the young English girl right into the bloody battlefields of colonial Africa, where an entire continent bellowed for independence, and a single event left a family broken forever.

A sweeping debut by a seasoned political reporter, written in prose as lush and evocative as it is deeply funny, No. 4 Imperial Lane artfully shifts through time, from the high politics of embassy backrooms and the bloody events of a ground war to the budding romance found in pot-filled dorm rooms, and those unforgettable moments when childhood gives way to becoming an adult.

Reminiscent of Nick Hornby and Alan Hollinghurst, here is a book about the intersection of damaged lives; a book that asks whether it is possible for an unexpected stranger to piece a family back together again.
Praise For No. 4 Imperial Lane: A Novel…
"Stunning...an epic and exotic drama about the rise and fall of nations and the ebb and flow of love."—Minneapolis Star Tribune

"[A] captivating story."—Publishers Weekly

"Weisman's prose is clear and evocative with plenty of detail but no unnecessary flourishes. A fresh, enlightening book, complex, emotionally resonant."—Kirkus Reviews

"Starts out with sharply attentive writing about a young American's life in Thatcher's England but opens up to embrace colonial African history."—Library Journal

"A powerful elegy for lost love and lost empire...seductive...graceful...remarkable... elegant...engaging, leavened with tenderness and gallows humor.... [A] captivating story...a braided exploration of a woman's ordeal and an empire's decline...a story both intimate and transnational...a tragedy of rare power and richness.... If lately you've been shuffling through too many novels that feel a little unambitious, vaguely sentimental, even adolescent, 'No. 4 Imperial Lane' could give your summer reading some real depth."—The Washington Post

"The marriage of history and fiction doesn't always work. But when it does, the result can be splendid. Case in point, this novel..... It's one thing to situate fictional characters in recognizable historical contexts. It's another to bring those contexts as alive as Weisman has.... [P]art literary novel, part historical fiction and part thriller [with] all parts mesh[ing] quite nicely."—Winnipeg Free Press (Canada)

"[R]edemptive and utterly transporting...an epic family story, reminiscent of Nick Hornby and Allan Hollinghurst...a singular debut."—Brooklyn Daily Eagle

"[A]mbitious and dazzling...a coming of age story that brings to life late '80s England."—Largehearted Boy

"Few writers are able to bring together the counter-cultural buzz and familial upheaval of the Thatcherite era as well as Jonathan Weisman.... [I]mmersive and engaging...a wholly edifying experience...historically complex and contextually rich.... There is no way to get bored reading this book."—Guernica

"[Weisman's] evocation of the friendship that develops between Hans and David is all but flawless, a complicated and resonantly moving thing.... It's the story of this friendship that makes the novel's concluding act veritably glow with conviction, and it's that concluding act that will stick with readers long after they've closed the book."—Open Letters Monthly

"Weisman's vivid characters and graceful detours through history will sneak inside your head. Sophisticated and multilayered, NO. 4 IMPERIAL LANE succeeds in being both charming and haunting."—Matthew Pearl, author of The Dante Club and The Last Bookaneer

"Jonathan Weisman's prose is thrilling, visceral. It grabs you by the throat and doesn't let go. A brilliant debut."—Deborah Copaken Kogan, New York Times Bestselling Author of The Red Book

"A dazzling debut, full of generous heart and insightful detail into England at the end of the '80s. I could not put this one down!"—Kristopher Jansma, author of The Unchangeable Spots of Leopards

"Reads like a classic Elvis Costello record sounds: prickly, smart, helplessly romantic, historically engaged, and funny as hell. Imagine Nick Hornby writing The English Patient, and then add mohawks. What a sensational debut."—Scott Cheshire, author of High as the Horses' Bridles

"Like the plays of Shakespeare, whose lines float through these pages, Weisman's debut novel is full of love, ambition, scheming, and family dysfunction."—David Abrams, author of Fobbit

"There is such joy, curiosity, and appetite for the world in evidence here. The insights into the complexities of human experience are breathtaking, and will linger long in your memory."—Christine Sneed, author of Little Known Facts and Paris, He Said
Twelve, 9781455530458, 352pp.
Publication Date: August 4, 2015
About the Author
Jonathan Weisman is a Washington-based economic policy reporter for The New York Times. In his 25-year journalism career, he has covered the White House, national politics, and defense for the Times, the Wall Street Journal, the Washington Post, USA Today, and the Baltimore Sun, among other publications
or
Not Currently Available for Direct Purchase