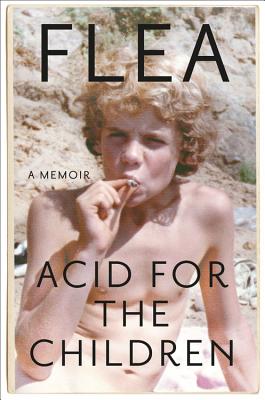 Acid for the Children
A Memoir
Hardcover

* Individual store prices may vary.
Other Editions of This Title:
Digital Audiobook (11/4/2019)
Paperback (9/20/2022)
CD-Audio (11/5/2019)
Compact Disc (11/5/2019)
Description
With "virtuosic vulnerability" (The Atlantic), the iconic bassist and Red Hot Chili peppers co-founder pens a love letter to a youth spent wild in Los Angeles in his raw and riveting coming-of-age memoir.
In Acid for the Children, Flea takes readers on a deeply personal and revealing tour of his formative years, spanning from Australia to the New York City suburbs to, finally, Los Angeles. Through hilarious anecdotes, poetical meditations, and occasional flights of fantasy, Flea deftly chronicles the experiences that forged him as an artist, a musician, and a young man. His dreamy, jazz-inflected prose makes the Los Angeles of the 1970s and 80s come to gritty, glorious life, including the potential for fun, danger, mayhem, or inspiration that lurked around every corner. It is here that young Flea, looking to escape a turbulent home, found family in a community of musicians, artists, and junkies who also lived on the fringe. He spent most of his time partying and committing petty crimes. But it was in music where he found a higher meaning, a place to channel his frustration, loneliness, and love. This left him open to the life-changing moment when he and his best friends, soul brothers, and partners-in-mischief came up with the idea to start their own band, which became the Red Hot Chili Peppers.

Acid for the Children is the debut of a stunning new literary voice, whose prose is as witty, entertaining, and wildly unpredictable as the author himself. It's a tenderly evocative coming-of-age story and a raucous love letter to the power of music and creativity from one of the most renowned musicians of our time.

New York Times BestsellerA #1 LA Times BestsellerA USA Today BestsellerOne of NPR's "Favorite Books of 2019"
Praise For Acid for the Children: A Memoir…
"[Acid For The Children is] written with the same lyrical, holy goof-ball energy its author brings to all his public activities, and its earnest, eccentric prose reflects Flea's evolution from Hollywood-scene knucklehead to reflective, spiritually clued-in adult."—The New York Times

"Acid for the Children is not an as-told-to, nor is it written "with" someone. These are Flea's words-excitable, jazzy, regretful, disarming, popping and writhing away in his biological bass zone. Insecurities to the fore: He worries that he may be producing "a thorny jumble of trash." But he's actually a lovely writer, with a particular gift for the free-floating and reverberant. He writes in Beat Generation bursts and epiphanies, lifting toward the kind of virtuosic vulnerability and self-exposure associated with the great jazz players....Flea-elegant nutcase, funk-at-high-pressure bassist, wildly cultured and culturedly wild man-has written a fine memoir. You'll put down Acid for the Children with your human sympathies expanded; you'll feel less alone."—The Atlantic

"The prose frequently mimics [Flea's] playing: occasionally beautiful, occasionally outrageous, in conversation with a small group of predecessors but unwilling to follow anyone else's rules. . . Acid For The Children feels remarkably close to the bone, its author nuanced in his understanding of himself, his hang-ups, and his surroundings."—AV Club

"Acid for the Children remains a vital, only-in-L.A. account of a wide-open time filtered through an engaging, humbled voice reshaped by his recovery and reconnecting to his spirit through art and music."—LA Times

"Flea has written a memoir not about music, but about a feral child growing up in Hollywood who assembles a family out of the other lost souls around him. The prose is like his bass technique – wild, energetic, indelible. And in the final moments of the book, as the Red Hot Chili Peppers are about to take the stage for the first time, you can't wait to find out what's next."
 —NPR

"Flea's got a compelling, vulnerable, self-interrogating writer's voice. . . Acid for the Children is an artist's love story between Flea and Kiedis, who meet as 14-year-olds and cleave like opposing magnetic poles."—Rolling Stone

"[An] electric, surprisingly moving memoir...Flea is an enlightened narrator, and this passionate, smart memoir will resonate with readers whether they're fans of the band or not."
—Publisher's Weekly, starred review

"A wild ride through the coming-of-age wilderness of the famed rock bassist...Relentlessly honest, untamed, and often revelatory."—Kirkus

"[A] must read. . . Flea writes with gratitude of someone who is amazed he survived everything thrown his way and with a deep thoughtfulness."—GQ

"Flea is a surprisingly good writer...RHCP fans or not, readers will find a unique coming-of-age memoir that's also an ode to books, music, and performing."—Booklist

"[A] sensitive, well-written coming-of-age memoir. Readers will find much to relate to in Flea's life story and will hope that this isn't the only entry in his writing career."—Library Journal

"Written in quick-hitting vignettes, the utterly compelling, engrossing must read takes us from his birth in Australia to moving to New York as a four-year-old, from discovering music, from his parents' separation to how moving to L.A. changed his life."—Forbes
Grand Central Publishing, 9781455530533, 400pp.
Publication Date: November 5, 2019
About the Author
Flea is an Australian-born American musician and occasional actor. He is best known as the bassist and co-founding member of the Red Hot Chili Peppers, and co-founder of The Silverlake Conservatory of Music.