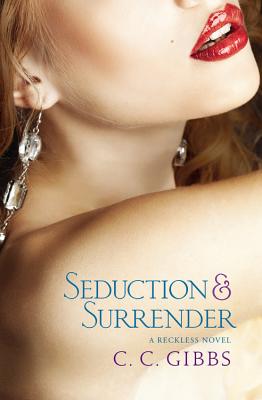 Seduction and Surrender (Reckless #2) (Paperback)
Forever, 9781455532629, 416pp.
Publication Date: March 1, 2016
Other Editions of This Title:
Digital Audiobook (11/30/2015)
* Individual store prices may vary.
Description
From the peaks of erotic ecstasy--to the point of no return . . .

Power. Passion. Pleasure beyond imagining. Billionaire playboy Rafe Contini offers all this--and more--to the beautiful Nicole Parrish, a young American traveler with a taste for adventure that matches his own. From the private yachts of Monte Carlo to the palatial estates of Geneva to the glittering penthouses of Bangkok, Rafe has shown her a world of unimaginable sensual delights. Now, he is ready to take her to the next daring level. Of danger. Of desire. Of deliciously erotic self-discovery.

Nicole has never known a man as sexy, as strong--or as commanding--as Rafe Contini. Night after steamy night, he turns up the heat, tests her boundaries, and pushes the limits of her body and soul to the point of sweetest agony. But when this masterful lover sweeps her away to a secluded island getaway--where anything can and will happen--Nicole must decide just how far she wants to take this game. And just how much she can bend Rafe's rules . . .
About the Author
C.C. Gibbs is the pen name of New York Times bestselling author Susan Johnson. She divides her time between the Midwest and Northern California, and considers the life of a writer the best of all possible worlds. Bringing characters to life allows her imagination full rein and researching books is great fun!
Praise For Seduction and Surrender (Reckless #2)…
"Rafe and Nicole's story is almost too hot to handle in the first book of Gibbs' new series. Readers will get a kick out of the characters' cat-and-mouse game...But there is no denying their sexual chemistry. Only time will tell what can happen to two people who are used to being in control all the time, and thankfully there's room for more of their story."
--RT Book Reviews on Power and Possession

"Sadly, the All or Nothing trilogy has come to an end, but happily it's everything readers have been hoping for. Gibbs' writing ability and imagination never falters. This final installment will take readers' breath away and keep them up through the entire night until they reach the very last page. The super-hot sex, unforgettable characters, and interesting, drama-filled story make for a total nail-biter. A bittersweet symphony!"
--RT Book Reviews on All He Desires

"This electrifying follow-up to the debut of the All or Nothing trilogy will satisfy readers across the map. Gibbs' writing has a way of connecting with one's libido and keeps readers wanting more. Our hero and heroine's relationship seems stronger than ever since they've been apart, and their explosive meetings together will stay embedded in erotica fans' memories for a very long time. All He Needs is suspenseful, emotionally driven and will keep Gibbs' fans wondering how in the world she will be able to top this installment."
--- RT Book Reviews on All He Needs

"4 1/2 stars! Book one of the All or Nothing trilogy will be remembered. This sensational debut will spark interest among the most dedicated erotica fans. Gibbs doesn't beat around the bush, gets straight to the point and will leave readers gasping for breath...this story will take readers to heights they never even believed existed."
--- RT Book Reviews on All He Wants

"Knight is not your typical fictional brooding billionaire. He's open, garrulous, tender and caring. He wants to dominate Kate right from the start but he knows that he needs to bide his time, tread on eggshells and slowly woo her until she's a hot wet mess for him and can no longer resist."
--- Sinfully Sexy Book Reviews on All He Wants


"I absolutely loved this book! It was a keep-me-up-at-night sort of read! The steam in this book is very hot, and well written!"
--- Roxanne Reads Romance on All He Wants