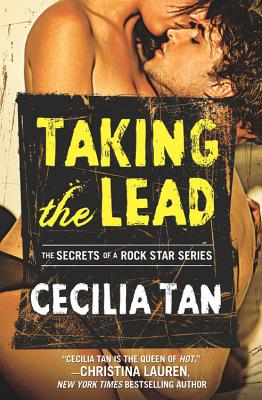 Taking the Lead (Secrets of a Rock Star #1) (Paperback)
Forever, 9781455533633, 336pp.
Publication Date: January 26, 2016
* Individual store prices may vary.
Description
When the rich and famous come out to play, nothing is off-limits . . .

Everyone knows Ricki Hamilton as the icy heiress living in a billion-dollar mansion, high up in the Hollywood Hills. But few realize that behind the gilded gates, Ricki is the mistress of LA's most exclusive private club. A place where no fantasy is forbidden and no one goes unsatisfied-except for Ricki. If she had her way, she'd leave the business behind . . . until she meets the one man with the power to change her mind.

The hottest rock star in the world, Axel Hawke, has the requisite sexy look and bad-boy reputation. Yet even his biggest fans have no clue just how decadently dangerous he can be. From the moment he meets Ricki, he knows there is no other woman who will satisfy him. He can feel the heat hiding beneath her cool demeanor and he's determined to stoke her flame.

Together Ricki and Axel indulge their every desire. The deeper they go, the more she craves. Submitting to Axel opens her eyes, and for the first time Ricki knows exactly what she wants. All she has to do is take it . . .
About the Author
Cecilia Tan writes about her many passions, from erotic fantasy to baseball. Not only is she an author, but she has also edited more than fifty erotic anthologies and founded her own publishing house, Circlet Press. Her short fiction has appeared in numerous magazines and her nonfiction on baseball has been in Baseball Ink, Gotham Baseball magazine, Yankees magazine, Yankees Annual, and elsewhere. Cecilia currently resides in Cambridge, Massachusetts.

You can learn more at:
CeciliaTan.com
Twitter @ceciliatan
Facebook.com/thececiliatan
Praise For Taking the Lead (Secrets of a Rock Star #1)…
"Everyone knows Cecilia Tan is the queen of
hot
, but she's also the queen of wit and angst and
voice
.
Taking the Lead
is a book that grabs you by the collar and gives you flirty-eyes. It will tell you, 'Go sit, over there in the corner chair, and don't get up until you're done.' You will do it-absolutely and happily-because Cecilia knows exactly what you want."—
Christina Lauren, New York Times bestselling author of Beautiful Bastard and Sweet Filthy Boy
"Cecilia Tan writes erotic romance the way it was meant to be written: full of emotion, intensity, and chemistry that's so hot it burns the page.
Taking the Lead
is no exception; it's deliciously sexy and utterly satisfying."—
Tara Sue Me, New York Times bestselling author
"Veteran Tan kicks her Secrets of a Rock Star series off with a sultry start. With a satisfying plot and an engaging cast of characters, the only thing slowing readers down will be their refractory period."—
Publishers Weekly (starred review)
"An emotional whirlwind romance. Axel is as strong and sexy as readers expect in a rock-star hero without being an overly brooding jerk. The length he goes in order to win over emotionally closed-off Ricki will melt your heart."—
RT Book Reviews
"The sex scenes here are once again as hot as they are imaginative."—
RT Book Reviews on SLOW SEDUCTION
"Seductive fun not to be missed! Cecilia Tan will make all your sexy wishes come true!"—
Lisa Renee Jones, bestselling author of If I Were You on SLOW SURRENDER
"Loved, loved
Slow Surrender
and am waiting on pins and needles for book two,
Slow Seduction
to come out...another brilliant outing from Cecelia Tan...her characters are full of life and emotion, and so believable. Definitely a keeper!"—
Night Owl Reviews on SLOW SURRENDER
"If you are a fan of the Billionaire Dom, you should not miss
Slow Surrender
. Cecilia Tan weaves a compelling and red-hot tale that will have readers eager for more."—
http://www.romancenovelnews.com/ on SLOW SURRENDER
"Move over EL James. Cecilia Tan's
Slow Surrender
is sinfully sweet and sublimely erotic. As with sipping a superb single-malt scotch served neat, you'll savor the slow burn as it builds to a deliciously unanticipated ... climax."—
Hope Tarr, award-winning author on SLOW SURRENDER