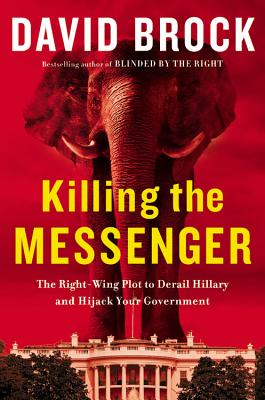 Killing the Messenger (Hardcover)
The Right-Wing Plot to Derail Hillary and Hijack Your Government
Twelve, 9781455533763, 320pp.
Publication Date: September 15, 2015
Other Editions of This Title:
Digital Audiobook (9/14/2015)
Paperback (7/12/2016)
CD-Audio (9/15/2015)
* Individual store prices may vary.
Description
THE NEW YORK TIMES BESTSELLER

New York Times bestselling author and founder of Media Matters, David Brock takes readers on his daring and eye-opening odyssey through the maze of political trenches.


David Brock is the ultimate happy warrior. Once a leading right-wing hit man, Brock is now the Left's pre-eminent defender and truth-teller.
In this incisive, personal account, Brock disarms the major tentacles of the Republican Leviathan: the Koch Brothers, the Clinton haters, and the Fox Noise Machine. With the acumen of a seasoned political player, Brock takes readers inside his Democratic war rooms and their 24/7 battles with right-wing forces for control of the story lines and messages that will decide the 2016 election. And he chronicles his own evolution from lead Clinton attack-dog to one of Hillary Clinton's fiercest defenders as he knocks down the conservative case against her.
Finally, KILLING THE MESSENGER provides the no holds barred playbook for what the new right-wing conspirators will do in this election cycle to tear apart the electorate-and what good, engaged, and informed citizens can do to stop them.
About the Author
David Brock is a widely published author and Democratic activist. In 2004, Brock founded Media Matters, the nation's premier media watchdog. Following the 2010 elections, Brock founded the Democratic SuperPAC American Bridge, which is one of the largest modern campaign war rooms ever assembled using research, tracking, and rapid response to defeat Republicans. He is the author of five books, including his 2002 best-selling memoir, Blinded by the Right: The Conscience of an Ex-Conservative. His writing appears in USA Today, CNN.com, the Huffington Post, the Daily Beast and Salon.


Praise For Killing the Messenger: The Right-Wing Plot to Derail Hillary and Hijack Your Government…
"Lucid, persuasive, and passionate where it needs to be."—President Bill Clinton, Politico

"KILLING THE MESSENGER exposes the art of scandal-mongering by one of the guys who invented it. It's a must read for the chin scratchers of the Washington Beltway and grassroots activists alike. If you want to know the Republican playbook for smearing Democrats by making stuff up, read this and then use it as a guide on how to fight back."—James Carville

"In this remarkable book, David Brock shows how a determined group of progressives can fight back against a right-wing effort to discredit progressive politics and destroy Hillary Clinton. Drawing on knowledge only a former right-wing insider could have, Brock exposes the right's relentless politics of personal destruction, and even (gasp!) defends Hillary Clinton. KILLING THE MESSENGER will empower you to take back our politics and make it something more decent and noble."—Paul Begala, Democratic strategist and former counselor to President Bill Clinton

"Brock...was there from the beginning and is intimately familiar with the mind-set and tactics of the right....He really hasn't missed a moment."—New York Times Book Review

"Lucid, persuasive, and passionate where it needs to be."—President Bill Clinton
or
Not Currently Available for Direct Purchase