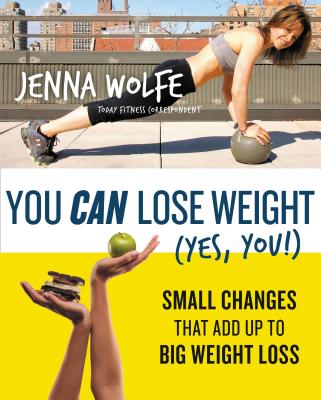 Thinner in 30: Small Changes That Add Up to Big Weight Loss in Just 30 Days (Hardcover)
Small Changes That Add Up to Big Weight Loss in Just 30 Days
Grand Central Life & Style, 9781455533985, 240pp.
Publication Date: December 29, 2015
Description
A month from now, you'll wish you had started today.Yes, a month is all it takes to see long-term results.And seriously-even YOU can lose that weight
Food and exercise fads come and go, mainly because they just aren't sustainable. After a few days, you're hungry, bored, or hungry AND bored. That's why the Today show's very first lifestyle and fitness correspondent, Jenna Wolfe, created her famous 30-Day Fitness Challenge for her viewers. The challenge was wildly successful because of its unprecedented and simple approach to everyday health and fitness-one small tip a day for 30 days. Now, in THINNER IN 30, Jenna takes her foolproof program to the next level, giving you the tools and motivation you'll need to achieve your wellness goals with thirty small changes that add up to big results-in as few as 30 days. It's all possible without joining a gym, counting calories, or signing up for a trendy class you can't even pronounce. The perfect plan for busy men and women of all ages and fitness levels, THINNER IN 30 puts the focus on small, bite-size tips which lead to long-term weight loss.
Jenna blends athletic wisdom, laugh-out-loud humor, and easy-to-follow advice, like how many times to chew your food per bite, what the heck carbs are all about, and how to sneak in workouts without any time, money, equipment, or energy (pretty much covering any excuse you may have). THINNER IN 30 will help you discover just how easy it is to get healthy without having to deprive yourself or work out 12 hours a day.

About the Author
Former Today show lifestyle and fitness correspondent Jenna Wolfe spent 12 years as a sportscaster before joining the Today show in 2007. As both a TV journalist and fitness expert, she inspires millions through her regular appearances on Dr. Oz and developing workouts for Microsoft. Myatt Murphy has written more than 900 features and special sections for more than 50 of the world's top men's, women's, and general-interest magazines. He is the author of seven books and co-author of four.
Advertisement