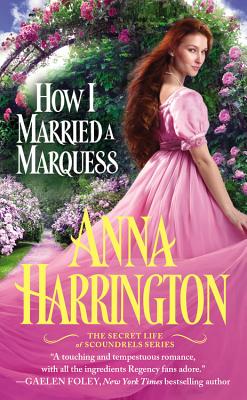 How I Married a Marquess (The Secret Life of Scoundrels #3) (Mass Market)
Forever, 9781455534074, 368pp.
Publication Date: April 26, 2016
* Individual store prices may vary.
Description
A SHOCKING DECEPTION . . .
Josephine Carlisle, adopted daughter of a baron, is officially on the shelf. But the silly, marriage-minded misses in the ton can have their frilly dresses and their seasons in London, for all she cares. Josie has her freedom and her family . . . until an encounter with a dark, devilishly handsome stranger leaves her utterly breathless at a house party. His wicked charm intrigues her, but that's where it ends. For Josie has a little secret . . .
. . . LEADS TO AN EXQUISITE SEDUCTION
Espionage was Thomas Matteson, Marquess of Chesney's game-until a tragic accident cost him his career. Now to salvage his reputation and return to the life he loves, the marquess must find the criminal who's been robbing London's rich and powerful. He's no fool-he knows Josie, with her wild chestnut hair and rapier-sharp wit, is hiding something and he won't rest until he unravels her mysteries, one by one. But he never expected to be the one under arrest-body and soul . . .
The Secret Life of Scoundrels
Dukes Are Forever
Along Came a Rogue
How I Married a Marquess
About the Author
Anna fell in love with historical romances -- and all those dashing Regency heroes -- while living in London, where she studied literature and theater. She loves to travel, fly airplanes, and hike, and when she isn't busy writing her next novel, she can usually be found in her garden, fussing over her roses. She loves to hear from her readers and can be reached at:
Webpage: www.AnnaHarringtonBooks.com
Amazon: http://ow.ly/4VNv30c1qQz
Facebook: www.facebook.com/annaharrington.regencywriter/
Twitter: https://twitter.com/aharrington2875
BookBub: http://ow.ly/QznJ30c1qUn
And be sure to sign up for her newsletter at http://bit.ly/2m7zWF0 to be the first to receive exciting news, enter contests, access exclusive content, and more!
Praise For How I Married a Marquess (The Secret Life of Scoundrels #3)…
"Had me practically drooling with anticipation from one page to the next...The characters are fabulously crafted and gloriously complicated...the author balances the dark with a light, witty humor and a sexual tension that adds sizzle to every scene....How I Married a Marquess is intense, satisfying and cleverly unpredictable. Consider me a freshly minted fan of Harrington's style of happy ever after."—USA Today Happy Ever After on How I Married a Marquess

"4 stars! The Secret Life of Scoundrels comes to a rousing conclusion as Harrington delights the readers with the charming characters, fast pace and unique store. This talented writer crafts romances that captivate, touching readers' hearts while bringing smiles to their lips."—RT Book Reviews on How I Married a Marquess

"4 stars! Newcomer Harrington creates fast-paced, lively romances with unconventional characters and plot. For her second novel, she adds heated sensuality and a gothic twist. There is little doubt that she is fast becoming a fan favorite."—RT Book Reviews on Along Came a Rogue

"In this thoroughly entertaining story, seduction and adventure take center stage. Nathaniel is far more honorable than he will admit, and Emily far braver than she ever imagined. Together, they form a formidable pair that readers are certain to love."—BookPage on Along Came a Rogue

"Harrington has created a richly woven novel, complete with romance, a touch of mystery, and wounded, believable characters."—Publishers Weekly on Along Came a Rogue

"A touching and tempestuous romance, with all the ingredients Regency fans adore."
--Gaelen Foley, New York Times bestselling author, on Dukes are Forever

"As steamy as it is sweet as it is luscious. My favorite kind of historical!"
-Grace Burrowes, New York Times bestselling author, on Dukes are Forever

"Harrington's emotionally gripping Regency-era debut, which launches the Secret Life of Scoundrels series, is ripe with drama and sizzling romance...The complex relationship between Edward and Katherine is intense and skillfully written, complete with plenty of romantic angst that propels the novel swiftly forward. This new author is definitely one to watch."—Publishers Weekly (starred review) on Dukes are Forever

"4 1/2 stars! Pits strong-willed characters against one another, and as the sparks ignite, passion is sure to follow. There is a depth of emotion that will leave readers breathless. The pages fly."—RT Book Reviews on Dukes Are Forever
or
Not Currently Available for Direct Purchase