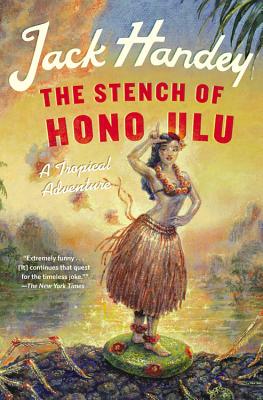 The Stench of Honolulu (Paperback)
A Tropical Adventure
Grand Central Publishing, 9781455534531, 240pp.
Publication Date: July 14, 2015
Other Editions of This Title:
Digital Audiobook (7/15/2013)
Hardcover (7/16/2013)
CD-Audio (7/16/2013)
Compact Disc (7/16/2013)
MP3 CD (7/16/2013)
Pre-Recorded Audio Player (7/16/2013)
* Individual store prices may vary.
Description
The legendary Deep Thoughts and New Yorker humorist Jack Handey is back with his very first novel-a hilarious, absurd, far-flung adventure tale.

Are you a fan of books in which famous tourist destinations are repurposed as unlivable hellholes for no particular reason? Read on!

Jack Handey's exotic tale is full of laugh-out-loud twists and unforgettable characters whose names escape me right now. A reliably unreliable narrator and his friend, who is some other guy, need to get out of town. They have a taste for adventure, so they pay a visit to a relic of bygone days-a travel agent-and discover an old treasure map. She might have been a witch, by the way. Our heroes soon embark on a quest for the Golden Monkey, which takes them into the mysterious and stinky foreign land of Honolulu. There, they meet untold dangers, confront strange natives, kill and eat Turtle People, kill some other things and people, eat another thing, and discover the ruins of ancient civilizations.

As our narrator says, "The ruins were impressive. But like so many civilizations, they forgot the rule that might have saved them: Don't let vines grow all over you."
About the Author
Jack Handey's bestselling books include the Deep Thoughts series, What I'd Say to the Martians and Other Veiled Threats, and Fuzzy Memories. Jack's writing for Saturday Night Live is known worldwide. He has won two Emmy Awards and a Writers Guild of America Award, and his humor has been published in The New Yorker, Playboy, and National Lampoon. Jack's quotations recently appeared in his own line of American Greetings cards.

Praise For The Stench of Honolulu: A Tropical Adventure…
"I recently humiliated myself in the prestigious Pump Room restaurant by laughing out loud, to the point of tears, while reading The Stench of Honolulu. Jack Handey is the funniest writer in America. And his funny is a very particular, sublime, kind of funny-it builds and builds and is related to his supreme control of language. It is witty, minimal, subversive and also strangely sweet. Read this book, and you will feel better, period."
--George Saunders, New York Times bestselling author of Tenth of December, to the New York Post.

"A clever, absurd and fantastical adventure that could only have sprung from the hilarious-slash-lunatic mind of Jack Handey."
--Jimmy Fallon

"This book is a joy. I laughed out loud on every page. Jack Handey is hilarious, brilliant, and original--a law unto himself."
--Ian Frazier, author of Travels in Siberia

"I don't remember Honolulu being remotely this disgusting."
--Judd Apatow

undefined

"A well-oiled laugh-machine. A prose cartoon...a book that glimmers like an oasis of funny in the desert of snark that surrounds us"
-Paste Magazine

"The best comedic novel in years. Handey is a master. Fans will be quoting lines from this book for a long time. "
-Kirkus

"If laughter produces endorphins and endorphins promote good health, this book could cure disease"
-The Courier-Journal

"Surreal and the whimsical, airtight quips with dark underpinnings that betray a fascination with language and a mastery of pacing."
-A.V. Club

"It's hilarious. Think Ignatius C. Reilly from A Confederacy of Dunces if he believed himself to be Indiana Jones, but filtered through Handey's unique voice."
-Flavorwire.com

"[Handey] has waded into a genre that might seem unsuited to him, broken all the rules, and emerged with a radical reinvention of the form"
-The Rumpus

"The jokes are layered like a wedding cake of absurdity. . .The Handey-verse is a wacky relief from our dreary world of twerking singers and school shooters."
-McSweeney's

"Painfully funny"
-Esquire.com