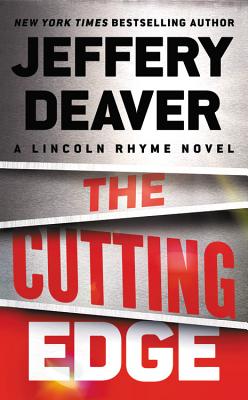 The Cutting Edge (A Lincoln Rhyme Novel #15) (Mass Market)
Grand Central Publishing, 9781455536405, 560pp.
Publication Date: May 7, 2019
Other Editions of This Title:
Digital Audiobook (4/9/2018)
Hardcover (4/10/2018)
Hardcover, Large Print (4/17/2018)
CD-Audio (5/7/2019)
CD-Audio (4/10/2018)
MP3 CD (4/10/2018)
Compact Disc (4/10/2018)
* Individual store prices may vary.
Description
Lincoln Rhyme and Amelia Sachs return to New York City to investigate a triple murder and confront a killer terrorizing couples at their happiest--and most vulnerable in this explosive New York Times bestseller.

In the early hours of a quiet, weekend morning in Manhattan's Diamond District, a brutal triple murder shocks the city. Lincoln Rhyme and Amelia Sachs quickly take the case. Curiously, the killer has left behind a half-million dollars' worth of gems at the murder scene, a jewelry store on 47th street. As more crimes follow, it becomes clear that the killer's target is not gems, but engaged couples themselves.
The Promisor vows to take the lives of men and women during their most precious moments--midway through the purchase of an engagement ring, after a meeting with a wedding planner, trying on the perfect gown for a day that will never come. The Promisor arrives silently, armed with knife or gun, and a time of bliss is transformed, in an instant, to one of horror.
Soon the Promiser makes a dangerous mistake: leaving behind an innocent witness, Vimal Lahori, a talented young diamond cutter, who can help Rhyme and Sachs blow the lid off the case. They must track down Vimal before the killer can correct his fatal error. Then disaster strikes, threatening to tear apart the very fabric of the city--and providing the perfect cover for the killer to slip through the cracks.

About the Author
Jeffery Deaver is the #1 international bestselling author of over thirty novels and three collections of short stories. His books are sold in 150 countries and translated into 25 languages. His first novel featuring Lincoln Rhyme, The Bone Collector, was made into a major motion picture starring Denzel Washington and Angelina Jolie. He's received or been shortlisted for a number of awards around the world. He lives in North Carolina.
Praise For The Cutting Edge (A Lincoln Rhyme Novel #15)…
"Deaver's approach excels in THE CUTTING EDGE, the 14th novel to feature Lincoln and his assistant, Amelia Sachs... Deaver keeps the level of suspense high as he also examines the gem trade and takes readers on an insider's tour of New York City. Deaver's intelligent characters show their mettle as the twists mount."—
Oline Cogdill, South Florida Sun-Sentinel
"Stellar... The tension rises [and] Deaver keeps the twists and surprises coming in this roller-coaster ride of a thriller."—
Publishers Weekly (starred review)
"Deaver is at his graciously cruel best in THE CUTTING EDGE. [His] singular flair for ghastly irony is on full display. Sympathetic characters... Deaver seduces us."—
Marilyn Stasio, New York Times Book Review
"Incredible...Deaver delivers another explosive book in the series...Deaver is a master...It will be no surprise to see THE CUTTING EDGE appear on many lists for being the best book of the year."
—
Suspense Magazine
"Huge twists ... classic Deaver... gripping and terrific."—
Jeff Ayers, Associated Press
"The tale is replete with Deaver's trademark twists and turns."—
Daily Mail (UK)
"Deaver brings it all together and after drawing in the readers, delivers twist after twist, never letting up until the final chapter. Even then, he gives you a smack in the mouth. It is really top-drawer writing."—
Shots Magazine
"The nerve-jangling resolution of Deaver's latest chiller is as sparkling as any of the gems at the centre of The Cutting Edge, but he also manages in the final couple of pages to deliver one of the most vertiginous cliff-hangers any fan of the Lincoln Rhyme stories could ever wish for."—
The Independent (Dublin)
p.p1 {margin: 0.0px 0.0px 0.0px 0.0px; font: 12.0px Helvetica}
span.s1 {font-kerning: none}
"Huge twists ... classic Deaver... gripping and terrific."—
p.p1 {margin: 0.0px 0.0px 0.0px 0.0px; font: 12.0px Helvetica} span.s1 {font-kerning: none} Jeff Ayers, Associated Press