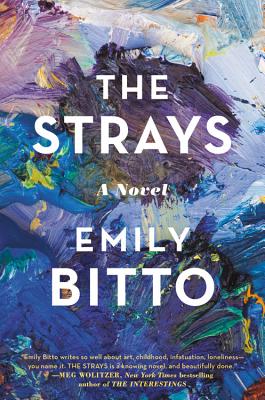 The Strays
A Novel
Hardcover

* Individual store prices may vary.
Other Editions of This Title:
Paperback (8/15/2016)
MP3 CD (9/20/2016)
Paperback (1/9/2018)
Description
"Disturbing and magical....with a grace and eloquence." - NPR Books

"Full of lush, mesmerizing detail and keen insight into the easy intimacy between young girls which disappears with adulthood." -- The New Yorker

"The Strays is a knowing novel, and beautifully done." -- Meg Wolitzer, New York Times bestselling author of The Interestings

For readers of Atonement, a hauntingly powerful story about the fierce friendship between three sisters and their friend as they grow up on the outskirts of their parents' wild and bohemian artistic lives.

On her first day at a new school, Lily befriends Eva and her sisters Beatrice and Heloise, daughters of the infamous avant-garde painter Evan Trentham. An only child from an unremarkable, working-class family, Lily has never experienced a household like the Trenthams'--a community of like-minded artists Evan and his wife have created, all living and working together to escape the stifling conservatism of 1930's Australia. And Lily has never met anyone like Eva, whose unabashed confidence and worldly knowledge immediately draw her in.

Infatuated by the creative chaos of the Trenthams and the artists who orbit them, Lily aches to fully belong in their world, craving something beyond her own ordinary life. She becomes a fixture in their home, where she and Eva spend their days lounging in the garden, filching cigarettes and wine, and skirting the fringes of the adults' glamorous lives, who create scandalous art during the day and host lavish, debauched parties by night. But as seductive as the artists' utopian vision appears, behind it lies both darkness and dysfunction. And the further the girls are pulled in, the greater the consequences become.

With elegance and vibrancy, The Strays evokes the intense bonds of girlhood friendships, the volatile undercurrents of a damaged family, and the yearning felt by an outsider looking in.
Praise For The Strays: A Novel…
"Emily Bitto writes so well about art, childhood, infatuation, loneliness -- you name it. THE STRAYS is a knowing novel, and beautifully done."—
Meg Wolitzer, New York Times bestselling author of The Interestings
"Remarkable...Bitto's scenes of the Trentham commune are vividly written, almost painterly."
—
New York Times Book Review
"Showcases a dazzling, gabby and ultimately doomed collection of stray human beings...THE STRAYS invites readers into a world that is by turns disturbing and magical....Word pictures which elevate the ordinary to exquisite appear throughout Bitto's novel..With precise and graceful turns of phrase, Bitto reveals the bond of passion between the two girls, which seems unbreakable but inevitably snaps under all that can't be said. And she delivers all of this with a grace and eloquence."
—
NPR Books
"Full of lush, mesmerizing detail and keen insight into the easy intimacy between young girls which disappears with adulthood."
—
The New Yorker
"Riveting, captivating, with a sense of foreboding threaded throughout. THE STRAYS is such a daring look at art and love and family that you'll want to clear your calendar: you'll be reading it in a day."
—
Whitney Otto, New York Times bestselling author of How to Make an American Quilt and Eight Girls Taking Pictures
"Reading this novel, I realized that this is the kind of book I love best: the young girl narrating a story she feels she cannot understand. Because of the precision of the prose, however, the reader perfectly understands the folly of the adult world and the perilous life the children must somehow try to survive. Thank you to Emily Bitto!"
—
Jane Hamilton, New York Times bestselling author of The Excellent Lombards
"Emily Bitto's THE STRAYS is a powerful and precisely imagined journey into the lives of two girls growing up in the avant-garde artistic milieu of post-war Australia. Like Elena Ferrante in her Neapolitan novels, Bitto entices and enthralls, probing the pathos of the heart and the unpredictable volatility of friendships and family. But above all, it is the writing itself that delights the reader: vivid, tactile, perfectly wrought, this is prose that weaves a lasting spell."
—
Paul Kane, award-winning author of Welcome Light
"Reminiscent of Ian McEwan's
Atonement
, Sybille Bedford's
Jigsaw
, or A.S. Byatt's
The Children's Book
...THE STRAYS is like a gemstone: polished and multifaceted, reflecting illuminations back to the reader and holding rich colour in its depths."—
Stella Prize Judges' Report
"[A] sparkling debut."
—
The National Book Review, "5 Hot Books"
"A haunting evocation of life-changing friendship...THE STRAYS is a marvel of setting and characterization, re-creating a time of artistic revolution and personal revelation. Memorable and moving, this is a novel not to be missed."
—
Booklist (starred review)
"Told in both the breathless voice of an easily infatuated child and the more measured tones of a wiser adult, THE STRAYS is a powerful tale of the consequences of creativity."
—
BookPage
"You could lift out any sentence in THE STRAYS and admire the sheer artistry of its melody and composition. What's especially wonderful about Bitto's literary novel is the story never feels weighed down by style. It's an immensely pleasurable read."
—
Bookseller + Publisher 4.5 stars
"Lyrical."
—
Publishers Weekly
"Explores with quiet passion both the cost of creative life on family and the definition of family itself."
—
Kirkus Reviews
"Its themes and characters provide universal resonance... THE STRAYS is a thoughtful exploration of what happens when artistic genius and family life collide, and how a relatively short period in one's youth can shape personal and professional choices for a lifetime."
—
BookReporter
"THE STRAYS is a marvellously accomplished and assured debut, announcing a major new talent. Rich in atmosphere and beautifully observed."
—
Booktopia
"Treating this novel as a historical fiction risks missing some of its breadth of insight. THE STRAYSis an eloquent portrayal of the damage caused by self-absorption as well as a moving study of isolation."—
The Saturday Age
"Bitto writes beautifully, her prose supple and satisfying, her insights and extended metaphors worth lingering over. Of particular note are her characters' perceptive comments on art and her visceral understanding of the only child's ever-unrequited hunger for inclusion - an inclusion that always falls short of the familial, however vexed or careless that familial connection may appear."
—
The Adelaide Advertiser
"Emily Bitto has written a very stylish and enjoyable debut novel."
—
The Sunday Mail
"Pick this one up for the luxe gardens and lavish parties; stay for the powerful, creative coming-of-age tale."
—
BookPage
"With a skilful use of perspective and memory, and a dual adult-child point of view, Bitto reaches far beyond the well-documented narratives and myths of the Heide players to widen and enrich the notion of the artist as mad or bad or eccentric."
—
Readings Monthly
Twelve, 9781455537723, 256pp.
Publication Date: January 3, 2017
About the Author
Emily Bitto has a Masters in Literary Studies and a PhD in Creative Writing from the University of Melbourne. She lives in Melbourne, Australia, where she also co-owns the Carlton wine bar, Heartattack and Vine.
or
Not Currently Available for Direct Purchase