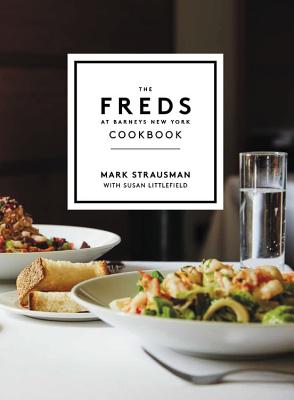 The Freds at Barneys New York Cookbook (Hardcover)
Grand Central Life & Style, 9781455537761, 304pp.
Publication Date: April 24, 2018
* Individual store prices may vary.
Description
The definitive cookbook by the celebrated chef and managing director of Freds at Barneys New York, one of the nation's most fashionable restaurants.

Barneys New York, with its flagship store on Madison Avenue, is a world-famous cutting-edge fashion destination, and a true New York phenomenon. And since 1996, Barneys' restaurant Freds has been offering in food what Barneys offers in fashion: a luxury destination that provides a level of personal service second to none. Their inventive takes on the modern bistro keeps their elite clientele coming back for more.

In The Freds at Barneys New York Cookbook, Strausman invites you into the kitchen of this institution and teaches you how to bring a piece of New York chic into your own home. Whether its the Belgian Fries or Estelle's Chicken Soup, Mark's Madison Avenue Salad or Cheese Fondue Scrambled Eggs, this cookbook commemorates all of the delicious recipes Freds has served over the years at the Madison Avenue, Chelsea, Beverly Hills, and Chicago locations.
About the Author
Mark Strausman is a chef, restaurateur and author based in New York City. In 1996 he created Freds at Barneys New York for the Madison Avenue flagship store. Subsequently he developed satellite Freds in Chicago and Los Angeles, and in Barney's new Chelsea location, and remains Freds' Managing Director. In addition, he owned the ground breaking Italian restaurant, Campagna, and Agriturismo in New York's Hudson Valley, and partnered to create and manage Coco Pazzo in New York City, and Sapore di Mare in East Hampton, NY.
He is the author of the James Beard Award nominated Two Meatballs in the Italian Kitchen and The Campagna Table. Online, he has written for The Huffington Post and Yahoo. He consults widely within the food and beverage industry.
Susan Littlefield is a freelance writer and editor who lives in New York City.
Praise For The Freds at Barneys New York Cookbook…
"There are...many offerings inspired by [Strausman's] days as chef at Italian restaurant Campagna and his love of Italian food...Strausman encourages even reluctant cooks with clear directions and many helpful cooking tips. [THE FREDS AT BARNEYS NEW YORK COOKBOOK] is a wonderful peek inside the popular restaurant."—Publishers Weekly

"Many credit Chef Mark Strausman's '80s summer restaurant Sapore di Mare in Wainscott as being "the first Hamptons pop-up." That credit probably belongs to Chef Henry Soulé's takeover of East Hampton's The Hedges for the summer of 1954. But there's no question that Strausman's pioneering farm-to-table approach at Sapore di Mare left a lasting mark." —Dan's Papers

"The intriguing tale of how the drab downstairs eatery in the flagship Madison Avenue Barneys New York morphed into the brightly expansive top-floor Freds is well-told in the detailed, entertaining and wholly practical The Freds at Barneys New York Cookbook... Written with Susan Littlefield, it chronicles [Mark] Strausman's 22-year role as the guiding toque, giving much due credit to the store's savvy, fashion-minded guiding hands, Fred Pressman, son of founder Barney Pressman, and later, Barney's grandsons, Gene and Bob...I propose a toast to Freds and Mark Strausman with the establishment's signature cocktail, naturally, the Fred and Ginger."—Mimi Sheraton

"But more than a cooking manual, the book comes to us as a memoir and artifact..."—From The New York Times feature on Freds At Barneys