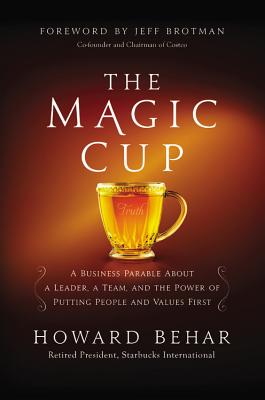 The Magic Cup (Hardcover)
A Business Parable About a Leader, a Team, and the Power of Putting People and Values First
Center Street, 9781455538973, 160pp.
Publication Date: March 29, 2016
Other Editions of This Title:
Digital Audiobook (3/28/2016)
Paperback (3/21/2017)
* Individual store prices may vary.
Description
We all love the fairy tales we grew up on, creating a world in which good always wins over evil, where those whose hearts are true and who do the right thing come out on top. But, grown-up competition for success is rough, even cutthroat, and we've often heard that nice guys finish last.
Not according to Howard Behar, whose career as one of the three leaders who built the Starbucks organization most definitely proves that nice guys finish first. In THE MAGIC CUP, Behar spins an engaging corporate tale to teach us exactly how we can do the same thing.
The story revolves around Vince Steadfast, the newly named CEO of imaginary manufacturer Verity Glassworks, which has fallen on difficult times. Vince is hired to help the once iconic company return to its glory days, and he brings with him a parting gift from his mentor and former boss: a stunning crystal coffee cup from Verity's halcyon days. The cup turns out to be magic - truly - and helps him come to understand and reinvigorate the values that Verity has misplaced along the way.

As Vince and his new team make their way to (and through) many challenges, including the aptly named Worthy Way, Perilous Passage and Arduous Stair, the cup fills with a gold elixir and the universal truths that they learn to embrace - such as Responsibility, Forgiveness and Courage - magically become engraved in the glass.

In the tradition of great parable writers throughout history, Behar quickly involves us in an engrossing fantasy, continually challenging us to compare each situation with our own real-life experiences. The story of THE MAGIC CUP helps each of us discover that only by acting on sound moral principles can we fill our own cups with the personal and professional success and satisfaction we seek.

About the Author
HOWARD BEHAR is a renowned business leader, author, speaker, and mentor. He served at Starbucks for a combined twenty-one years as both an officer and a board member. He was the president of North America and the founding president of Starbucks International. He lives in Seattle, Washington, with his wife, Lynn, where he is able to spend time with his children and grandchildren.
Praise For The Magic Cup: A Business Parable About a Leader, a Team, and the Power of Putting People and Values First…
The story of The Magic Cup enables a wide audience to benefit from the insights of a man who helped me become a more complete leader and a more complete person.—JIM ALLING, CEO, TOMS Shoes

This small but powerful book is full of magical advice: Be courageous, search for truth, and you will find great success in work and in your life.—JOHN MACKEY, Co-founder and Co-CEO, Whole Foods Market

The Magic Cup beautifully illustrates that there's nothing more powerful than TEAM when passion, a focus on a purpose beyond profits, and sheer will to ensure everyone around you thrives is at its center.—KIP TINDELL, Chairman and CEO, The Container Store

The Magic Cup isn't about magic at all-it's about leading with values first and succeeding by doing the right thing at every turn. Everyone can learn from this inspiring story.—LES BILLER, retired Vice Chairman and COO, Wells Fargo

This book delivers! Howard's simple and relatable story shares a powerful message that should be read by every- one. The Magic Cup reminds us to give more than you take to find your true path to happiness.—WENDY COLLIE, CEO, New Seasons Market, and former SVP, Starbucks Corporation

The Magic Cup is a fast-paced, Harry Potter- like thriller, an unforgettable parable about what leadership really is and what matters most, especially when times are tough. A truly great read!—SUSAN SCOTT, CEO, Fierce Inc., and author of Fierce Conversations and Fierce Leadership

When people join your purpose, not just your company, you get engagement. Engagement is a super power that makes problems disappear, aligns teams, and creates loyal consumers. It gives our work meaning. No one understands this better than Howard Behar.—CHRISTINE DAY, CEO, Luvo, Inc.

The Magic Cup's parable of modern business life could not be timelier. Howard Behar, a business hero if there ever was one, reminds us of the power of human values and purpose and the possibility for creating a different type of company- and the many rewards from doing so.—JEFFREY PFEFFER, author of Leadership BS: Fixing Workplaces and Careers One Truth at a Time

In his book The Magic Cup, Howard Behar shares proven insights that are easily understood and, more importantly, actionable reading. His book will make a positive difference in your business, your life, and all the lives you touch.—DAVID JOBE, President, Winsight Events

This gem of a book imparts deep leadership lessons in a compelling and enjoyable manner. It is destined to become a classic.—RAJ SISODIA, Co-founder, Conscious Capitalism Inc., and Olin Distinguished Professor, Babson College
or
Not Currently Available for Direct Purchase