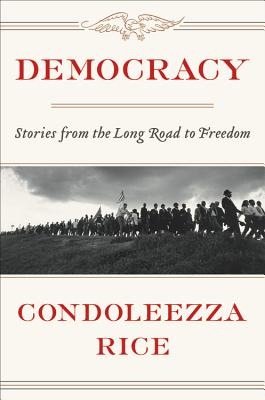 Democracy (Hardcover)
Stories from the Long Road to Freedom
Twelve, 9781455540181, 496pp.
Publication Date: May 9, 2017
Other Editions of This Title:
Digital Audiobook (5/8/2017)
Paperback (7/10/2018)
CD-Audio (5/23/2017)
Hardcover (5/9/2017)
Hardcover, Large Print (5/9/2017)
Compact Disc (5/9/2017)
* Individual store prices may vary.
Description
NEW YORK TIMES BESTSELLER
From the former secretary of state and bestselling author -- a sweeping look at the global struggle for democracy and why America must continue to support the cause of human freedom.

"This heartfelt and at times very moving book shows why democracy proponents are so committed to their work...Both supporters and skeptics of democracy promotion will come away from this book wiser and better informed." --The New York Times
From the end of the Cold War and the collapse of the Soviet Union to the ongoing struggle for human rights in the Middle East, Condoleezza Rice has served on the front lines of history. As a child, she was an eyewitness to a third awakening of freedom, when her hometown of Birmingham, Alabama, became the epicenter of the civil rights movement for black Americans.

In this book, Rice explains what these epochal events teach us about democracy. At a time when people around the world are wondering whether democracy is in decline, Rice shares insights from her experiences as a policymaker, scholar, and citizen, in order to put democracy's challenges into perspective.

When the United States was founded, it was the only attempt at self-government in the world. Today more than half of all countries qualify as democracies, and in the long run that number will continue to grow. Yet nothing worthwhile ever comes easily. Using America's long struggle as a template, Rice draws lessons for democracy around the world -- from Russia, Poland, and Ukraine, to Kenya, Colombia, and the Middle East. She finds that no transitions to democracy are the same because every country starts in a different place. Pathways diverge and sometimes circle backward. Time frames for success vary dramatically, and countries often suffer false starts before getting it right. But, Rice argues, that does not mean they should not try. While the ideal conditions for democracy are well known in academia, they never exist in the real world. The question is not how to create perfect circumstances but how to move forward under difficult ones.

These same insights apply in overcoming the challenges faced by governments today. The pursuit of democracy is a continuing struggle shared by people around the world, whether they are opposing authoritarian regimes, establishing new democratic institutions, or reforming mature democracies to better live up to their ideals. The work of securing it is never finished.

About the Author
Condoleezza Rice is the Denning Professor in Global Business and the Economy at the Stanford Graduate School of Business, the Thomas and Barbara Stephenson Senior Fellow on Public Policy at the Hoover Institution, and a professor of political science at Stanford University. Rice was the second woman and first African American woman to serve as U.S. Secretary of State and the first woman to serve as national security adviser.
Praise For Democracy: Stories from the Long Road to Freedom…



"This heartfelt and at times very moving book shows why democracy proponents are so committed to their work...Both supporters and skeptics of democracy promotion will come away from this book wiser and better informed."—Walter Russell Mead, The New York Times

"This book is both critically important and profoundly inspiring. With democracy challenged around the world, Condoleezza Rice bears witness to its moral force. Drawing lessons from her childhood in Birmingham to her tenure as Secretary of State, she shows why both our interests and our ideals compel us to be in the forefront of the fight for democracy, however fitful it may be. Everyone should read this book. It will restore your faith in our nation's creed and remind you of the nobility of our mission in this world."—Walter Isaacson, New York Times bestselling author of Steve Jobs, Einstein, and Leonardo Da Vinci




"Condoleezza Rice serves as an able and insightful guide in this journey through democracy across the globe. Her knowledge and clear-eyed assessment of the challenges facing this system of government make this book an important contribution to a pressing debate on democracy today."— Kofi Annan, former secretary-general of the United Nations




"[An] accessibly written study of that imperfect but ideal form of government...[One that] deserves a broad audience, especially in our current political climate."—Kirkus Starred Review




"At a time when democracy appears to be in retreat around the globe, Condoleezza Rice's DEMOCRACY: Stories From the Long Road to Freedom offers a much-needed corrective. Weaving effortlessly between academic analysis and personal experiences-from Professor Rice to Secretary of State Rice and back again-Condi draws upon a series of case studies to offer a fresh perspective to how democracies emerge, how they sometimes endure but sometimes collapse, and especially why patience is required from us in observing and participating in the democracy-building process. A fantastic read!"— Professor Michael McFaul, director, Freeman Spogli Institute for International Studies, Stanford University




"[A] ringing call for democracy promotion...Ms. Rice should be commended."—Max Boot, The Wall Street Journal




"Working daily alongside Condi at the White House and State Department, I witnessed firsthand her foundational belief in the power of human freedom and the crucial need for democratic institutions to protect it. This book, full of fascinating anecdotes and insights, is a sweeping view of the global struggle for democracy and a must-read for all who care about the future peace of the world and its people."— Karen Hughes, former under secretary of state for public diplomacy and public affairs

"Authoritative...Readers interested in the history of political systems and governments will find her work informative and easy to understand."—Library Journal
Coverage from NPR