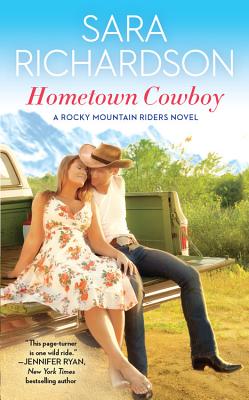 Hometown Cowboy (Rocky Mountain Riders #1)
Mass Market

* Individual store prices may vary.
Description
Never Fall in Love with a Cowboy

Jessa Mae Love is done with relationships. No matter how tempting he might be, she cannot--will not--fall for a man like Lance Cortez. The outrageously handsome cowboy is practically a living legend in Colorado, as famous for riding bulls as he is for breaking hearts. What would a big-time rodeo star like him see in a small-town veterinarian who wears glasses, rescues animals, and cries when watching rom-coms? Turns out, plenty.

Raising bulls, riding the circuit, and looking after his ailing father--Lance never stands still for long. Yet Jessa catches his attention, and the more she tries to resist him, the more he wants her. When she agrees to move to the ranch to keep an eye on Lance's dad, Jessa tells him they have to keep it professional: no flirting, no sweet talk, and definitely no kissing. But with Jessa now living under his roof, that's easier said than done . . .
Praise For Hometown Cowboy (Rocky Mountain Riders #1)…
"Charming, witty, and fun. There's no better read. I enjoyed every word!"
—
Debbie Macomber, #1 New York Times bestselling author on No Better Man
"Filled with humor, heart, and love, this page-turner is one wild ride."
—
Jennifer Ryan, New York Times bestselling author
"An emotional ride with characters that come alive on every single page. Sara brings real feelings to every scene she writes."
—
Carolyn Brown, New York Times Bestselling Author
"[The] story is sensitive, charmingly funny, satisfyingly spicy, and dedicated to ensuring both protagonists grow to earn their lasting love. This will satisfy Richardson's fans while welcoming new readers to a sweeping land of mountains, cowboys, and romance."
—
Publishers Weekly
"In the debut of her Rocky Mountain Riders series, Richardson creates an engaging small-town setting, filled with a richly detailed population, including two hurt and lonely protagonists, whose funny and moving journey together is sure to earn plenty of new fans...there is plenty to enjoy in this spirited heartwarming story."
—
RT Book Reviews
"Fans of Robyn Carr will undoubtedly enjoy the Heart of the Rockies series."
—
RT Book Reviews on More Than a Feeling
"The author's compassion shines through her beautifully flawed and earnest characters and takes readers on an emotionally wrenching journey to the elusive goal of love."
—
Publishers Weekly on Something Like Love
"A must-read contemporary romance!...vivid characters and a few great twists...sizzles with sexual tension on every page. The ending was a perfect, lovely and sigh-worthy happy-ever-after ... and still kinda romantically hot, as befits the rest of the novel."
—
USA Today on Something Like Love
"Richardson's debut packs a powerful emotional punch. [Her] deft characterization creates a hero and heroine who will elicit laughs in some places and tears in others."
—
Publishers Weekly on No Better Man
"[Richardson's] brisk storytelling and the charming, endearing characters set within a solid, engaging plot make this sweet romance shine. This is a truly delightful read."
—
RT Book Reviews on No Better Man
"Fresh, fun, well-written, a dazzling debut."
—
Lori Wilde, New York Times bestselling author on No Better Man
"The perfect balance of humor, heart and heat. I couldn't put it down! Sara Richardson will sweep you away."
—
Christie Craig, New York Times bestselling author on No Better Man
"An enjoyable read. Richardson's spunky, baseball-lovin' heroine is delightful!"
—
Katie Lane, USA Today bestselling author on No Better Man
Forever, 9781455540754, 368pp.
Publication Date: February 28, 2017
About the Author
Sara Richardson grew up chasing adventure in Colorado's rugged mountains. She's climbed to the top of a 14,000 foot peak at midnight, swum through Class IV rapids, completed her wilderness first-aid certification, and spent seven days at a time tromping through the wilderness with a thirty-pound backpack strapped to her shoulders. Eventually Sara did the responsible thing and got an education in writing and journalism. After a brief stint in the corporate writing world, she stopped ignoring the voices in her head and started writing fiction. Now she uses her experience as a mountain adventure guide to write stories that incorporate adventure with romance. Sara lives and plays in Colorado, still indulging her adventurous spirit, with her saint of a husband and two young sons.