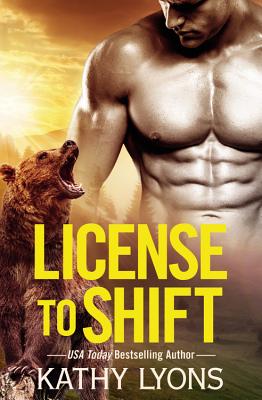 License to Shift (Grizzlies Gone Wild #2)
Paperback

* Individual store prices may vary.
Description
Bear Meets Girl...

Julie Simon returns to Saginaw, Michigan, to find her ailing father's missing research on local shapeshifter lore. Unlucky for her, the only person who can help her is the darkly sexy Mark Robertson, the guy who spent an entire summer giving her the cold shoulder-and one white-hot night of pleasure...

Mark is a hair's breadth away from going feral. Soon, his grizzly side will destroy everything that makes him a man. And after years of fighting, Mark is ready to give in to the beast. Then Julie-the gorgeous, curvy book nerd who awakened his most primal desires as a young man-shows up at his door. Now, he's fighting an insatiable longing to claim her as his mate. But Julie isn't the only one after her father's research. Someone-or something-evil is tracking Julie's every move...



Praise For License to Shift (Grizzlies Gone Wild #2)…
"Lyons gets it right."
—
Kirkus Reviews on The Bear Who Loved Me
"I can promise you, the opening sequence will grab your naked, coffee loving sensibilities and run with them! Go read that, put yourself in Julie's shoes and you'll appreciate her all the more! It's a known fact, coffee tames all beasts!"
—
ScandaliciousBookReviews.com
"I enjoyed Mark and Julie together and the love that develops is sweet and true. The storyline is intriguing and held my interest throughout. There's danger and excitement that kept me riveted while turning each page to see what would happen next."
—
Reviewsbycat.blogspot.com
"I really enjoyed this book! The author did an excellent job with the characters and the story is very well written. I would recommend this book to anyone who loves a good shape-shifting or paranormal romance novel."
—
majorlydelcious.com
Forever Yours, 9781455540969, 288pp.
Publication Date: October 4, 2016
About the Author
Kathy Lyons is the wild, adventurous half of USA Today bestselling author Jade Lee. A lover of all things fantastical, Kathy spent much of her childhood in Narnia, Middle Earth, Amber, and Earthsea, just to name a few. There is nothing she adores more than turning an ordinary day into something magical, which is what happens all the time in her books. Winner of several industry awards including the Prism-Best of the Best, Romantic Times Reviewer's Choice, and Fresh Fiction's Steamiest Read, Kathy has published over 50 romance novels, and she's just getting started. Check out her latest news at KathyLyons.com.